My love of tater tots is eternal. I'll gladly eat them any time of day, including for breakfast. They're basically hash browns, right? So, of course, I think using them to crown an egg casserole is ingenious. In the following recipe, the tater tots bake up golden-brown and crunchy, covering a custardy egg layer full of tender broccoli, sweet bell pepper and sharp cheddar cheese. A square of this savory breakfast bake has it all -- veggies, protein and starch -- and it's a great way to start any morning or feed a hungry crowd.
A few smart shortcuts
Unlike bread-based egg bakes, this one doesn't require a soak overnight, so it can be thrown together in the time it takes the oven to heat up. You can also stash a bag of broccoli and tater tots in the freezer so you can make this at a moment's notice; neither the tots nor the broccoli need to be thawed first to make this. And instead of chopping onions, stick with scallions. They add the same flavor, and all you have to do is toss them in!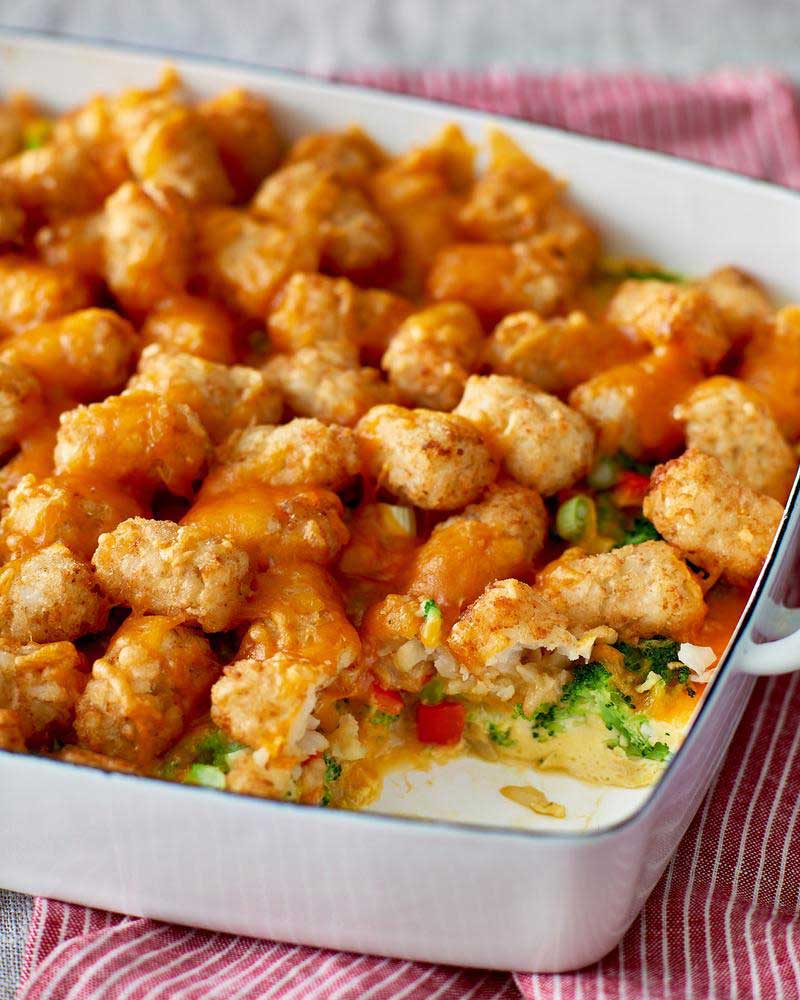 Veggie-Packed Tater Tot Breakfast Bake
Serves 8
Cooking spray
1 pound frozen broccoli florets
1 medium red bell pepper, diced
1/3 cup thinly sliced scallions
2 cups shredded sharp cheddar cheese (about 8 ounces), divided
12 large eggs
1 cup half-and-half
1 1/2 teaspoons kosher salt
Freshly ground black pepper
1 (32-ounce) bag frozen tater tots
Arrange a rack in the middle of the oven and heat to 375 F. Coat a 9-by-13-inch baking dish with cooking spray; set aside.
Place the broccoli in a large microwave-safe bowl, and microwave according to package directions until crisp-tender. (Alternatively, bring a large saucepan of water to a boil, add the broccoli, and cook until crisp-tender, about 3 minutes.) Drain well.
Transfer the broccoli to the baking dish in an even layer. Evenly sprinkle the red bell pepper, scallions, and 1 cup of the cheese over the broccoli. Place the eggs, half-and-half, and salt in a large bowl, season with pepper, and whisk until evenly combined. Evenly pour over the broccoli mixture.
Arrange the tater tots in the baking dish side by side in a tight, single layer (you may have a few tater tots left over). Lightly coat the tater tots with cooking spray.
Bake 30 minutes. Sprinkle with the remaining 1 cup cheese. Bake until the eggs are set and the tater tots are crisp and golden-brown, 30 to 40 minutes more (metal pans will bake faster; check on the bake a few minutes early if using). Let sit on a wire rack 10 minutes before serving.
Recipe notes: The broccoli can be cooked and the bell pepper and scallions chopped up to one day ahead and then stored in the refrigerator. Leftovers can be stored in an airtight container in the refrigerator for up to four days.
This article is written by Christine Gallary from The Kitchn and was legally licensed via the Tribune Content Agency through the NewsCred publisher network. Please direct all licensing questions to legal@newscred.com.