Joanne Weir wears many hats. She is a cookbook author, cooking teacher, television chef, food writer, restaurateur and culinary traveler who takes groups to far off places to experience the location and the food. She is an accomplished chef and shares her many secrets on her PBS TV shows. These experiences traveling and cooking abroad have inspired her and shaped her life as a chef.
While she is well known as a California chef, she also likes to experiment with other flavors and techniques. On a visit to the south of France she noticed French cooks roasting the entire head of cauliflower instead of in florets. She likes the statement that it makes when brought to the dinner table whole and then cut into wedges. The anchoiade sauce brings an assertive flavor to the simple cauliflower taste. This French sauce blends anchovies, almonds and garlic together with butter and oil, spices and parsley.
This is really easy to make, and the almond anchovy sauce is really spot on as an accompanying flavor enhancer. The only tricky thing is to remove the core. Here's how: Place the cauliflower stalk face up. Insert a paring knife about 2 inches deep into the cauliflower next to the stalk, and cut around the stalk creating a small hallow space where the core once was. Make sure to remove any stray leaves.
When selecting cauliflower, look for heads that are firm and tightly closed. If they are soft they are over the hill. Make sure there are no spots on it. Cauliflower is very perishable and should be kept tightly wrapped in the refrigerator. The whole roasted cauliflower makes an unusual and pretty presentation. I like to serve this as an appetizer for a lunch or dinner. It's a great conversation starter when it is presented at the table.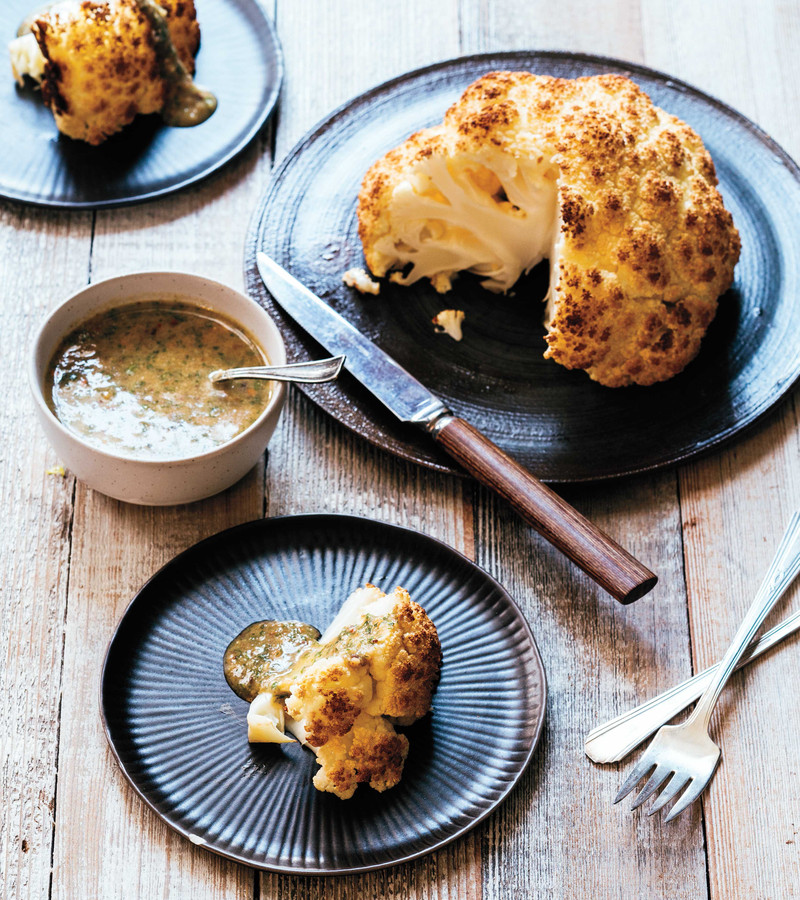 Whole Roasted Cauliflower with Almond Anchoiade
Serves 6
1 head cauliflower, outside leaves removed
Extra-virgin olive oil
1/2 teaspoon Kosher salt
Almond Anchoiade Sauce (see following recipe)
1. Set the oven rack in middle position and preheat oven to 450 F. Lightly oil a baking sheet.
2. Core the cauliflower, leaving the head intact, and discard the core. Place the cauliflower in the oiled pan. Drizzle 2 tablespoons of the olive oil over top of cauliflower and sprinkle with salt. Bake until tender and golden on top, 1 to 1 1/4 hours.
3. To serve, cut the cauliflower into wedges, place a wedge on each individual plate, and serve with a spoon of the almond anchoiade sauce around the side.
Almond Anchoiade Sauce
5 whole salt-packed anchovies, or 10 oil-packed anchovy fillets
1/3 cup blanched whole almonds, toasted
2 garlic cloves, coarsely chopped
2 tablespoons unsalted butter, room temperature
1/2 cup extra-virgin olive oil
1 1/2 teaspoons aged red-wine vinegar
2 tablespoons fresh finely chopped flat leaf parsley
1 teaspoon crushed red pepper flakes
Kosher salt and freshly cracked black pepper
1. If you are using salt-packed anchovies, fillet the anchovies and remove the bones. For both types of anchovies, soak the fillets in cold water, rinse and pat the anchovies dry with paper towels.
2. In a food processor, combine the anchovies, almonds, garlic and butter, and pulse until smooth. Transfer mixture to a bowl, and gradually whisk in olive oil and vinegar. Add the parsley and red pepper flakes, and season with salt and pepper.
Art courtesy of "Kitchen Gypsy: Recipes and Stories from a Lifetime Romance with Food" by Joanne Weir (Sunset, 2015).
This article is written by Diane Rossen Worthington from Seriously Simple and was legally licensed via the Tribune Content Agency through the NewsCred publisher network. Please direct all licensing questions to legal@newscred.com.