It's cold outside, and all I want to eat is a steaming bowl of vegetable soup.
Through the years I have discovered the magical, calming quality of velvety soup purees. I make these vegetable purees year-round and serve them hot or chilled. The key is to know the basic principles: purees require liquid (usually stock), vegetables and a thickening agent. I am partial to using potatoes or a dense vegetable like winter squash instead of flour, because the soup develops a thick texture without a floury taste. You can always control the thickness by adding more or less stock.
I love mushroom soup. In the following recipe, I've added a combination of intensely concentrated dried mushrooms along with the fresh cremini to increase the rich mushroom essence without additional calories. The soy sauce enhances the mushroom flavor. The addition of tawny port adds a slightly sweet finish. If you don't have port, sherry is a good substitute. The optional cream is delicious but not necessary, if you prefer a lighter soup.
The other key factor to a great pureed soup is what you use to puree it. There are a few different options: the blender, the hand immersion blender, the food processor or the hand food mill. My two standbys are the blender or the immersion blender.
If you like a very frothy almost cream-like texture you will have more luck using a blender. There are many blenders to choose from. Make sure to select a very high-powered one. My personal preference is the Vitamix for its amazing ability to create rich tasting soups and sauces without using any dairy. It is a big investment; but if you are watching your weight, this is one trick I can't keep to myself.
When I am less concerned about frothy and feeling pressed for time, I go for the immersion hand blender. This electric stick blender goes right into the soup pot and purees the soup, so you don't have to transfer the soup to another vessel. Remember that you want a high-powered hand blender that will smoothly puree the soup. Make sure when you use it to always keep the wand on the bottom of the pan when pureeing so it doesn't fly up and decorate your ceiling.
You can change the garnish on top and add crispy crumbled bacon or pancetta or crispy canned onions. The possibilities are endless. Try this as a first course to an elegant dinner party or for lunch along with a simple green salad.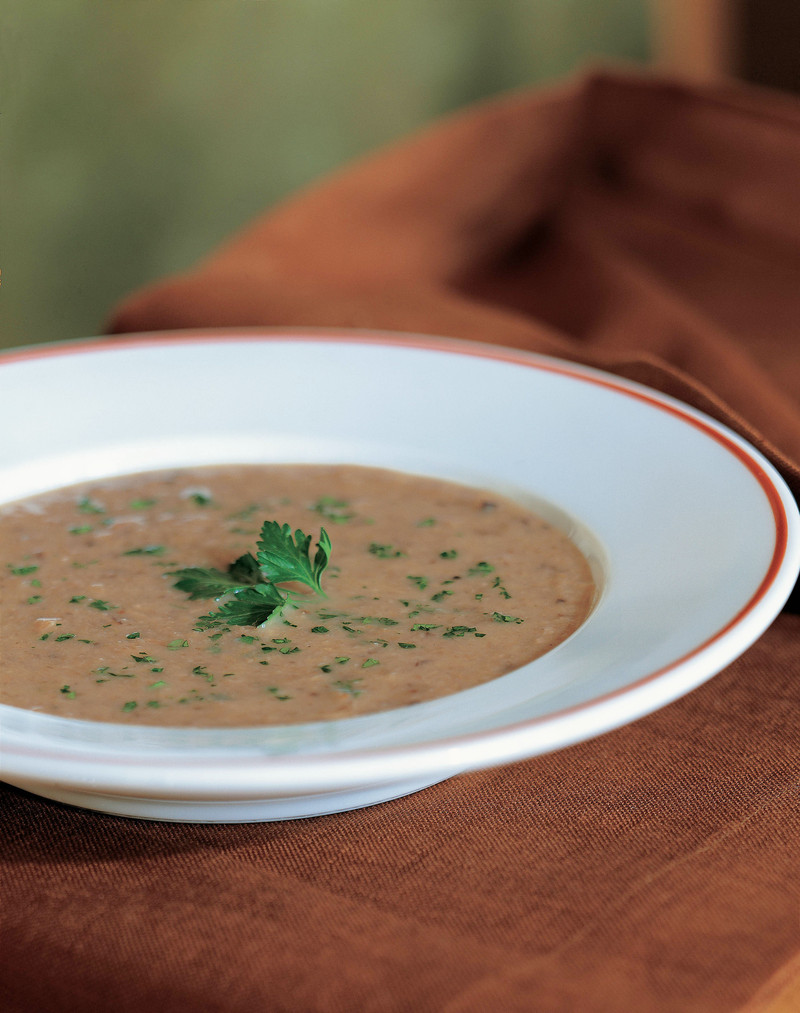 Creamy Mushroom Soup with Port
Serves 4
1 ounce dried wild mushrooms, shiitake or porcini
5 cups chicken or vegetable broth
1/4 cup olive oil
1 medium onion, finely chopped
1 pound fresh Cremini (brown) mushrooms, thinly sliced
1 small yellow potato (about 8 ounces), peeled and diced into 1-inch pieces
2 garlic cloves, minced
Salt
White pepper
2 teaspoons soy sauce
5 tablespoons tawny port or dry sherry
1/4 cup half and half or crème fraiche, optional
1/4 cup crème fraiche sour cream, for garnish, optional
2 tablespoons finely chopped parsley, for garnish
1. In a medium saucepan combine the dried mushrooms and broth; bring to a boil, cover and simmer for 5 minutes. You can also do this in a large glass measuring cup and microwave for 4 minutes, loosely covered with plastic wrap. Remove from heat and let infuse. Set aside.
2. Lift the mushrooms out of the pan. Stain the liquid into a bowl and return the mushrooms to the broth. Set aside.
3. Heat the oil in a medium soup pot over medium heat. Add the onion and saute stirring occasionally, for 5 minutes or until soft. Add the fresh mushrooms and potato; saute another 3 minutes or until they are softened.
4. Add the hot broth with the mushrooms and the soy sauce, and simmer for about 15 minutes, or until the mushrooms and potatoes are soft.
5. With a hand blender blend the soup until it is roughly pureed with some texture remaining. Add the port and optional half and half, and simmer for 2 more minutes to burn the alcohol off. Taste for seasoning.
6. To serve, garnish with optional sour cream and chopped parsley. Serve immediately.
This article is written by Diane Rossen Worthington from Seriously Simple and was legally licensed via the Tribune Content Agency through the NewsCred publisher network. Please direct all licensing questions to legal@newscred.com.