Pork tenderloin, the long cylindrical boneless cut from the loin, lends itself to different flavors and cooking techniques. You can either roast the pork in the oven or grill it on the barbecue. I am partial to cooking this for weeknight dinners when I want lots of flavor and have little time. This is a favorite Seriously Simple cut since it cooks in a short time with tasty results.
These tender pork tenderloins are bathed in a fragrant Asian mix of ingredients. You'll find hoisin sauce and sesame oil available in the Asian section of your market. Serve this with parslied couscous with zucchini and carrots (recipe below) to soak up the sauce. To drink? To balance the sweetness in the glaze, the best wine choices are zinfandel, pinot noir or syrah.
When discussing pork recipes, I always urge home cooks to look for kurobuta pork at fine supermarkets or meat markets. Kurobuta (Japanese black hog) pork, bred from Berkshire stock, is prized for its dark meat and rich flavor. And it's worth the extra price tag. American kurobuta pork is lean, yet still has small, fine streaks of marbling that produce a sweet, tender and juicy result.
While many recipes suggest cooking pork to an interior temperature of 160 F, I have found that is a simply too high. The pork should be slightly pink and at 145 F for optimum flavor and texture. Trichinosis, a parasite found in pork, dies at 137 F, so cooking past that temperature should assure you that your dish would be both safe and delicious. Remember that the meat will continue to cook another 5 degrees after you take it off the heat so don't overcook it. Serve this warm or chilled.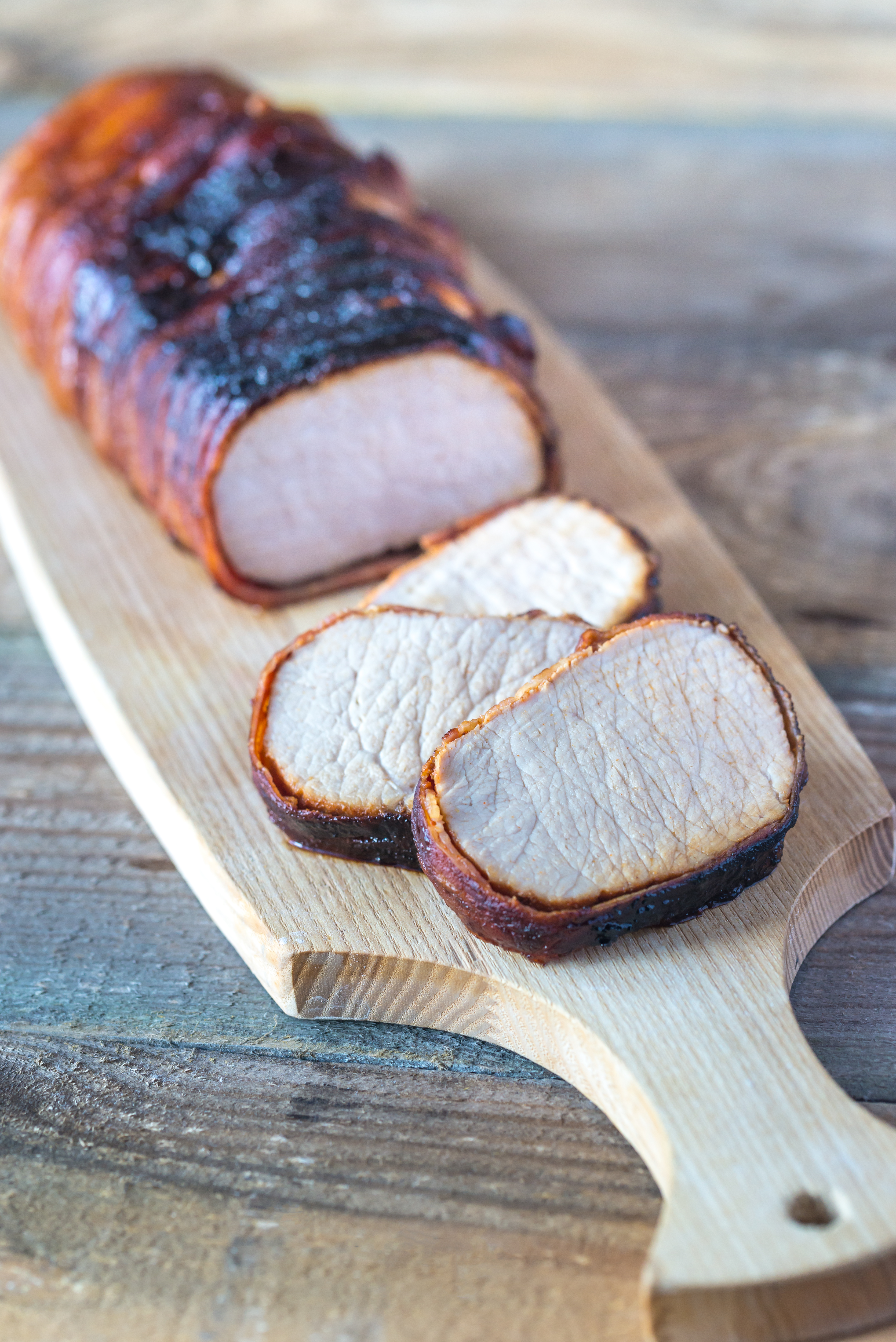 Roasted Glazed Pork Tenderloins
Serves 4
For the marinade:
1 garlic clove, minced
1 teaspoon finely chopped fresh ginger
1 tablespoon hoisin sauce
2 scallions, white and light green parts only, finely sliced
1 tablespoon sherry vinegar
1 teaspoon finely chopped orange zest
1/3 cup orange juice
1/2 teaspoon dark sesame oil
1 tablespoon vegetable oil
1/4 teaspoon salt
Pinch of black pepper
2 pork tenderloins, about 3/4 pound each
For the sauce:
1/2 cup chicken stock
To garnish:
Orange slices
1. In a medium mixing bowl, combine all the marinade ingredients and whisk them until well blended. Taste for seasoning. Reserve 1/4 cup of marinade for the sauce. Place the tenderloins in a lock-top plastic bag. Pour the remaining marinade over the tenderloins. Close the bag and roll them around until they are well coated. Marinate, covered, in the refrigerator for 2 to 4 hours.
2. Preheat the oven to 400 F. Place the pork tenderloins in a roasting pan and roast for about 15 minutes or until an instant-read thermometer registers 145 F. Remove the pork from the oven and let it stand for 10 minutes. Alternatively, grill the pork on a medium-high-heat barbecue 3 inches from the heat for about 15 minutes, turning it as it browns.
3. While the pork is roasting, combine the reserved marinade with the stock and bring it to a boil.
4. To serve, cut the pork into 1/4-inch slices and arrange the slices overlapping on a platter. Garnish with orange slices, and spoon the sauce over the meat. Serve immediately.
Parslied Couscous with Zucchini and Carrots
Serves 4
Easy, attractive, delicious and healthy -- what more could you want? This dish is also perfect for last-minute entertaining because it takes just a short time to prepare and calls for ingredients that are usually kept on hand. Entrees with spicy sauces are complemented nicely by this simple side dish.
2 medium carrots, peeled and cut into 1/8-inch pieces
2 medium zucchini, cut into 1/8-inch pieces
2 tablespoons unsalted butter
1 cup quick-cooking couscous
2 tablespoons finely chopped parsley
Salt and freshly ground black pepper
1. Heat 1 1/2 cups water in a medium saucepan over medium-high heat until simmering. Add the carrots, cover, and cook for 2 minutes. Add the zucchini and cook another 2 minutes. Drain the vegetables in a colander and set aside.
2. Heat 1 1/2 cups water and the butter in a medium saucepan over medium heat and bring to a boil. Add the couscous and cover. Remove from the heat and let stand for 5 minutes. Add the carrots, zucchini, parsley, salt and pepper, and toss to combine. Taste for seasoning.
3. To serve: Spoon into a serving dish and serve immediately.
Advance preparation: This may be prepared up to 2 hours in advance and kept at room temperature. Reheat it carefully in the top of a double boiler above hot water over medium heat for 10 minutes.
This article is written by Diane Rossen Worthington from Seriously Simple and was legally licensed via the Tribune Content Agency through the NewsCred publisher network. Please direct all licensing questions to legal@newscred.com.