When I am in a pinch for time but want something special for dessert, I'll make a crostata. Sometimes called a "galette" in French cooking, this free-form tart has endless variations.
A crostata is made by rolling out a slightly sweet pastry dough into a large round. The fruit is placed in the center of the pastry, and the dough is pulled up around the fruit and folded over to create a rustic looking tart, rather than a perfect-looking formal fruit tart.
The unassuming appearance can be a good thing. Even my friends who fear pastry making have great success with this recipe, because it doesn't have to be picture-perfect. The rough country look also expands the opportunity for variation. I have seen versions that feature thick raspberry jam, fresh pitted cherries, apricots and nectarines, rhubarb and apples, to name a few. Quick tip: Make sure to adjust the amount of sugar you add, depending on the sweetness of the fruit you select.
Roll out the pastry dough to a large 13-inch circle. I keep extra flour on the pastry slab and rolling pin to keep the dough from sticking. You'll notice that you can immediately roll out the dough. The reason is that I use frozen butter that keeps the dough sufficiently chilled. I also use white pastry flour that has a lower gluten content and does not need to rest. If you are using all-purpose flour, you can chill it for a half hour before rolling out. If you are using pre-made dough, defrost as directed and then continue.
Fresh, juicy blueberries are the star of this easy holiday dessert. It's a real crowd pleaser for kids and adults alike. I like to serve this warm, so I will bake it an hour or two before serving. Don't forget a scoop of French vanilla ice cream to accompany this rustic pie.
Tasty tips
--Make sure to place the crostata on a rimmed baking sheet to avoid dripping and burning the oven. You can line the rimmed baking sheet with foil for easier clean-up.
--Use your thumb and forefinger to make the pleats in the pastry.
--Look for pastry flour at gourmet shops or online.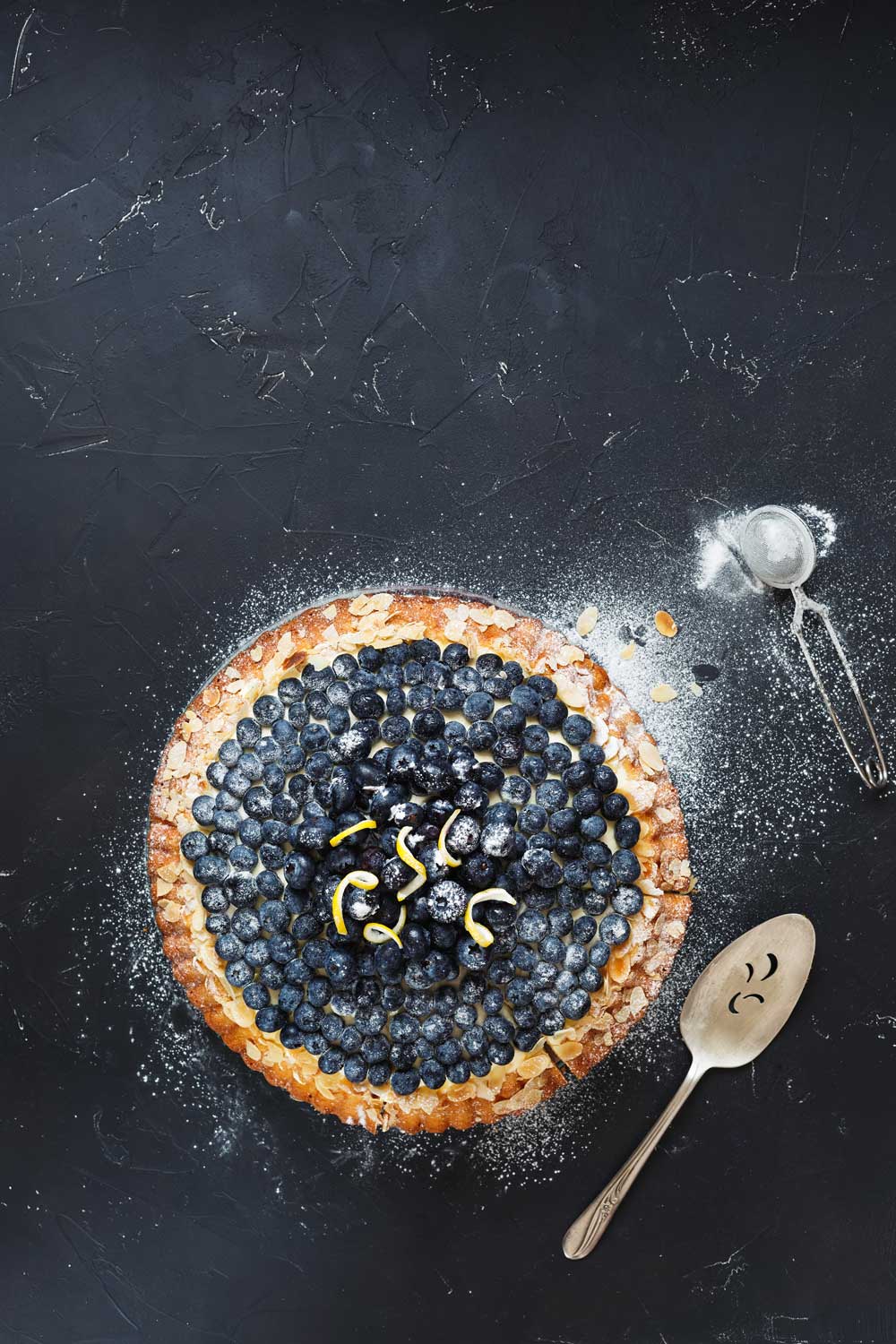 Blueberry Crostata
Serves 6
For the crust:
1 1/4 cups white pastry flour or all-purpose flour
1/4 teaspoon salt
1 teaspoon sugar
8 tablespoons (1 stick) frozen, unsalted butter, cut into 1/2-inch pieces
1/4 cup ice water
For the filling:
1/3 cup plus 3 tablespoons sugar
2 tablespoons all-purpose flour, divided
Zest of 1 lemon
Pinch of salt
1 pound washed and dried fresh blueberries
For the tart:
1 large egg, well beaten
1 pint French vanilla ice cream (optional)
1. Prepare the pastry. Place the flour, salt and sugar in a food processor fitted with a metal blade and process for about 5 seconds. Add the butter and a few tablespoons of water, and process until you have a crumb-like texture, about 5 to 10 seconds.
2. Pat the dough into a round form for easy rolling. If using pastry flour, continue immediately. If using all-purpose flour, refrigerate, covered for half hour. (If you are using prepared dough, defrost per instructions, making sure to push together any cracks.)
3. Place a 10-inch diameter removable bottom disc of a springform or removable tart pan on a foil covered heavy baking sheet with a rim. (You won't need the sides of the springform or tart pan for this freeform tart.) On a floured surface, roll out the homemade or packaged pastry into a round that is 13 inches in diameter. Roll the pastry back onto the rolling pin and transfer it to the tart bottom round, laying the dough flat to cover the round with a 3- inch border overlap all around on the baking sheet. Refrigerate while making the filling.
4. Preheat the oven to 400 F. In a medium mixing bowl, combine 1/3 cup sugar, 1 tablespoon flour, the lemon zest, salt and blueberries, and mix to coat the berries. Remove the tart from the refrigerator, and sprinkle 1 tablespoon sugar and 1 tablespoon flour evenly over the center of the crust. Arrange the fruit mixture in the center of the pastry, and then fold about 3 inches of the pastry edges up around the fruit, making pleats, to look like a free-form tart. Brush the pastry with beaten egg and evenly sprinkle the remaining sugar over the pastry and fruit.
5. Bake the tart for 40 to 45 minutes or until the fruit filling is bubbling and the crust is caramelized. Let cool at least 20 minutes on a wire rack. Slide the tart pan bottom to a serving platter. Slice, and serve with ice cream.
Recipe note: If you do not want to make the crust from scratch, use Trader Joe's frozen pie crust or another pre-made crust of your choice.
Advanced preparation: This dessert can be made up to 8 hours ahead and kept at room temperature. Serve room temperature or reheat in the oven.
This article is written by Diane Rossen Worthington from Seriously Simple and was legally licensed via the Tribune Content Agency through the NewsCred publisher network. Please direct all licensing questions to legal@newscred.com.