The perfect complement to any main course, these little potato gems would be the perfect accompaniment to baked ham, roast turkey or leg of lamb for Easter this year. This recipe is made for entertaining, because you can do all the work early in the day and then finish cooking just before the meal.
For years I relied on simple roasted baby potatoes as my trusty side dish. But one night I experienced these crusty morsels at a dinner, and I knew I had to add them to my repertoire. I've made these multiple times, so I have some fail-safe tips I have learned along the way.
Select small red or yellow baby potatoes that are as close to the same size as possible. Then scrub them well. At this point you can either boil or microwave them. I prefer to microwave them because it is quick, about 7 minutes, and little clean up. Boiling the potatoes requires straining them and then drying them well so the oil will adhere. I usually cook them in the morning, flatten them, loosely cover on baking sheets and finish before serving.
Flattening the cooked potatoes is what makes these spuds so special. They can look like little flowers or just pretty potato crisps. You can flatten the potatoes with the palm of your hand or a potato masher. My advice is to be very gentle when pressing down so that you can keep the potato together in one piece. Don't worry if a few fall into pieces; they will still be delicious.
This recipe can be multiplied as many times as you wish. You just need the oven space. If you are making more than one batch, you can reverse the pans halfway through baking to allow for even heat.
And one more thing: These are fantastic as appetizers with myriad toppings like smoked salmon and sour cream, caviar, salsa and also dusted with freshly grated Parmesan cheese. But any way you serve them, the result is roasted baby potatoes with panache.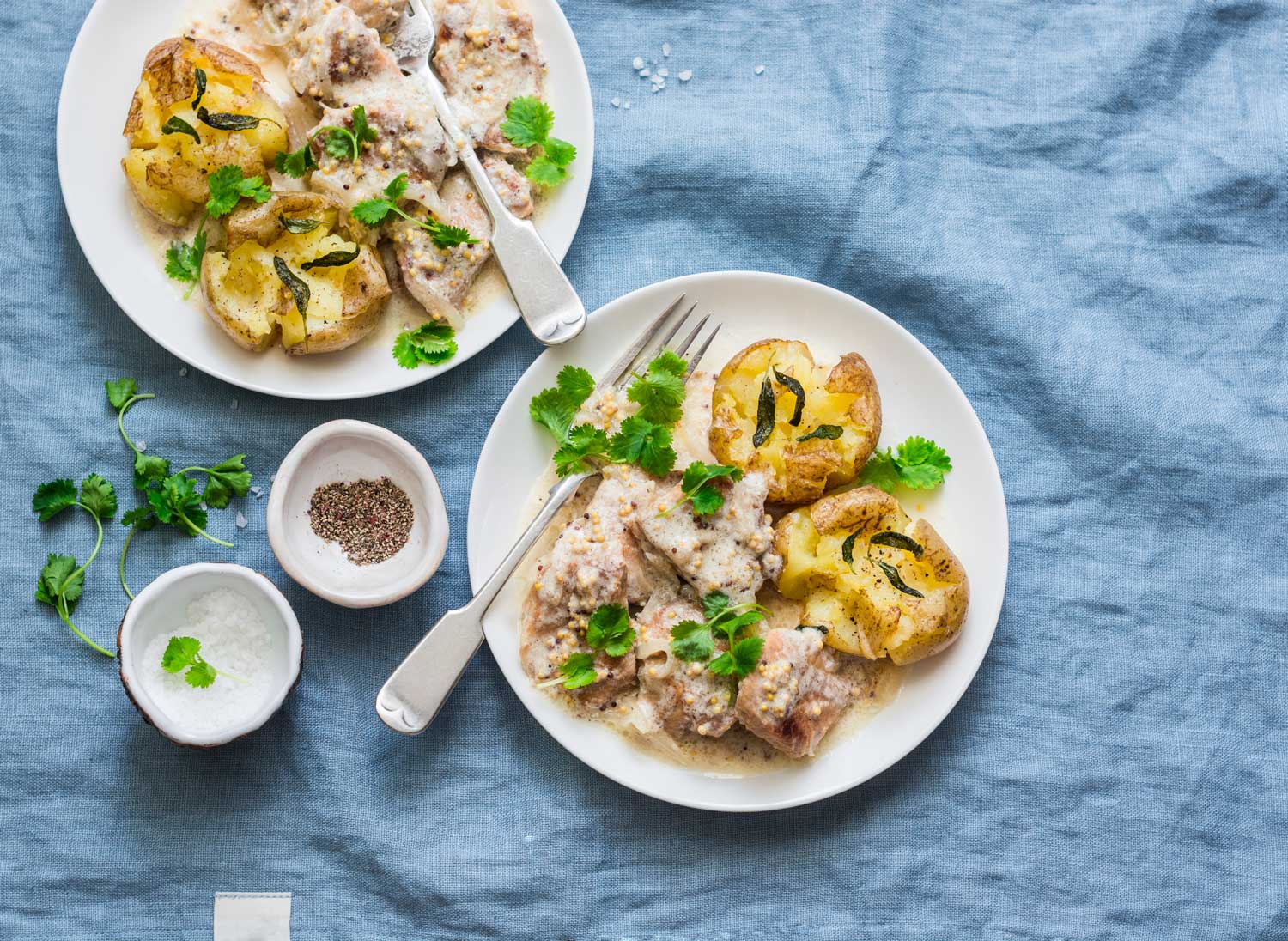 Oven Roasted Smashed Potatoes
Serves 4
12 to 15 yellow or red baby potatoes, each about 1 1/2 ounces and 1 1/2 to 2 inches in diameter
1/3 cup olive oil
Salt and freshly ground black pepper
2 tablespoons finely chopped parsley
1. Scrub the potatoes well.
2. If you plan to boil the potatoes, place them in a large saucepan of salted water, bring to a boil, then reduce to a simmer for about 25 to 30 minutes or until the potatoes are tender when pierced with knife or skewer. Drain and dry on paper towels. If you plan to use the microwave, place the potatoes on microwave safe plate or bowl and microwave on high for 6 to 7 minutes or until the potatoes are tender when pierced with knife or skewer.
3. Line a large rimmed baking sheet with parchment paper. Transfer the potatoes onto the baking sheet. Cool potatoes for 10 minutes. With the palm of your hand or with a potato masher gently press down on each potato to flatten to about 1/2-inch thick. If any potatoes fall apart that's OK. Cool completely.
4. Place the olive oil in a bowl and brush the potatoes all over both sides, being careful to keep the potatoes together. (A spatula is helpful to brush the underside.) Season with salt and pepper.
5. When ready to finish, preheat the oven to 450 F. Roast the potatoes for 30 to 40 minutes or until golden brown and crispy. Watch carefully so they don't burn. Transfer to a serving bowl, garnish with parsley and serve immediately.
Advance preparation: This may be prepared through Step 2, loosely covered with foil and left at room temperature up to 8 hours ahead of roasting.
This article is written by Diane Rossen Worthington from Seriously Simple and was legally licensed via the Tribune Content Agency through the NewsCred publisher network. Please direct all licensing questions to legal@newscred.com.