Vegetarian Christmas Dinner
Holidays can be a challenge for some vegetarians, filled as they are with traditional roast turkeys and hams. However, vegetarian friends and family don't have to feel left out this holiday season. These vegetarian Christmas dinner ideas will leave them more than satisfied.
Veggie starters
Let's begin with a holiday appetizer that all vegetarians will love. A warming soup is the perfect way to kick off the festivities. Our Asparagus Soup recipe includes leeks and onions. It's a better-for-you soup, but still rich in flavour, using unsalted cooking stock along with our Salt-Free Herb & Pepper and salty Parmesan cheese.
Alternatively, serve your vegetarian Christmas dinner starter on a skewer. We chose these gorgeous-looking Tofu Butternut Squash and Brussels Sprout Skewers to kick off the meal. This sweet and spicy appetizer blends chili sauce with ginger and pepper to bring new festive flavours to traditional winter veggies. Brussels sprouts and butternut squash never tasted so good. Marinated tofu offers a rich alternative to meat.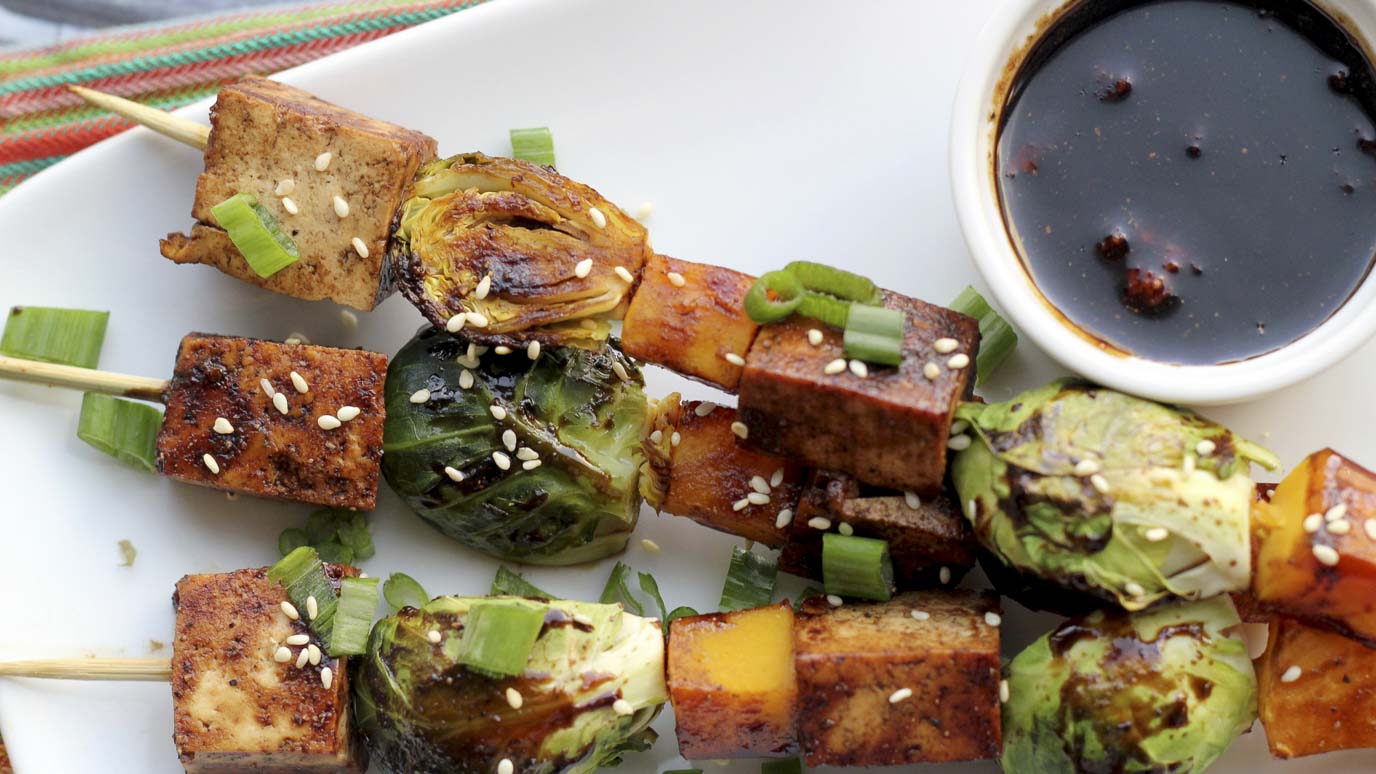 Vegetarian Christmas mains
Your guests might ask for second helpings of your starters but be firm. They must leave room for our vegetarian Christmas main dishes that offer rich, deep flavour.
What do you serve a vegetarian for Christmas dinner?
We have you covered! Vegetarian recipes can be confusing at first, but many recipes - if not already vegetarian - have go-to substitutions to make it vegetarian-friendly. Substitute meat in the entree for ingredients like mushrooms, beans, or tofu; sub out any meat-based stock for veggie-based stock; and be sure to keep your vegetarian cookware and utensils separate from your non-vegetarian cooking! 
First up: Try subbing mushrooms in place of meat in this Christmas dinner favorite: Pot roast! Swap out the beef for meaty mushrooms with this Slow Cooker Vegan Portobello Pot Roast. Put portobello mushrooms in the slow cooker along with herbs you'd typically find in a beef roast, like Rosemary and Thyme. Dry red wine and cornstarch create a rich red gravy, and a little vegetarian Worcestershire sauce will give it an even richer, deeper flavour. Serve with a side of Parmesan Tomato Rice for a vegetarian Christmas dinner that guests will still be talking about next year.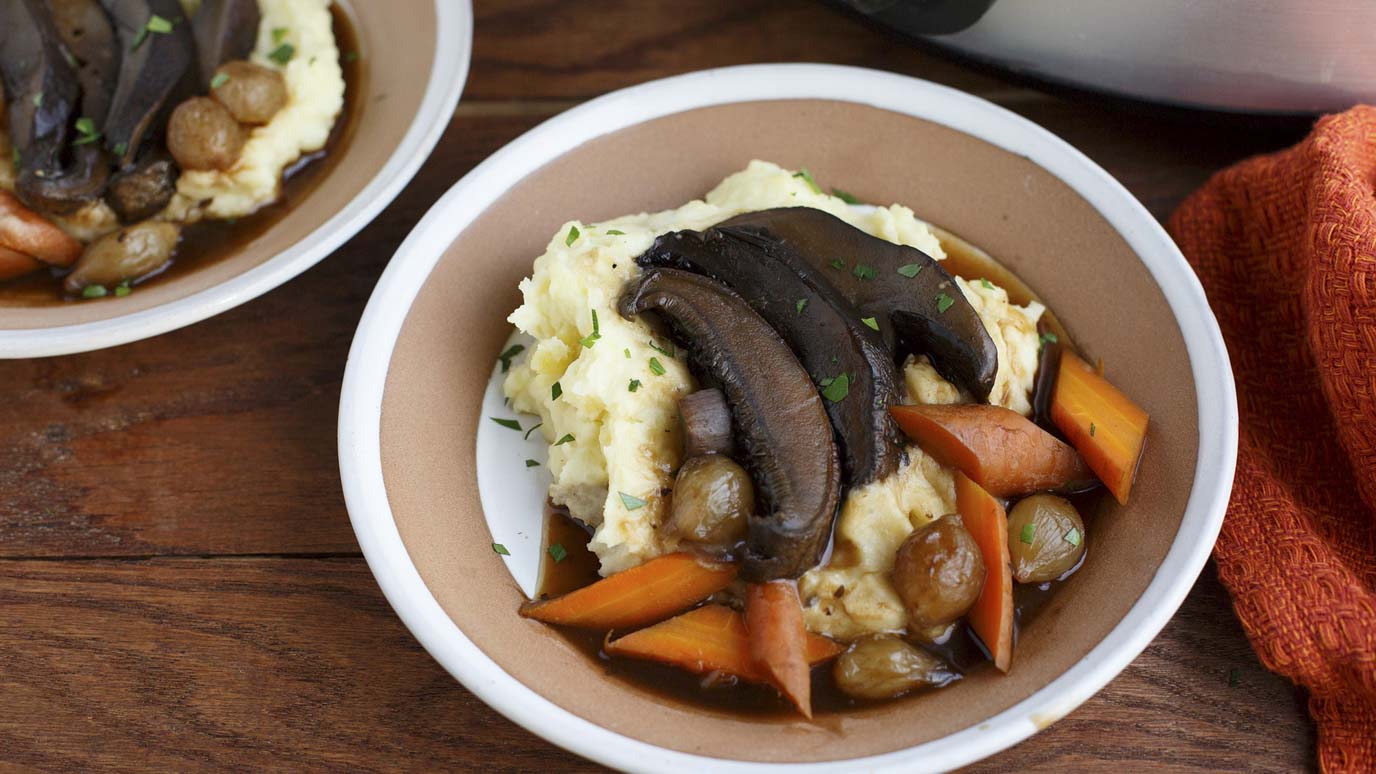 Wow your guests with our Herbed Wild Rice and Butternut Squash Stuffing recipe, which uses cooked brown and wild rice for texture. Chopped pecans give it a sweet, nutty crunch that contrasts pleasantly with the softer cubed squash. Our Poultry Seasoning lends some familiar turkey roast flavour to this dish. Just swap the chicken stock for vegetable stock.
This One-Pan Roasted Squash, Tomatoes and Chickpeas recipe uses our One Bowl Moroccan Seasoning Mix to bring a Middle-Eastern inspired feel to your holiday feast. Almonds and sultanas blend with butternut squash, chickpeas and cherry tomatoes for a single-pan dish that you can put together in under an hour.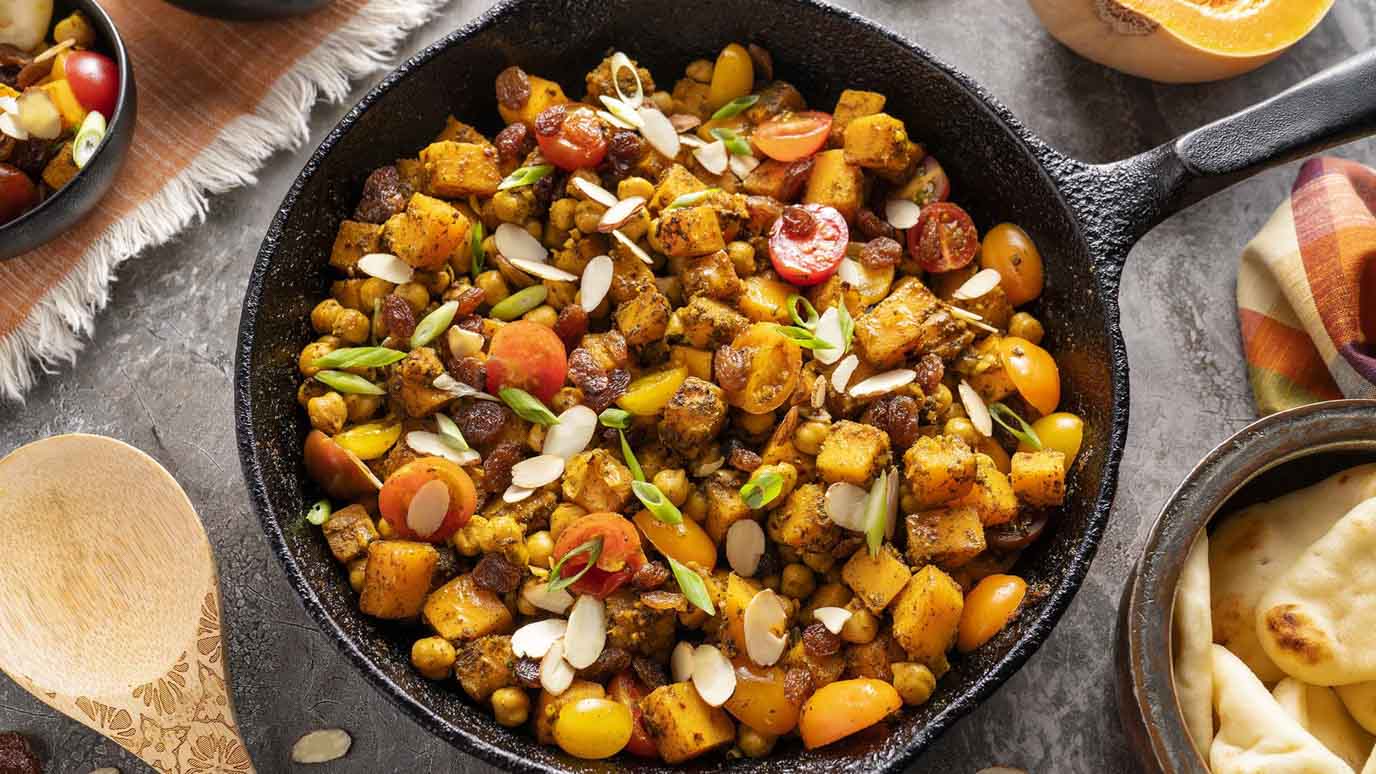 Veggie roasts deserve a stuffing every bit as much as a poultry or beef roast! Continue the international theme with this Berbere Spiced Roasted Vegetables & Pasta dish. Berbere is a fiery Ethiopian seasoning that builds on the gentle heat of cinnamon and ginger, spicing up this dish's cauliflower, carrot and okra veggies. Toss with spaghetti and feta and make room for this veggie dish on your holiday plate.
Vegetarian Christmas dinner desserts
Got room for dessert? We hope so. We have two to choose from. First up are these Chili-Spiced Vegan Brownies, which use our Cocoa Chili Blend along with some warming cinnamon to provide a comforting sweet end to a fabulous dinner. These are so rich that guests will only need one. Or maybe two.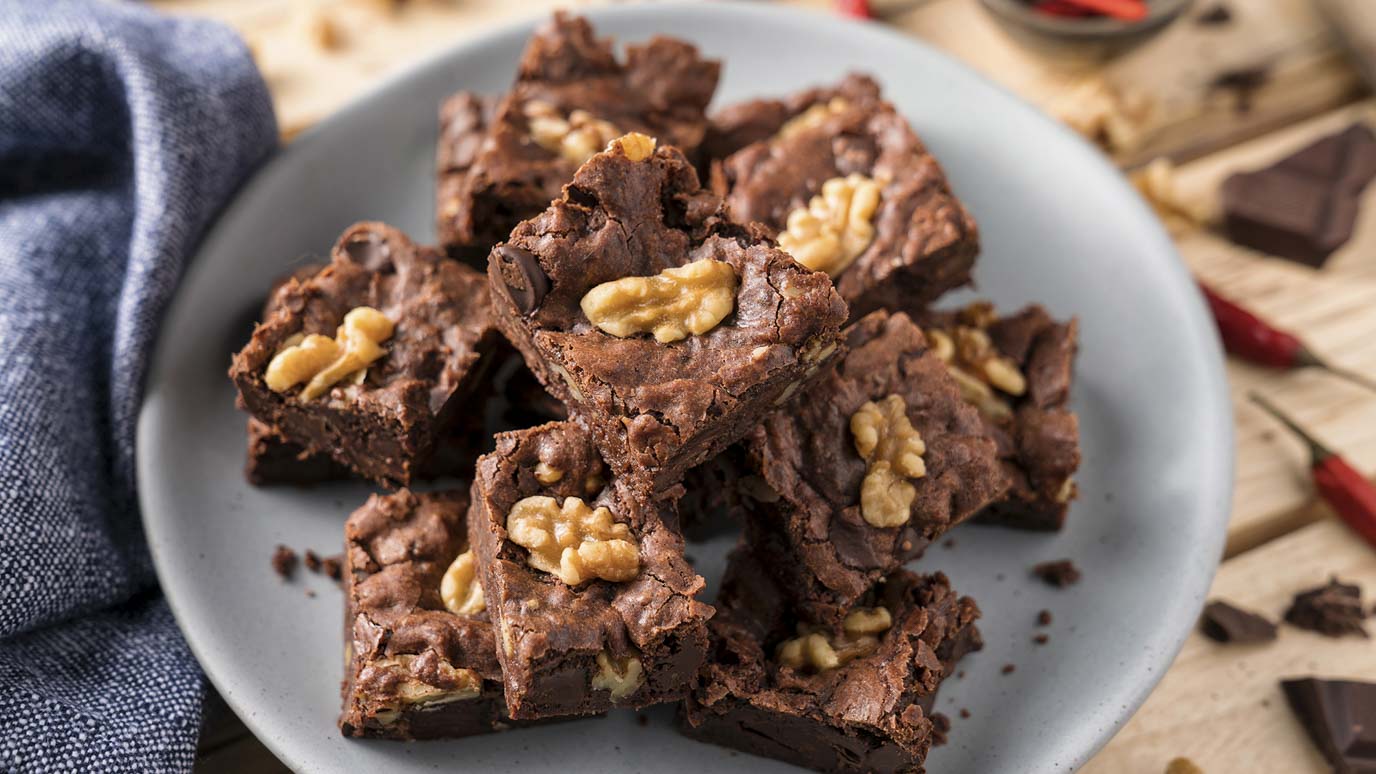 For another option, roll out this Vegan Tres Leches Cake, which uses Coconut Milk, plant milks and vanilla to create a dessert drawing on Latin American traditions.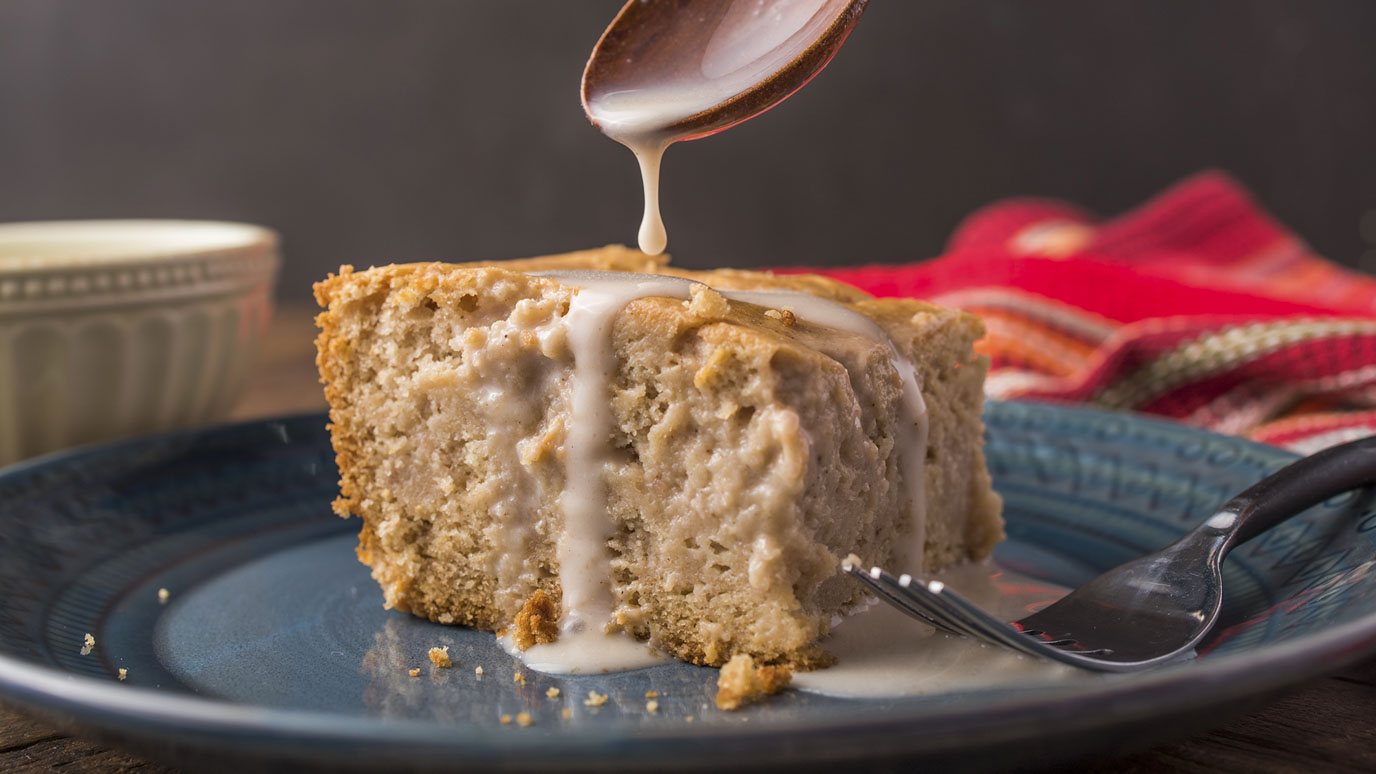 What we love about this vegetarian Christmas dinner menu is that it's so international. These vegetarian friendly recipes will be the star of the show! With a little imagination and adventure, you can create a meatless Christmas feast that is as memorable as it is delicious!