Valentine's Day can often feel like a forced day to be happy and in love. For me, it's a time to remember those I love. Sometimes I celebrate with just my husband and other times I invite friends into the fold to have a delicious meal and stimulating conversation. Even those that are having a hard time can't help but relax and enjoy when this dessert is served. And it is truly Seriously Simple to prepare.
I have made many a chocolate cake, each that has its own special attributes. Ones that have multi-layers with different buttercreams, ones with ground nuts instead of flour, ones covered with chocolate ganache.
And then there is this one.
The rich chocolatey cake batter is embedded with chunks of caramel that soften and melt slightly as the cake bakes. A light sprinkle of sea salt adds an even richer taste sensation. If you make this ahead, just make sure to warm it before serving. And don't worry if you have leftovers. Freeze, defrost and enjoy for another meal.
Kudos and thanks go to well-respected cookbook author and blogger Betty Rosbottom, who concocted this heavenly combination. I found this recipe on her website and contacted her to see if I could share it with my readers. She happily agreed. When I asked how she developed this recipe she explained that she tasted something like this while in Paris and then set out to recreate it for her readers. I've adapted it and hope you love it as much as I do. Make sure you look for good quality dark chocolate. If you can find handmade caramels, the cake will be that much better. And remember: This cake is great for any happy occasion!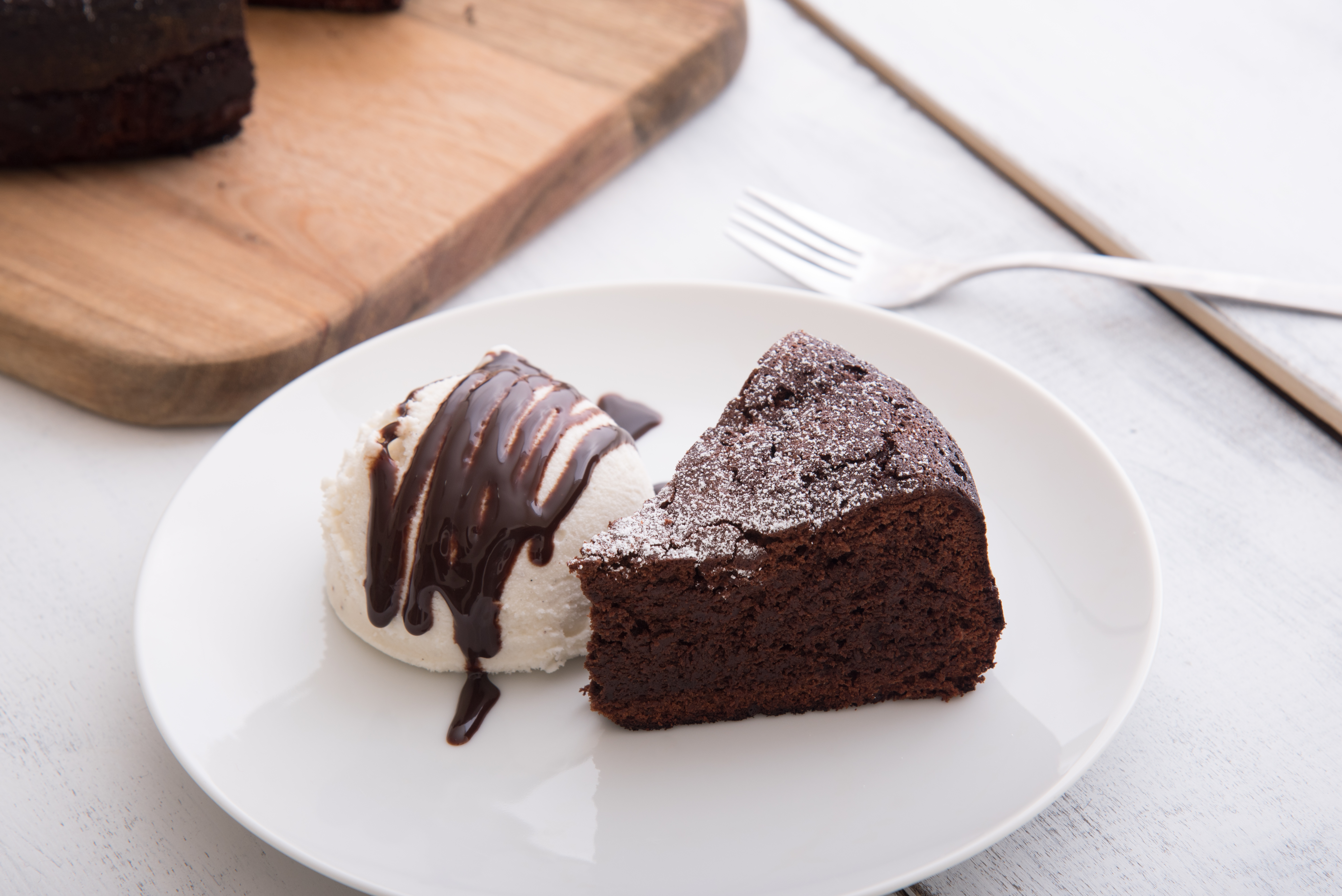 Dark Chocolate and Caramel Cake
Serves 8
7 ounces unsalted butter, at room temperature
1/2 pound bittersweet chocolate chips or bars, cut into small pieces (I like Ghiradelli 60%)
4 large eggs
1/2 cup fine sugar
3/4 cup sifted flour
1/2 teaspoon Fleur de Sel or sea salt
8 caramels, like Kraft's, cut in half
Powdered sugar (optional)
1 quart best quality vanilla ice cream (optional)
1. Preheat the oven to 350 F.Butter and flour an 8-inch springform pan. Line the bottom with a round of parchment paper.
2. In a Pyrex measuring cup or other glass bowl combine the butter and chocolate and cook until the chocolate and butter are melted, about a minute and a half. Check after 30 seconds and using a rubber spatula blend together. Remove and cool.
3. Meanwhile combine the eggs and sugar in an electric mixer on medium-high speed mix for about 3 minutes, or until the mixture lightens in color and thickens slightly. Reduce the speed to medium and add the chocolate-butter mixture. Then add the flour and salt and carefully incorporate until blended. Transfer the mixture into the prepared springform pan. Use a rubber spatula to even out the top.
4. Push the caramel pieces into the batter carefully so they are equally placed. Use the spatula to smooth the top. Bake for 22 to 28 minutes or until a wooden skewer comes out clean from the center. Cool the cake on a cooking wire rack for at least 20 minutes. Run knife around the inside edge to avoid sticking. Once cool release the sides.
5. To serve: Using a sharp knife, remove the bottom springform from the cake and discard the parchment paper. Transfer onto a serving platter, decorate with powdered sugar, slice into wedges and serve with a scoop of vanilla ice cream, if desired.
Advance preparation: This can be made through Step 4, cooled completely and covered with plastic wrap and then foil and refrigerated up to two days ahead. It can also be frozen and defrosted. To reheat, remove foil and plastic wrap and bring cake to room temperature. Reheat in a 350 F oven for 10 minutes.
This article is written by Diane Rossen Worthington from Seriously Simple and was legally licensed via the Tribune Content Agency through the NewsCred publisher network. Please direct all licensing questions to legal@newscred.com.