One of my favorite summer dishes is cucumber (or zucchini) butter pasta. All you have to do is grate your oblong piece of produce, cook it down with butter, and toss it with some spaghetti, along with starchy pasta water. It turns out you can do the same song and dance with ripe peaches, and the results are delightful.
This sauce actually comes together faster than the cucumber (or zucchini) version. A peach gives up its water more readily than either vegetable, and a five-minute simmer with some browned butter is all it takes to transform the juicy bits into a silky sauce that clings to your noodle of choice. Add a few pinches of pepper flakes and salt to taste, and you've got a sauce that's sweet, salty, spicy, and lightly nutty. (I would have added a smattering of basil if I had had it. Sadly, I didn't.)
Think about how butternut squash pasta would taste if it took a summer vacation, and that's pretty close to the vibe. It's fruity and sweet but anchored by the brown butter and punctuated by hot pepper flakes. Drape a slice or two of prosciutto on top and let it wilt for some meaty extra credit. This recipe makes a single serving out of a single peach, but you are, of course, welcome to scale it up as you see fit.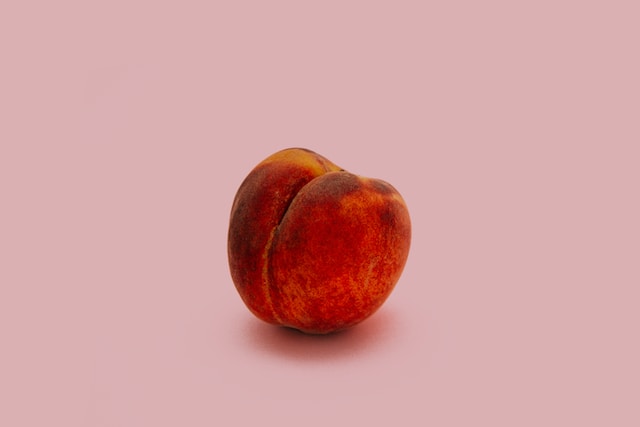 Sweet & Spicy Peach Pasta with Prosciutto
Ingredients:
2 ounces dried pasta
1 ripe peach
2 tablespoons butter
1/8 teaspoon crushed red pepper
Salt to taste
2 slices of prosciutto, torn into bite-sized pieces
Optional: Fresh basil, torn or thinly sliced into ribbons
Bring a pot of heavily salted water to a boil and cook until al dente (shave a minute off the package instruction cook time). Reserve 1/2 cup of pasta water, then drain the pasta and set aside.
Coarsely grate a washed peach over a large plate to catch all the juice. Don't worry about peeling it first; the grater will separate it from the flesh. Melt the butter in a nonstick pan over medium heat, then let it foam and brown until it turns a deep amber and smells pleasantly nutty. Add the grated peach and all of its juice, reduce the heat to low, and cook for five minutes, stirring occasionally.
Add two tablespoons of pasta water to the pan and give it a stir. Add the pasta, and toss and stir to coat. Give it a taste and salt if needed. Transfer to a shallow bowl and finish with a couple of slices of torn prosciutto, and a little fresh basil if you have it.
This article was written by Claire Lower from Lifehacker and was legally licensed through the Industry Dive Content Marketplace. Please direct all licensing questions to legal@industrydive.com.