Green sauce, depending upon where you're from, can be a wonderful staple to have at-the-ready when cooking simple dishes.
Take a grilled steak: A drizzle of Argentinian chimichurri sauce will make that steak sparkle. Or how about a simple bowl of pasta coated with the fragrant basil pesto sauce? If you love Mexican dishes, what could be better for tacos, enchiladas or tostadas than a slick finish of a vibrant tomatillo salsa verde?
If that doesn't tell you how ubiquitous green sauce is globally, how about my native California green goddess dressing that brightens sweet romaine lettuce salads? Here you will find a few of my favorite sauces that can be on hand from your refrigerator, ready to go. These condiments are a moniker of cooking Seriously Simple style.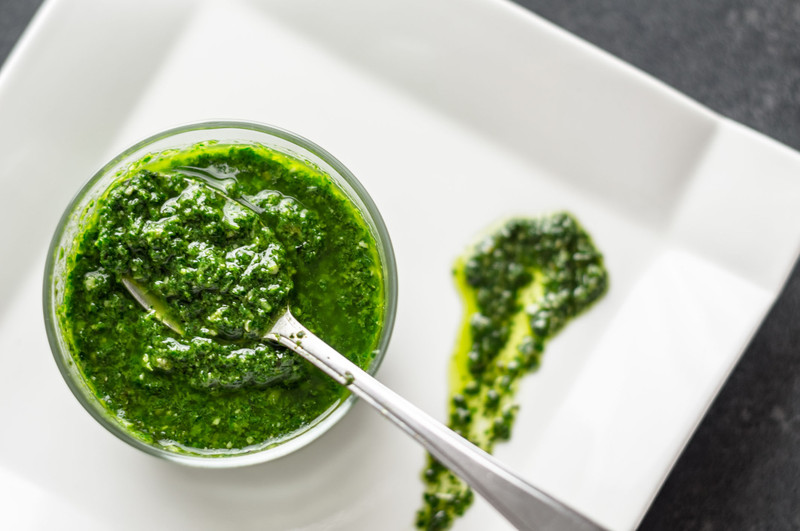 Basil Pesto
Try a classic basil pesto on pasta, fish or chicken, as a garnish in vegetable soups or even in salad dressing.
Makes about 1 1/4 cups
2 medium garlic cloves
2 cups medium-packed fresh basil leaves (about 2 medium bunches)
1/2 cup parsley leaves
2 tablespoons pine nuts
1/2 cup olive oil
Freshly ground black pepper
3/4 cup freshly grated Parmesan cheese
1. While the motor is running, add the garlic cloves to a food processor fitted with the metal blade. Process until pureed. Add the basil and parsley and process until finely chopped. Add the pine nuts and finely chop.
2. With the blades turning, slowly pour in the olive oil in a fine stream. Add pepper.
3. Just before serving, add the cheese and process until well blended. Taste for seasoning. Refrigerate the pesto in a tightly covered container until ready to use.
Advance Preparation: The pesto can be prepared one week ahead through Step 3, covered in an airtight container and refrigerated. Add cheese just before serving.
Chimichurri Sauce
Try this drizzled on grilled steak, chicken or fish.
Makes about 1 1/4 cups
6 to 10 medium garlic cloves, depending upon your taste
1 medium bunch Italian parsley, stems removed
3/4 cup olive oil
1/4 cup white balsamic vinegar or white wine vinegar
1/4 cup water or chicken stock
3/4 teaspoon dried oregano
3/4 teaspoon dried basil
1/4 teaspoon crushed hot pepper flakes, or to taste
Salt to taste
Freshly ground black pepper to taste
1. Puree the garlic in a food processor. Add the parsley and process until finely chopped. Add the oil, vinegar, water or stock and seasonings and process. Taste for seasoning. It should be very flavorful and spicy. Adjust if necessary. Refrigerate for up to a week in an airtight container.
Salsa Verde
This sauce is delicious on tamales, enchiladas, roast chicken or tostadas.
Makes about 1 3/4 cups
1 3/4 cups chicken or vegetable stock
3/4 pound tomatillos, husked, rinsed and diced
4 scallions, light green and white part, sliced thinly
2 medium cloves garlic, minced
1/ 4 teaspoon ground cumin
2 jalapeno chilies, finely chopped (or to taste)
2 teaspoons lime juice
2 tablespoons chopped cilantro
1/2 teaspoon salt
1. Combine the stock, tomatillos, scallions, garlic, cumin and 1 chopped chile in a pan on medium-high heat and bring to boil. Reduce heat, partially cover and simmer for about 15 minutes or until slightly thickened. Cool slightly. With a hand blender puree the mixture leaving some texture. Add the remaining chile, lime juice, cilantro and salt. Taste for seasoning. Cover in an airtight container and refrigerate. This may be kept up to 3 days in the refrigerator. Remove from refrigerator 1/2 hour before serving.
Tasty tips: The tomatillo resembles a small green tomato. A relative of the Cape Gooseberry family, tomatillos have a slightly lemony herbal flavor. If fresh tomatillos are unavailable, substitute a drained 12-ounce can of tomatillos.
Green Goddess Dressing
This dressing is my choice to pour over crispy romaine leaves or little gem lettuces. Sweet cherry tomatoes would be a nice accent. It's also great as a dip for raw vegetables.
Makes about 1 1/2 cups
2 tablespoons dill leaves
2 tablespoons tarragon leaves
2 tablespoons chopped chives
2 tablespoons basil leaves
1 small bunch Italian parsley leaves, no stems
1 small shallot
2 tablespoons drained and rinsed capers
2 tablespoons red wine or tarragon vinegar or lemon juice
1 teaspoon anchovy paste
3/4 best quality mayonnaise
White pepper, to taste
1. Combine all the ingredients in a high-powered blender or in a food processor and process until it is well blended. Tate for seasoning. Transfer it to an airtight container. This may be kept up to 5 days in the refrigerator. Refrigerate until serving.
This article is written by Diane Rossen Worthington from Seriously Simple and was legally licensed via the Tribune Content Agency through the NewsCred publisher network. Please direct all licensing questions to legal@newscred.com.