Egg salad is one of my fondest taste memories: My grandmother used to pick me up from school and take me home, where an egg salad sandwich awaited me. It's not only the taste of the egg salad that I remember, but the flood of warm memories I recall. That's when I learned to love this creamy, American classic.
I associate this gem of a dish with going back to school. Even if your kids are home right now, they'll love the sandwich or salad possibilities.
The secret to hard-cooked eggs is in the selecting and cooking technique. Purchase your eggs a week ahead of cooking so that they will be mature and will be easier to peel. They will also be less likely to crack while cooking.
If you boil the eggs or overcook them, you may end up with unappetizing gray circles around the yolks. The following technique is fail-proof: Make sure to use a large pan so that the eggs aren't crowded and cool the eggs under cold running water. I prefer my egg yolks to be bright yellow and this method ensures that.
Simple egg salad can get a bit humdrum, so I like to find tasty variations. The following recipe is a Seriously Simple but texturally exciting version with crisp, refreshing diced cucumber, chives and basil and grainy mustard. I like the crisp, clean flavor of Persian cucumbers. You could also use European cucumbers.
Serve this egg salad atop mixed greens and colorful cherry tomatoes, in a serving bowl or tucked into pita bread or spread on slices of crusty bread for a satisfying lunch.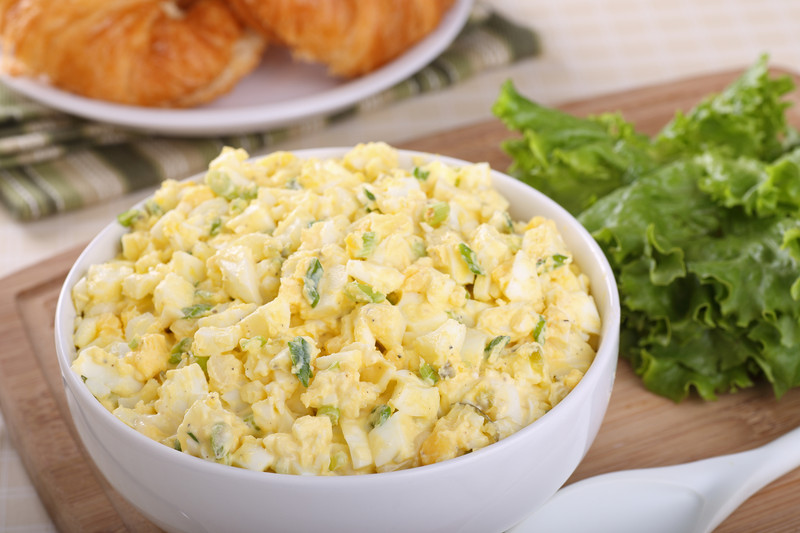 Egg Salad with Cucumber and Herbs
Serves 6
6 extra large eggs
3/4 cup seeded, diced cucumbers (about 2 Persian cucumbers or 1/2 European cucumbers)
2 tablespoons finely chopped chives
2 tablespoons finely chopped fresh basil
3 tablespoons mayonnaise, or more to taste
1 1/2 teaspoons grainy Dijon mustard
Salt
Freshly ground pepper
1. Place the eggs in a pan and cover with cold water. Bring just to a rolling boil. As soon as the water reaches a rolling boil, turn off the heat and cover for 9 minutes. Put the eggs in a strainer and run cold water over them. Crack, but don't peel them until right before preparing the dish. Refrigerate until chilled.
2. Peel the eggs. Dice the eggs and place in a medium bowl. (I like to use an egg slicer to cut them evenly; turning them a quarter turn to dice them). A sharp knife works well too.
3. Gently combine, cucumber, chives and basil in the bowl. Stir in the mayonnaise, mustard, salt and pepper, mixing carefully to keep the dice intact. Taste for seasoning and serve.
This article is written by Diane Rossen Worthington from Seriously Simple and was legally licensed via the Tribune Content Agency through the Industry Dive publisher network. Please direct all licensing questions to legal@industrydive.com.