Forget everything you think you know about granola. Let go of your crunchy, overly sweet, oat-filled expectations, and the results are magically different and incredibly satisfying. This is nowhere near your average granola, which is exactly why I seriously can't get enough of the stuff.
There's nary an oat in sight, and crispy clusters are forgotten. Instead, nuts and seeds take center stage in a soft and chewy granola that's sweetened with honey, flecked with dry fruit, and guaranteed to be your new morning obsession.
A granola that breaks all the rules
There is no shortage of granola recipes out there. I have my favorites and hardly thought I needed to add a new one to my repertoire until I met this one. This unique recipe comes from Andrea Reusing, executive chef at The Durham Hotel in Durham, N.C. During my visit to the boutiquey, midcentury modern spot last fall I was treated to all sorts of good things only hotels this hip can provide: freshly ground coffee delivered to your door, yoga on the rooftop, and a complimentary breakfast spread that had me swooning.
Their signature granola, served atop their homemade yogurt, gave me a new perspective on the morning staple. A whole slew of nuts and seeds and chopped dried apricots are baked at a low temperature with honey and just a bit of butter to make a mix that's sticky and soft, rather than dry and crisp. It clumps, rather than clusters, and the array of nuts and seeds results in a mixture of textures and flavors that's hard to get sick of.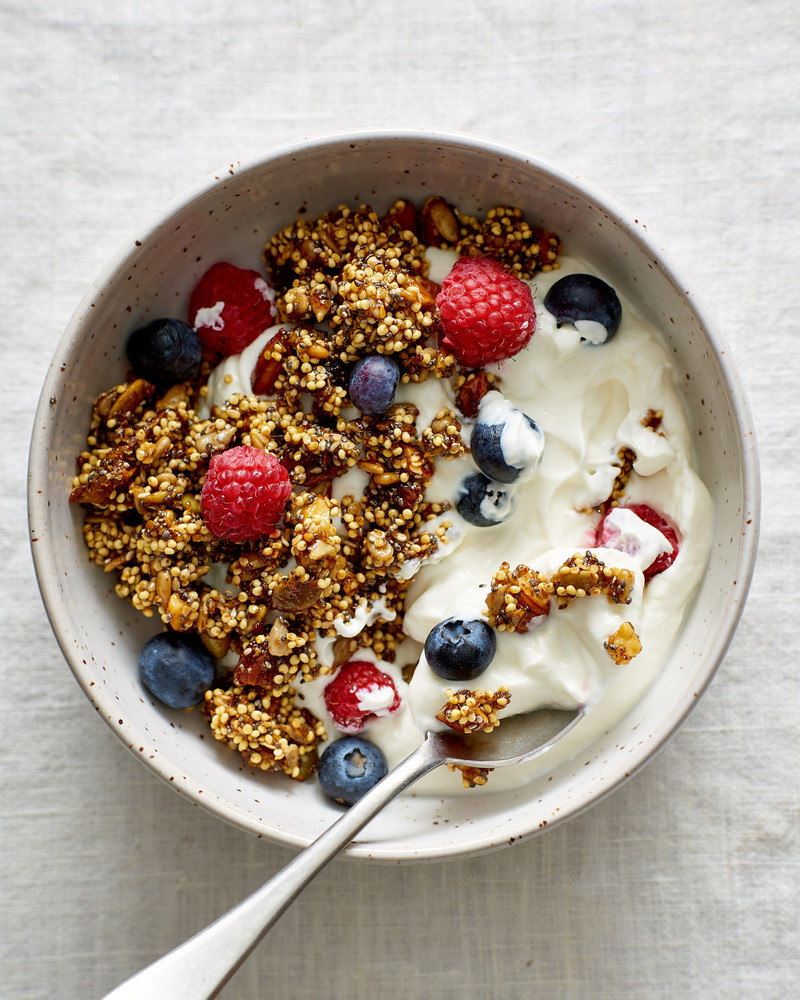 Soft & Chewy Granola
Makes about 5 cups
1 tablespoon olive oil
3/4 cup millet
1 cup skin-on raw almonds, coarsely chopped
1/4 cup pumpkin seeds
1/2 cup sunflower seeds
1/3 cup dried apricots, coarsely chopped
1/4 cup chia seeds
1/3 cup flaxseed meal
1/4 cup sesame seeds
4 tablespoons unsalted butter, melted
1/2 cup plus 2 tablespoons honey, divided
1. Arrange a rack in the middle of the oven and heat to 275°F. Line a rimmed baking sheet with parchment paper.
2. Heat the oil in a large frying pan over medium heat until shimmering. Add the millet and cook, stirring frequently, until toasted and golden-brown, 3 to 4 minutes. Remove from the heat and let cool for 5 minutes. Transfer to a large bowl.
3. Add the almonds, pumpkin seeds, sunflower seeds, apricots, chia seeds, flaxseed meal, sesame seeds, melted butter and 1/2 cup of the honey, and stir to combine. Pour the mixture onto the prepared baking sheet and spread into an even layer.
4. Bake for 20 minutes. Stir the mixture, drizzle with the remaining 2 tablespoons honey, and bake for 10 minutes more.
5. Transfer the baking sheet to a wire rack, and cool the granola completely. Store in an airtight container.
Notes: Granola will keep well in an airtight container at room temperature for up to two weeks.
This article is written by Sheela Prakash from The Kitchn and was legally licensed via the Tribune Content Agency through the NewsCred publisher network. Please direct all licensing questions to legal@newscred.com.