Now that I've seen this air fryer chips recipe I've seen it all. I'm always keen to try air frying foods; from air-fried cakes to roast dinners, and cheese on toast to boiled eggs - yep, eggs - and then I discover this TikTok recipe and my fave store-bought go-to snack ceases to excite me.
I love nothing more than opening a big bag of chips, sitting down in front of a movie, and dipping them in homemade garlic mayo. Yet, despite the fact I've been testing the best air fryers for years, it never crossed my mind to make my own potato chips. 
I also never imagined they'd taste as good as they do. With this recipe, I can make my favorite snack at any time of day even if I don't have chips in the house. Plus I can experiment with creating my own flavors.  
Below, I show how easy it is to make a bowl of crispy air fryer chips – also known as air fryer crisps if you're in the UK – in less than 30 minutes from start to finish. 
Air fryer deals
If you're yet to take the plunge and buy yourself an air fryer, or are looking to upgrade, check out our top-rated air fryers below, all available to buy now for the best prices.
Air fryer chips recipe 
The air fryer chips recipe I have followed is from Khadija Abid via her @traveleatrepeat TikTok channel. It's already been watched by 1.2 million people and counting.
Air fryer chips ingredients 
This air fryer chips recipe uses very few ingredients and the flavors you choose will depend on your personal taste. I've listed my favorite combination below but the original video added chili flakes, dried herbs and parsley. 
Potatoes that are high in starch and low in moisture like Russets, or King Edwards work best for this recipe in my experience.
2 medium-sized potatoes
1 tbsp olive oil
1/2 tsp salt
1/2 tsp pepper
1/2 tsp paprika
1/2 tsp garlic granules 
1/2 tsp mild curry powder
Air fryer chips method 
To make air fryer chips you will need the following:
Air fryer
Knife, or peeler
Dish towel
Medium-sized bowl
To get the crispiest air fryer chips, you need to wash and dry the potatoes after slicing. It can be tempting to skip this step but it stops the crisps from sticking together.
Step 1: Cut your potatoes into thin slices – the thinner the better. If you're not confident in your knife skills, we recommend using a wide peeler.
Step 2: Place the potato slices into a bowl of cold water and rinse off the starch by moving them around with your hand.  
Step 3: Drain the potato slices and pat them dry using a clean dish towel.
Step 4: In a bowl, add the potato slices, olive oil, salt, and the herbs and spices of your choice. 
Mix the seasoning and potato slices together ideally using your hand, to avoid accidentally breaking them.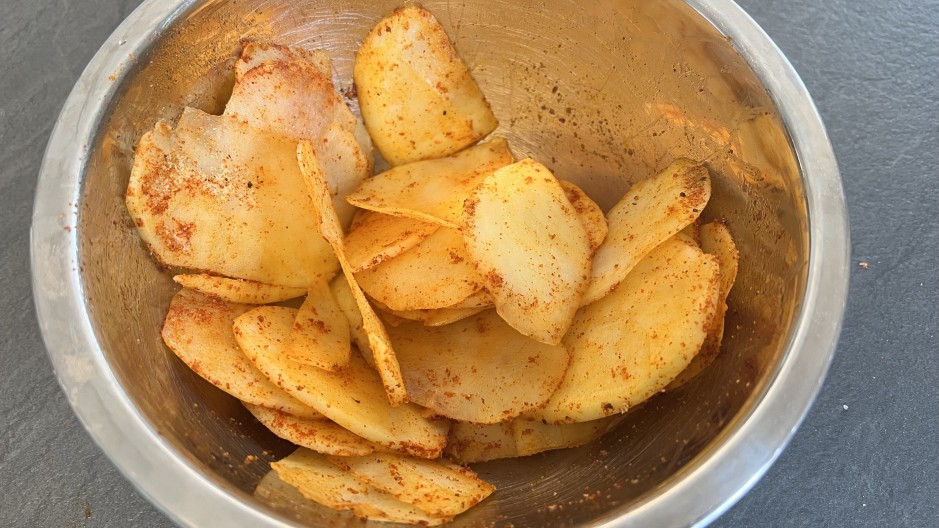 Step 5: Lay the potato slices on the base of your air fryer basket. It helps to spread them out as much as possible. 
Step 6: Set the air fryer to 350°F (180°C) for 20 minutes. 
After 10 minutes, remove the basket, shake the chips, and return to the air fryer. If any are stuck together, use tongs to gently separate them.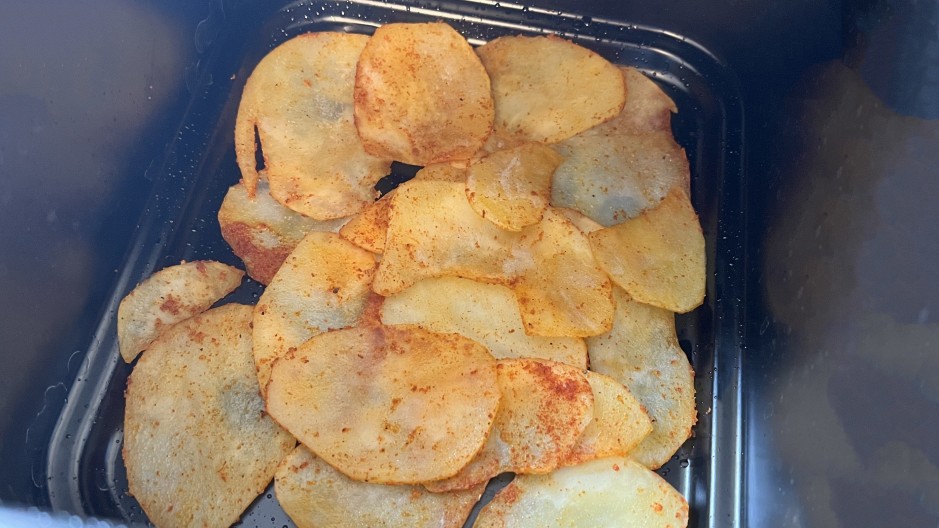 Step 7: When the air fryer time reaches 15 minutes, remove, shake and return the basket.
Step 8: When the cooking time ends, shake the basket again before tipping the chips onto a plate to cool down. Once cooled, you can add any further seasoning and serve.  
Tip: It can be tempting to get the chips out early, when the edges start curling and turning brown, but this adds to the crunch and flavor so I recommend sticking it out until the end. 
Air fryer chips recipe verdict
Cooking your own air fryer chips may not be as convenient as buying potato chips from a store but I think they're worth the effort and are likely to be much healthier. 
Not only can you control how much oil you're using, but you can dial up the amount of flavoring, or experiment with flavor combinations in a way that's not possible with shop-bought. 
You can also cook and store these chips if you want a steady supply of snacks. 
In every batch I've made, there have been one or two that haven't crisped up as much as I'd have liked. This is either because I'd cut them too thick, or they were too close to another crisp in the basket so it's worth bearing that in mind. 
Overall, though, making homemade air fryer chips is much easier than I thought, and they taste great. 
If you're still sitting on the fence and wondering whether to buy an air fryer, you may want to read our article to decide whether air fryers are worth it? 
This article was written by Victoria Woollaston from TechRadar and was legally licensed through the Industry Dive Content Marketplace. Please direct all licensing questions to legal@industrydive.com.