Waffles are a mainstay of the North American breakfast table. They're hearty, fun and easy to make. They're also packed with possibilities. You can go classic with a simple buttermilk waffle, or colour outside the lines with different toppings. We've collected some of our best waffle recipe options for you to try out.
Buttermilk waffle bliss
Let's start with an easy waffle recipe for purists. These Classic Buttermilk Waffles are waffles done right. They're fluffy, sweet, golden delights with holes deep enough to collect all the maple syrup and whipped cream your heart desires, or if you want a more savoury breakfast they work perfectly with scrambled eggs and bacon.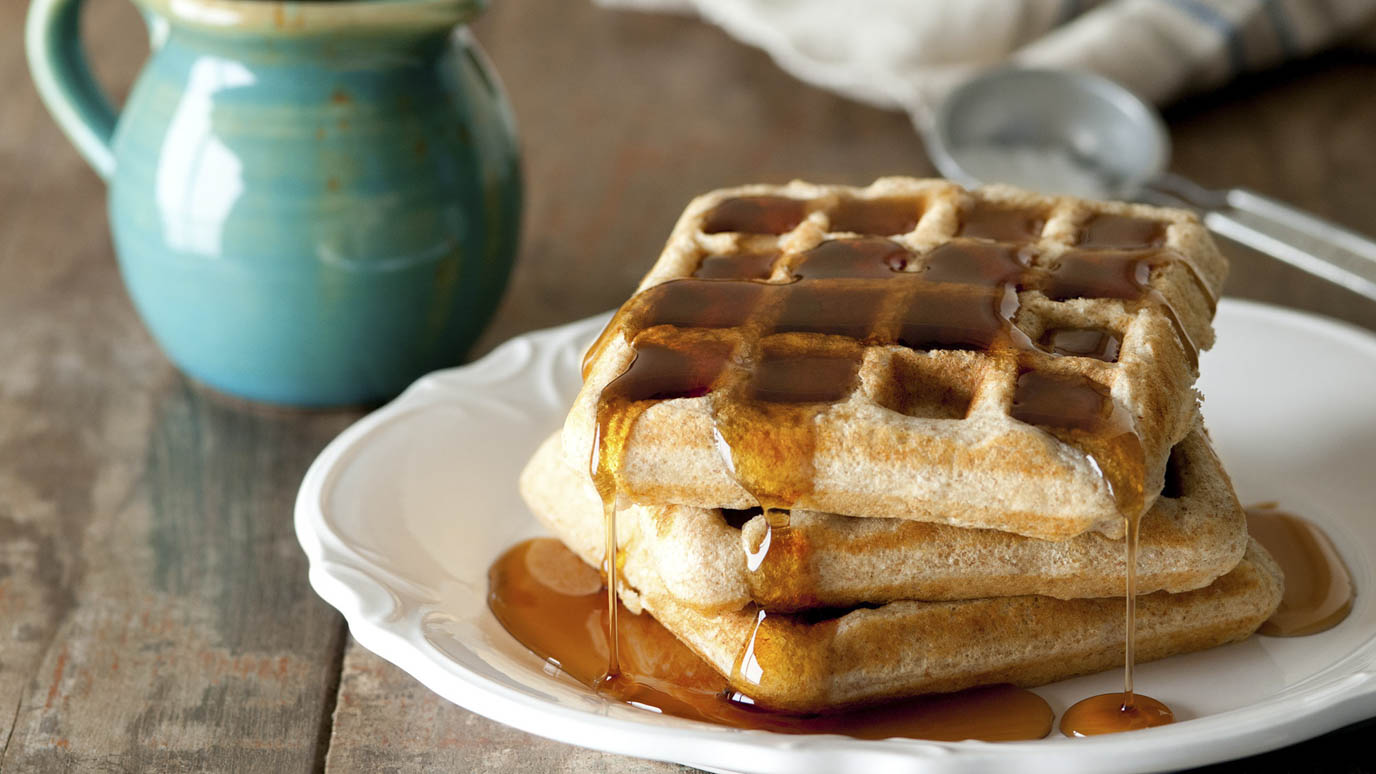 If you fancy a little fall spice in your waffles, then check out our brand-new Cinnamon Buttermilk Waffles recipe. The sweet Ground Cinnamon spice in this breakfast dish offsets the tangy taste of buttermilk for a rich, layered flavour that just screams out for berries and maple syrup.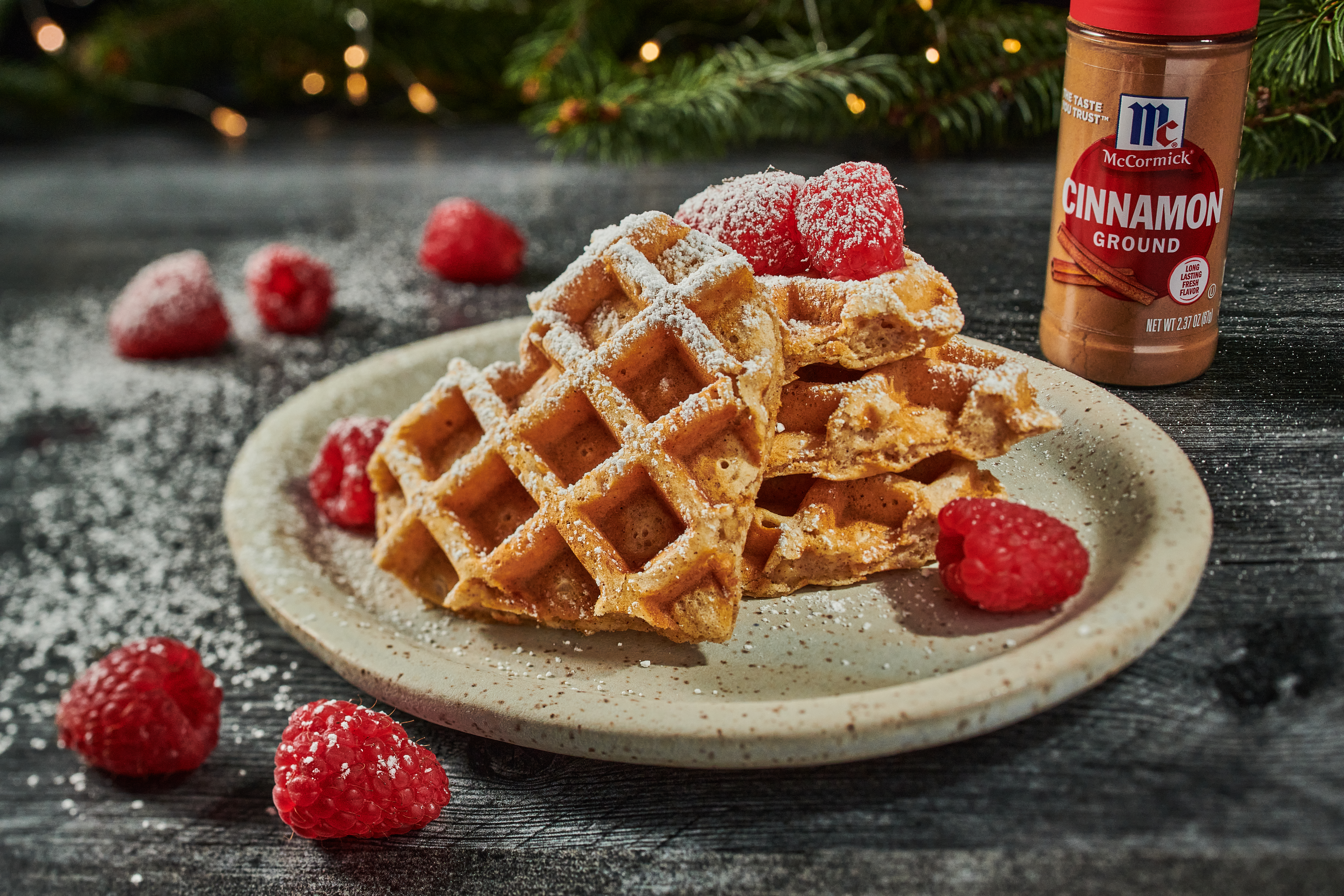 Talking of berries, these Raspberry Waffles with White Chocolate Sauce deserve a place on your breakfast table. This is still your basic classic North American waffles recipe, albeit with an added dash of Pure Vanilla Extract. The real difference comes with the topping, which features sweet frozen raspberries, all drizzled with a white chocolate sauce made with cream. We were going to give a reason for the chocolate sauce and then realized that we didn't have to. Chocolate, like love, never has to explain itself.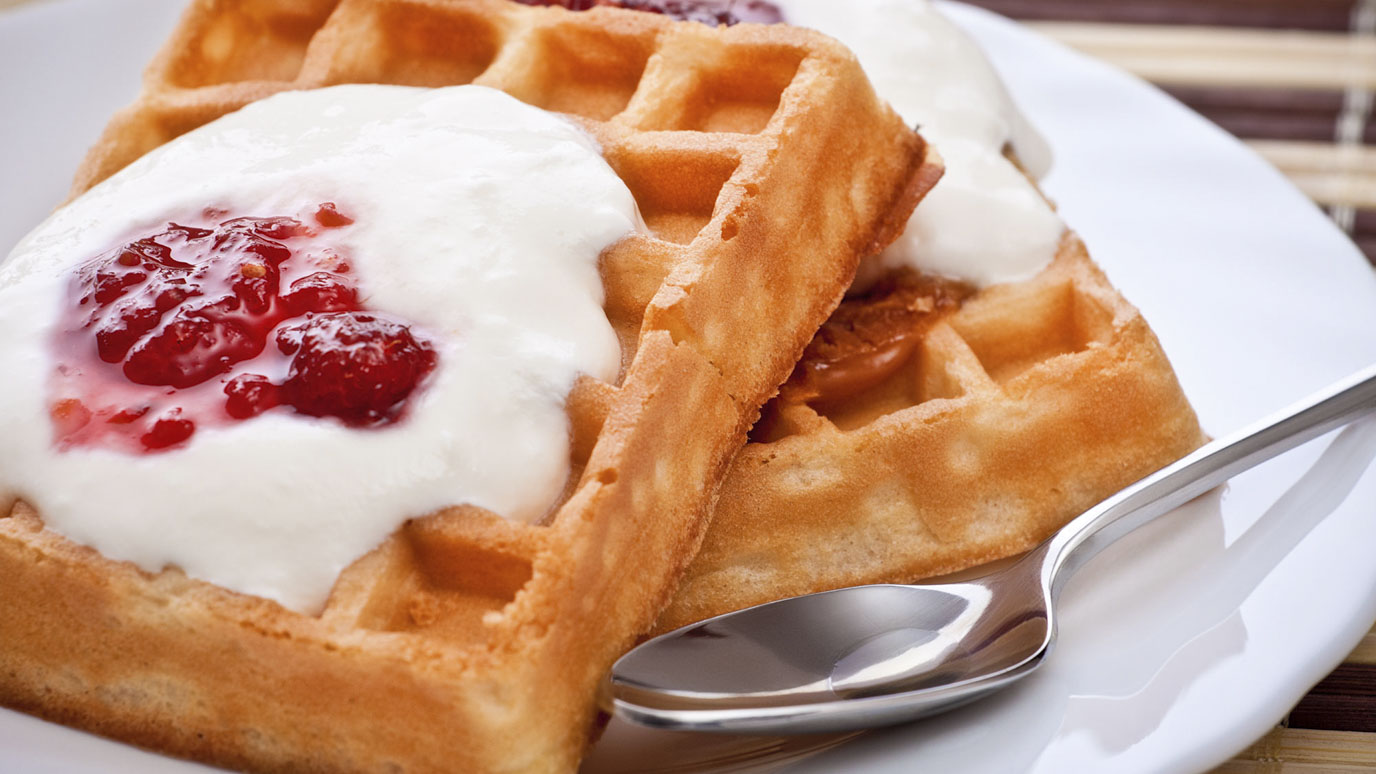 Colourful waffles, just because
Roy G Biv isn't a person's name — it's the acronym for the colours of the rainbow. If he were a person, though, we feel sure that he'd sit down to these rainbow-coloured vanilla-flavoured Unicorn Waffles each morning. Their fun hues come from our blue and red food colouring making them an excellent breakfast for little kids and big kids at heart. In fact, the kids might just like making these magical multi-coloured waffles even more than eating them. The colouring in these waffles isn't just limited to the batter. Add to the red, blue and pink by scattering sprinkles on the whipped cream.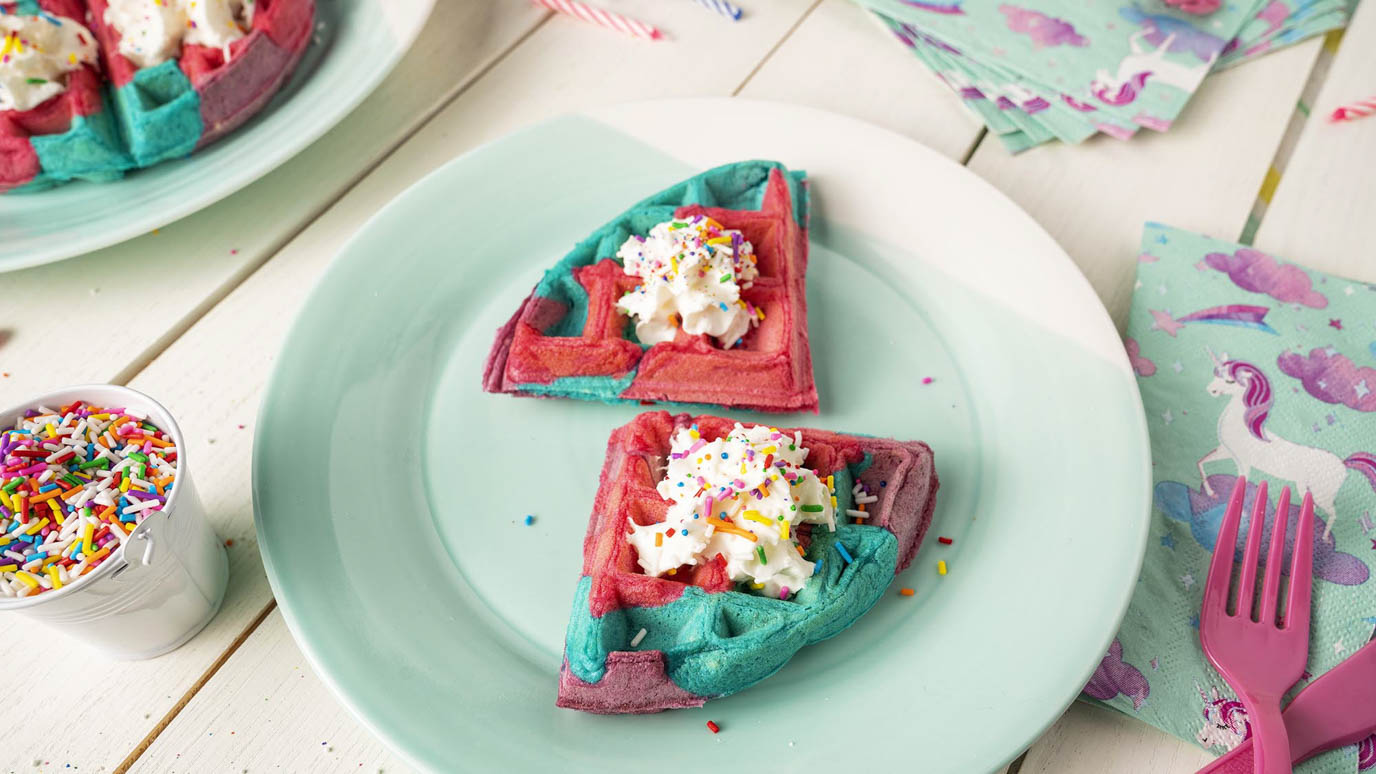 Oh, and why are these called unicorn waffles? We think it's because they'll be as rare as sparkly magical one-horned horses by the time you've finished breakfast. No leftovers here.
Seasonal spiced waffles
For something a little more grown-up, try out these Buttermilk Waffles with Caramelized Apples on a weekend morning. They're grown-up in more ways than one. Not only are they a touch more sophisticated than the unicorn variety, but they also require a little more patience to make, along with more waiting time. This breakfast is a fall-styled dish, mixing apples with our Club House Organic Ground Cinnamon to create a comforting, warm, spiced breakfast filled with sweetness.
If you like pina coladas
Yes, you can enjoy pina colada flavours in waffle form, and here's a bonus: they're gluten-free. We use potato starch and almond flour to bulk up these Grain-Free Pina Colada Waffles where other recipes use wheat-based flour. The pina colada flavours come in the form of shredded coconut and frozen pineapple. You'll be glad to hear that there's no rum involved for this breakfast treat, but feel free to bring everyone's favourite morning stimulant, coffee, to the table.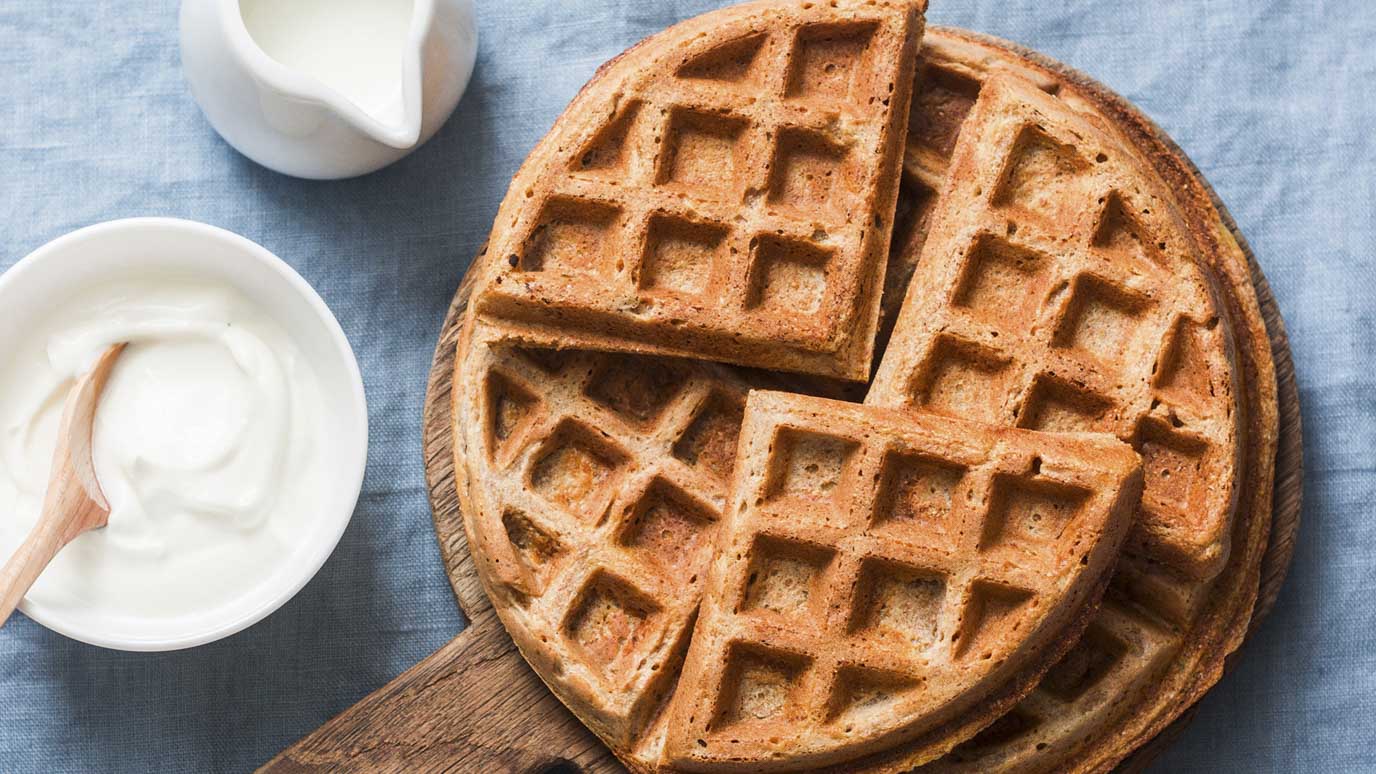 These easy waffle recipe ideas will keep your breakfast table hopping for days. Break out your trust waffle maker and keep switching it up every weekend for new takes on an old favourite.
Try More Waffle Recipes: