Putting together the ultimate New Year's menu is (almost) as fun as the party itself. After you've upped your crostini game, prepped the baked brie and done your cocktail planning, what's next?
Making champagne gummy bears, of course!
Homemade champagne gummy bears aren't just a fun new way to enjoy some bubbly on New Year's Eve, they are also a great way to impress your guests. And, because you can make them up to two weeks in advance, they're as convenient as they are crowd-pleasing.
Not sure how to make gummy bears? No worries! Use our champagne gummy bear recipe to put this grown-up twist on your fave candy.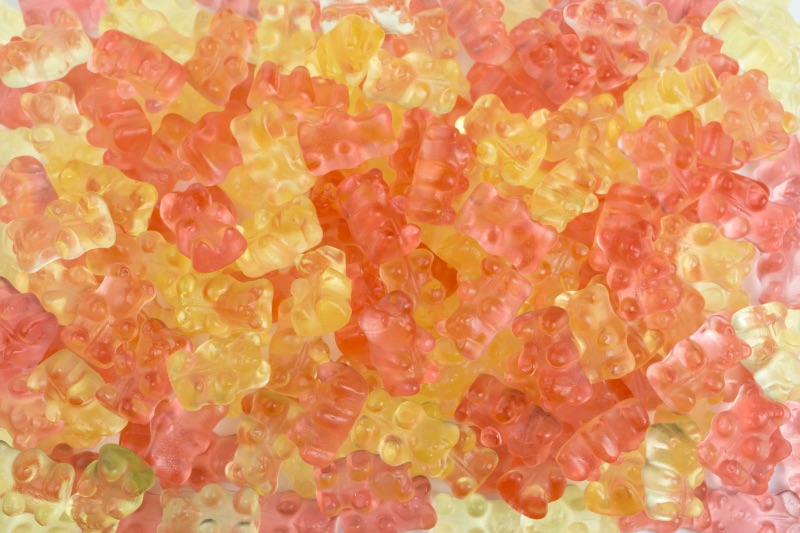 First, Gather Your Gummy Bear-Making Supplies
The recipe for champagne gummy bears is surprisingly simple (only four ingredients!). But you do need some additional supplies, including few trays of gummy bear molds – enough to make about 150 bears – a dropper or baster to fill the molds and a baking sheet for the molds to rest on as your bears set.
Next, Prep Your Workspace
Before starting, prep your countertop and fridge so the gummy bear-making process goes smoothly. Line two to three baking sheets with parchment paper, then place the molds on top so they're ready to fill. Clear off a shelf in your fridge, too – you'll need to place the baking sheets in there while the gummy bears set.
Champagne Gummy Bears Recipe
Adapted from TheKitchn
Ingredients:
1 bottle champagne or wine (750 mL, or 3 cups), divided

⅓ cup + 1 Tablespoon gelatin powder (or 8 0.25-ounce packets)

1 cup granulated sugar

Directions:
1. Prepare the gelatin.
The gelatin needs to be hydrated or "bloomed" to dissolve evenly in the champagne and create clear, solid gummy bears. To do it:
Add the gelatin powder and half the champagne (1.5 cups) in a liquid measuring cup and stir until combined. Allow to sit for 5 minutes, until the mixture starts to thicken.
2. Concentrate the champagne flavor.
Reducing some of the champagne allows you to create a greater depth of flavor without adding more ingredients.
Add the champagne to a saucepan, then simmer for 5 minutes – you can do this as your gelatin is blooming – until it's reduced by half.

If you're looking for an even trendier option, try subbing out champagne for rose or your favorite wine to make rose gummy bears. 
3. Combine sugar and cook the gelatin.
Add the sugar and the bloomed gelatin to the saucepan.

Bring to a simmer, over medium-low heat, stirring constantly until the sugar and gelatin fully dissolve and the mixture thickens to the consistency of maple syrup, then remove from heat.

Do not let it boil, as too much heat could affect how the bears set. 
4. Fill gummy bear molds.
Now comes the fun part – actually making the gummy bears!
Use the dropper to fill in your first 50 or so gummy bear molds using the uncolored gelatin mix. You can really have fun here by trying out different molds – flower shaped pairs especially well with rosé or more floral type wines. 

Add a drop or two of red food color to the gelatin mixture in the saucepan, then stir to combine – it will create a pale pink hue – and use the dropper to fill in about 50 more.
Add an additional drop of red food color, stir to create a deeper pink hue in the remaining gelatin mixture, then fill in the rest of the molds.
5. Let champagne gummy bears set in the refrigerator for 90 minutes.
Carefully move the baking sheets to the fridge and allow the bears to set for at least 90 minutes.

Then pop 'em out of the molds and store them in an airtight container in the fridge for up to two weeks.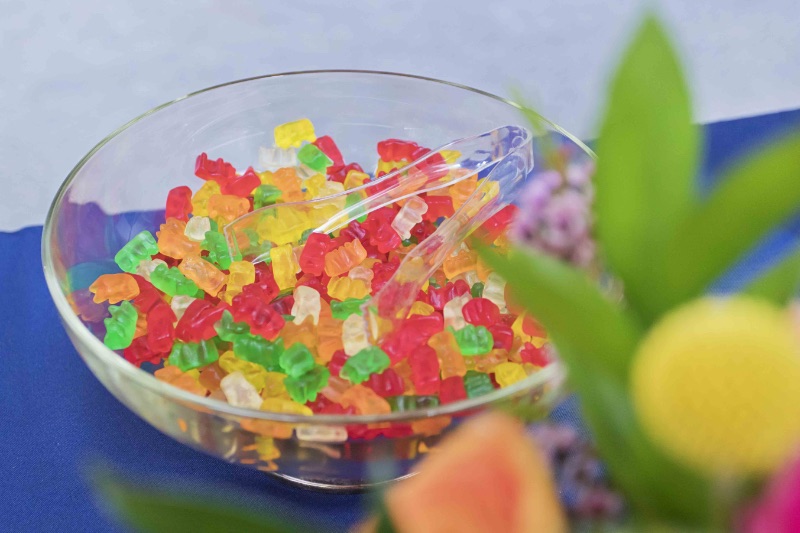 Experiment with Wine Gummy Bears
A batch of pretty pink champagne gummy bears already upgrades any party – but feel free to let your imagination run wild to create a range of flavored gummies for your NYE bash.
Extracts and flavorings make it easy. Use white wine and a few drops of McCormick®  Raspberry Extract to create delicious white sangria gummy bears, or use red wine along with cinnamon and anise extracts to make "mulled wine" gummies.

Get creative enough, and your friends just might be asking for personalized gummy bears for Valentine's Day and Easter, too!
Looking for more food gifts for friends and family? Check out this guide to making your own holiday homemade food gifts today!