WHAT IS SPANISH FOOD?
Spanish cuisine offers incredible insight into Spanish history, culture and society. Even the simplest Spanish dishes can tell the story of how land and sea, warriors and farmers, travelers and settlers have all influenced the way an entire nation of people eat today.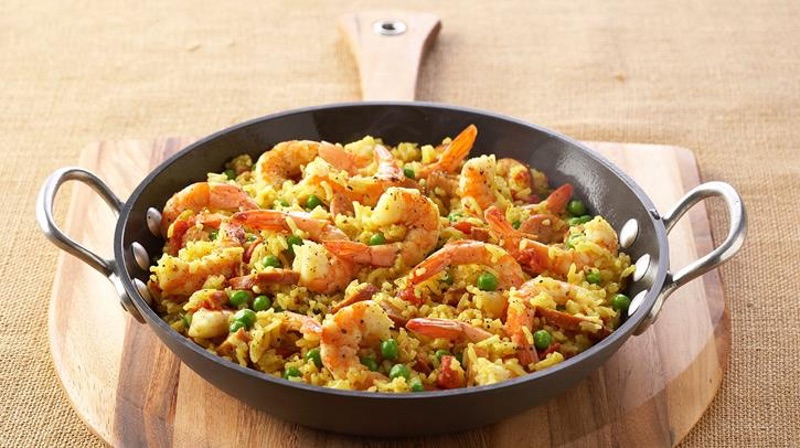 Prior to the formation of the Roman Empire, Spanish territories housed the Celts in the North. Many of them were fisherman, which explains why seafood is still popular in the area today. The Iberians dwelled in the Center East of Spain and were hunters. It's no surprise that Iberian ham is currently considered some of the finest in the world. The Tartessos lived in the South. They were known for being traders, which is also why their fare became fused with that from Africa and Greece.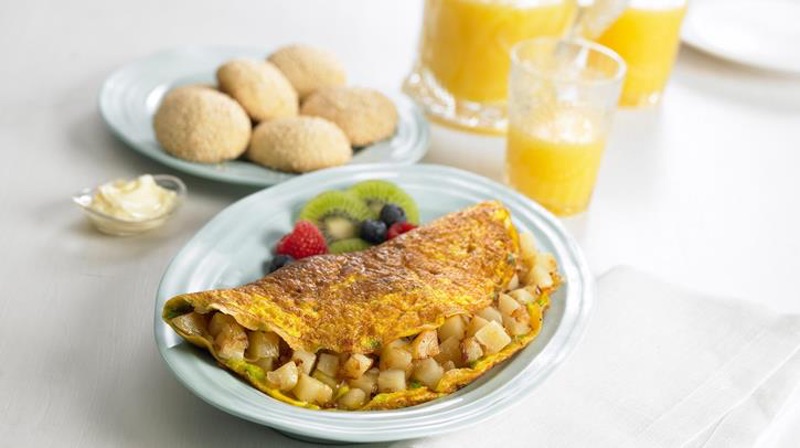 Signature Spanish recipes have incredible tales to tell. Take popular Spanish appetizers, or tapas, such as Tortilla de Patata and Pan Con Tomate — both potatoes and tomatoes made the voyage back to Spain, after the discovery of the Americas. Chocolate was another revelation from that migration, and in fact, the Spanish were the very first to combine it with sugar. So, thank the country of Spain for your candy bars, cakes, cookies, ice cream and of course, decadent hot chocolate, which is frequently enjoyed for breakfast in España, teamed with the thin, sugary donuts known as churros. And how did churros come to be? One theory is that they were invented by Spanish shepherds, because the dough could be fried over open fires in the mountains.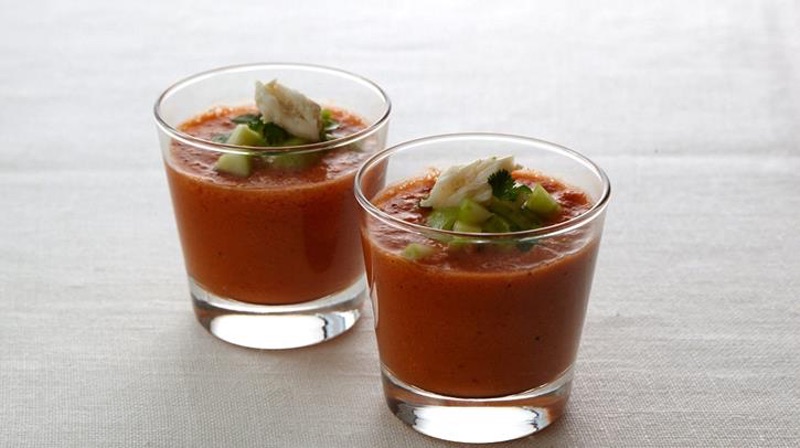 Whoever came up with them, churros are certainly a sweet and substantial way to start one's day. And in Spain, it's important to fortify oneself in the morning, as lunch isn't generally enjoyed until 2pm. That said, it's well worth waiting for, since the multi-course meal can sprawl on for hours — a far cry from the sad salad or sandwich many of us consume while hunched over our desks!

Depending on what part of the country you're in, traditional Spanish foods served during this time could include Gazpacho, a cold vegetable soup beloved in Andalusia, the red pepper and almond sauce known as Romesco, commonly found in Catalonia, Paella, the meat, vegetable and seafood-studded rice credited to Valencia and buñuelos (sugar-dusted fritters) for dessert in Madrid.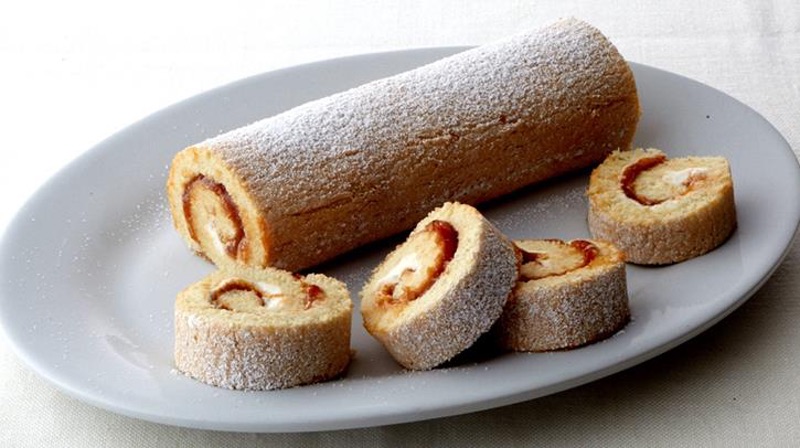 It's no wonder dinner doesn't take place until 8:30–10pm! But no matter when hunger strikes, it's never too early or late for Spanish flavors and fantastic Spanish food like Chorizo with Sundried Tomatoes, the salted cod stew called Bacalao, Smoked Paprika Pork Tenderloin or the cake roll known as Brazo Gitano (Gypsy's Arm), accompanied by a cold, fruity pitcher of Sangria (Spanish for "Blood").
WHAT ARE TAPAS?
The culinary tradition of tapas is a beloved Spanish practice that involves sharing small dishes with family and friends. Comparable to appetizers, these plates offer bite-sized portions of various foods inspired by the flavors of Spain. From vegetables to proteins and everything in between, popular tapas recipes boast fantastic variety. Familiar tapas favorites include patatas bravas (crispy potatoes in a spicy tomato-aioli sauce), albondigas (Spanish meatballs smothered in tomato sauce), croquetas (deep-fried sticks or balls filled with cheese or meat), gambas al ajillo (tender shrimp cooked in garlic and olive oil) and tortilla Española (a fluffy potato omelet).
WHAT IS PAELLA?
Thought to have originated from Spain's Valencia region, paella is a traditional Spanish dish that's synonymous with comfort food. This flavorful rice-based delicacy is prepared in a wide, shallow pan and features a medley of Spanish spices like saffron and dried red pepper surrounded by seafood, meats and vegetables. Paella is a fantastic dish to share with others.
COMMON SPANISH CUISINE INGREDIENTS
To better understand Spanish cuisine, let's explore some essential ingredients for Spanish food:
Garlic
Garlic, or "ajo" in Spanish, adds a distinctive flavor to Spanish dishes. Great for infusing olive oil or mixing in an aioli, garlic is a versatile ingredient that provides a depth of flavor and aroma to various dishes, especially traditional Spanish recipes.
Spanish Ham
Known as "jamón" in Spanish, this type of ham is a cherished culinary jewel that highlights Spain's dedication and artistry to preserving pork. From Serrano ham to the renowned Jamón Ibérico, these cured delicacies present a delicate marbling effect that's complemented by a rich, salty flavor. Spanish ham is ideal for charcuterie boards, elevating sandwiches or for adding a touch of luxury to tapas.
Olive Oil
The preferred choice in Spain, olive oil enhances Spanish dishes with its fruity, peppery notes and smooth texture. Its distinct flavor provides the ideal foundation for marinades and sautés, while drizzling atop salads and grilled vegetables adds a touch of elegance. Olive oil, especially extra virgin, is a quintessential ingredient in Spanish cooking.
Rice
Rice serves as the perfect canvas for traditional Spanish recipes, including arroz con pollo and paella, where it absorbs the flavors of Spanish spices and the juices from meats, seafood and vegetables. Rice is a main component to famed Spanish dishes.
Legumes
Legumes, including beans and chickpeas, play an important role in Spanish cooking. These tiny, nutritious ingredients add protein, depth of flavor and texture to soups and stews, including the iconic Spanish dish, cocido madrileño.
Cheese
In Spanish cuisine, cheese is celebrated for its variety of flavor and texture. From crumbly to creamy varieties, the pungent, salty nature of cheese provides an ideal pairing for cured meats, bread and wine.
Fish & Seafoods
With an extensive coastline and maritime tradition, Spain holds fish and seafood in high regard within its food culture. From flavorful, oily options like anchovies and sardines to more delicate species of fish like seabream and hake, Spain enjoys seafood across the board. Whether grilled, fried or marinated, Spanish food highlights the beauty of the sea.
SPANISH SPICES & SPANISH FLAVORS
Now that we've covered some of the most prominent ingredients in Spanish cuisine, let's discuss Spanish flavors, including:
Saffron
Saffron, known as "azafrán" in Spanish, is a delicate spice that's carefully derived from the crocus sativus flower. This prized spice is actually the stamen of the flower, referred to as threads. Saffron is a beautiful ruby-colored spice that provides a bright golden hue and unique floral aroma to popular Spanish dishes like arroz con pollo and paella. Due to the method in which saffron is retrieved, it is considered the most expensive spice in the world.
Paprika, or "pimentón" in Spanish, is an essential spice in Spanish cooking. Lending its earthy flavor to favorite dishes like patatas bravas, stews and chorizo, paprika is a versatile ingredient that complements a variety of foods. What's even better is that paprika is available in multiple varieties, including sweet (dulce), bittersweet (agridulce) and spicy (picante).
Dried Red Pepper
Another main spice in Spanish cooking is a dried red pepper, such as ñora. These small, round peppers exude a sweet, yet smoky flavor that's the star ingredient in dishes like romesco (a rich Spanish sauce). Ñora is also used to elevate traditional Spanish recipes like bacalao al pil-pil (salted cod).
Spanish cuisine also benefits from the refreshing pine-like aroma of rosemary. Known as "romero" in Spanish, this fragrant herb infuses dishes with hints of bright herbal notes and is an ideal complement for roasted lamb, comforting stews, fresh bread and for drizzling atop salads.
Cayenne Pepper
Cayenne pepper, also known as "pimienta de Cayena" or "guindilla," is typically used in powder form and is an essential spice in Spanish cuisine. This spice adds a fiery kick of heat to Spanish dishes. Cayenne pepper enhances robust sauces and balances flavors in meaty dishes.
Oregano is a versatile herb that lends its earthy, robust flavor to a variety of Spanish dishes. A member of the mint family, oregano delivers a peppery yet minty note to tomato-based dishes, seasoning blends and traditional Spanish recipes. Oregano can typically be found in grocery stores in both dried and fresh varieties.
HOW LONG DO SPICES LAST?
While dried herbs and spices typically last for 1–2 years, there are some exceptions worth noting when it comes to the shelf life of spices. Maintain the freshness of your spices and herbs with these helpful storage tips.
EASY SPANISH RECIPES
BEYOND SPANISH CUISINE
Want to create a meal plan for your Spanish recipes? Need help planning your weekly meals and want to try new recipes? Save your favorite food, dessert, drink recipes and organize your ingredients with McCormick Meal Planner.