Flavor Profile
Black pepper isn't just one of the world's most beloved spices—it's a kitchen essential that brings out the best in a wide variety of foods. Earthy and sharp, coarse ground black pepper delivers a mild kick of heat that highlights rather than overwhelms other flavors. It's at home on and in most everything, whether grilled, baked, roasted, sautéed or raw. It's the essence of Saturday night's grilled steak and a giant leap forward for Tuesday's chicken casserole. But those are just the beginning. Try black pepper in biscuits, crackers and breads, plus pound cake, spice cookies and chocolate desserts. Surprised? Don't be—one taste, and we think you'll make black pepper your new dessert staple. You'll know your pepper is ours when a good whiff makes your nose tingle. Use coarse ground pepper rather than finely ground for greater bursts of heat and aroma.
Usage
Pepper is the most widely used seasoning on Earth. But it rarely gets top billing. A few examples where it does: pepper-crusted French steak au poivre, Italian pollo all diavola or devil's chicken, and Indian miriyala annam, or black pepper rice.
The pepper shaker on most dining tables is there for a good reason. The sharp flavor and aroma of pepper mellows as it cooks. A shake of fresh pepper will perk up any slow or quick-cooked dish.
Pepper is the secret ingredient in a variety of baked goods. We love it in homemade crackers, quick breads, biscuits and crusts for savory pies. You'll also find it in recipes for biscotti, spice cookies and flavored pound cakes.
Perfect Partners
Black pepper adds savory spark to any recipe with cheese. Cheese bread and biscuits, cheese dip, Caesar salad with Parmesan, macaroni and cheese, pasta with garlic butter and Romano cheese—all go flavor-forward with the addition of pepper's sharp taste and aroma.
There's something about the pungent kick of black pepper that makes chocolate taste even richer. We love adding a pinch to the batter for brownies, rich chocolate cake and chocolate fudge frosting.
We don't know who first had the idea to sprinkle strawberries or peaches with black pepper, but we thank them for it. It's a surprisingly delicious combination. Serve with whipped cream for added decadence.
Substitutes
Q: If I don't have coarse ground black pepper on hand, what makes a good substitute?
A: Any black pepper—freshly ground peppercorns, finely ground pepper—will work. Use the same amount of freshly ground peppercorns and just a bit less of finely ground pepper. Taste as you go. If you have no black pepper in the pantry, you can substitute white pepper or a dash of red pepper, also called cayenne. Red pepper is chili pepper and much hotter than black or white pepper, so use a light hand.
History/Fun Facts
Black pepper is so common, you might not even think of it as a spice. It sits out in full view on the dinner table while its cousins—say, cumin and coriander—only appear on special occasions. But pepper is one of the world's oldest and most important spices. During the Middle Ages, it served as currency to pay dowries, taxes and rent. And it brought great wealth to spice traders during colonial times. Eventually black pepper landed squarely on the dining table, where it remains a power player.
Popular Recipe Recommendations
Creamy Pepper Dressing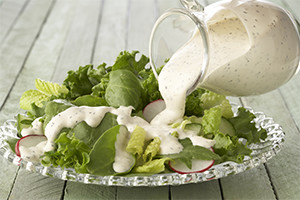 Green Beans with Bacon Mustard Vinaigrette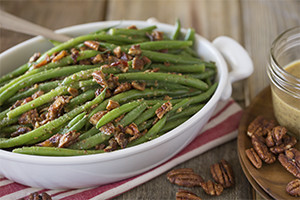 Spinach Lasagna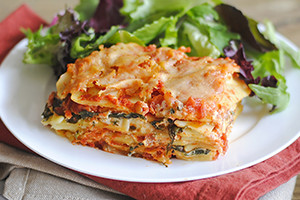 Grilled Salmon with Peppered Soy Glaze