I've been dealing with a surplus of French toast recently, but such is the life of a recipe tester. I ate what I could, but the remaining slices either went in the fridge or the freezer for future snacks or breakfasts. Luckily for me, today is the future, and I've decided to forgo the syrup in favor of meats and cheeses. It's the most phenomenal thing I've ever fried up (according to my goldfish memory).
I'm sure you know what French toast is, but just in case you don't: It's a glorious creation made with dry bread that's soaked in a rich, slightly sweetened custard. It's gently fried in a pan with a slick of melted butter until it's well toasted, and the custard within has cooked through. The soft and spongy inside can only be reached by cracking through the crisp, caramelized crust with your fork. Normally topped with syrup, or anything sweet, it's the brunch of fantasies.
For this application, any French toast recipe that you subscribe to will work wonderfully as the bread for a savory sandwich. All you need to do is pick your savory fillings. I refreshed my French toast in a frying pan with a thin peel of butter. Once the first toast was out of the pan and my second was hot, I layered on strips of gruyère cheese to melt. I had ham and turkey available, so in the pan those went. If you're in a hurry, don't even worry about heating up the meat, you can build your French toast sandwich with a chilled filling too. With the turkey and ham layered on top of the melted gruyère, I swiped a thin layer of dijon mustard on the other toast and closed the sandwich.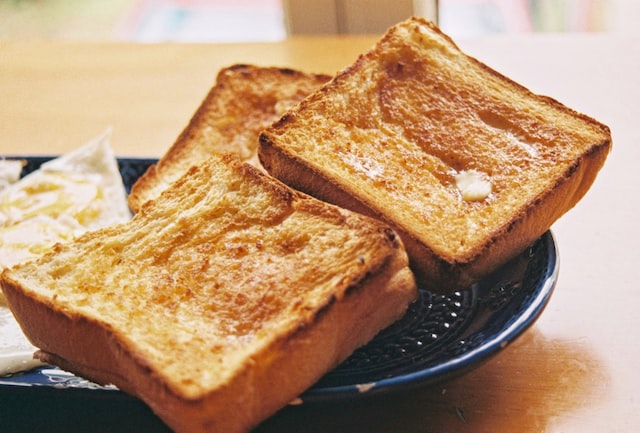 I truly had to take a moment after the first bite. Part of the reason was because I ate it so fast that my mind had to catch up and assess. I make French toast with a sprinkle of cinnamon and a few drops of vanilla extract. Surprisingly, even amongst the parade of flavors I could detect those nuanced notes. The ham and turkey were juicy and packed with meaty umami, and the French toast was custardy, crispy, and a touch malty. I dipped each bite into a side of blackberry jam because it's the right thing to do, to get a nip of fruity acidity.
This sandwich is similar to a (possibly regional) diner favorite called the Monte Cristo, which goes the extra mile with a deep fried outer crust. The town where I grew up in New Jersey made a Monte Cristo into a near doughnut; the batter was so thick. You don't have to do all that to get the full range of flavors. The turkey, ham, cheese and dijon are in complete harmony with one another, and if I had pickles I would have made a glorious French toast Cubano. Try a roast beef filling with horseradish cream, maybe a chicken cutlet with bread and butter pickles, a classic bacon, egg, and cheese, or keep it simple with a cream cheese, soy sauce, and jam sandwich. You can use leftover or fresh French toast for any of these. If you're using leftover slices just heat them up in the oven, toaster oven, air fryer, or even the microwave, then build your sandwich and enjoy.
This article was written by Allie Chanthorn Reinmann from Lifehacker and was legally licensed through the Industry Dive Content Marketplace. Please direct all licensing questions to legal@industrydive.com.