Every non-meat eater knows how limited the options can be during BBQ season. But this year, you're not going to be stuck with a dry Boca burger or the leftover veggies from kabobs. No, this year you're going to chow down on vegetarian pulled "pork"—and you're going to enjoy it. All you need is one key ingredient: jackfruit.
Jackfruit is a large (some can reach 100 pounds!) oval-shaped fruit that grows on a tree. It has a slightly spiky, yellow-green skin and a distinct flavor, kind of like a less-stinky durian. While it is thought to originate from India, it grows in many tropical climates throughout the world, including Southeast Asia and the Caribbean. In a ripe jackfruit, the part we eat is actually flower petals that are folded around seeds (which, surprise, you can also eat). Non-ripe jackfruit doesn't have as much of a distinction between the flowers (fruit) part and the rest of the fruit's insides, so it has a much starchier and stringier texture. Jackfruit is also high in protein and potassium, which makes it a good replacement for meat.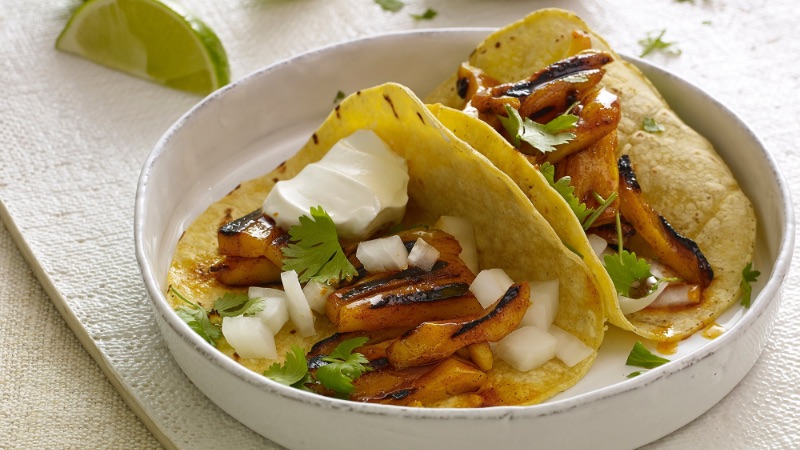 You need green, not ripe, jackfruit so that the texture and taste work for a savory dish. Check out your local Asian grocery, or look for canned jackfruit online or at your grocery store (I got mine from Trader Joe's). You can use fresh, green jackfruit, but it will be a little more difficult to consistently find in major cities—most fresh jackfruit I've seen has been ripe and sweet.
Besides jackfruit (3 cups), you need:
½ cup BBQ sauce
1 onion (I diced mine)
3 cloves of garlic
1 tsp paprika
1 tsp chili powder
1 tsp cumin
½ tsp cayenne (add more if you like spice, skip it if you don't)
Salt and pepper to taste
2 cups vegetable broth
1 tsp Worcestershire sauce (use one without anchovies)
1 tsp liquid smoke
I used this recipe to get an ingredient list going, but tweaked my cooking process a little bit to get drier, less messy results.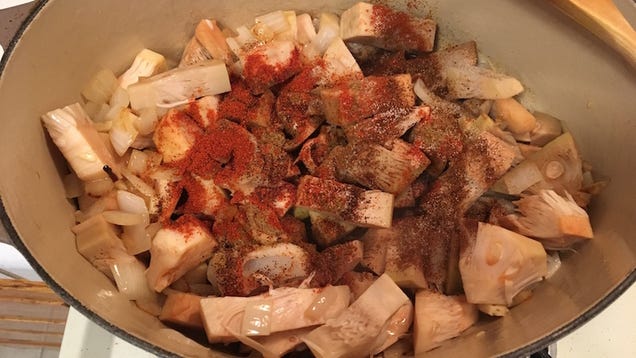 Once you have your ingredients together, heat a dutch oven or large pot on the stovetop and add a few tablespoons of olive oil. Toss in the onions and garlic to cook until the onions are soft and translucent. Then, throw in the jackfruit, spices, Worcestershire, liquid smoke and veggie broth. Let the whole shebang come to a boil, then cover and simmer on low heat for about 45 minutes.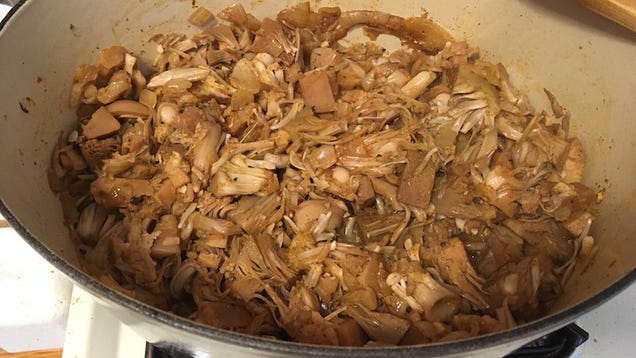 You'll know the jackfruit is ready for the oven (preheated to 350 degrees F) because you'll be able to easily pull apart the fibers of the fruit with a fork or potato masher, as in the above photo. Keep mashing until you have something that looks like pulled pork.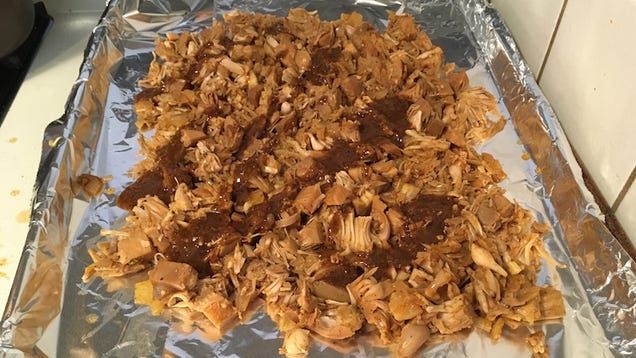 Spread the jackfruit on a baking sheet and pour BBQ sauce on the jackfruit, then mix it together. Bake for about an hour. My oven gets pretty hot, so I started checking on the jackfruit at 40 minutes in. The sauce will concentrate during this process, so choose one that isn't too spicy if you're sensitive to hot food (I didn't do this and my tastebuds paid later).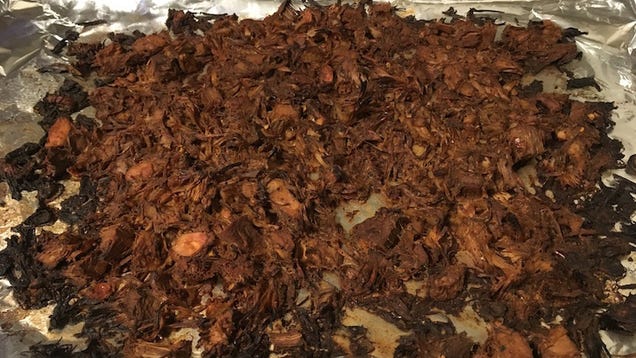 You'll end up with something that looks and tastes very similar to traditional pulled pork. I suggest topping with more BBQ sauce, coleslaw, avocado, mustard, or a ripe tomato.
This article was written by Heather Yamada-Hosley from Lifehacker and was legally licensed through the NewsCred publisher network. Please direct all licensing questions to legal@newscred.com.