A juicy, perfectly cooked pork chop can rival a good steak, and chops of the porcine variety are way cheaper than any cut of beef (except like, stew meat and cheap hamburger). But pork chops are easy to overcook, and this can intimidate skittish home cooks, barring them from enjoying this fiscally responsible, incredibly delicious protein.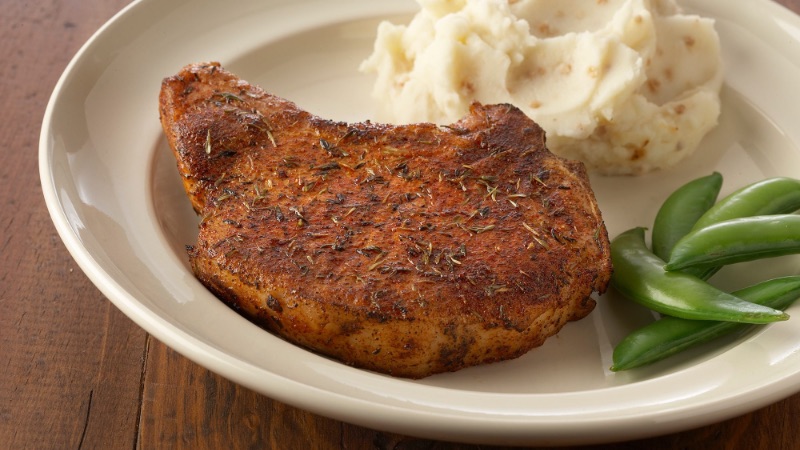 Don't worry—I'm not going to tell you that the secret is sous vide. Though an immersion circulator will help you make amazing pork chops, anyone with an oven can make these succulent beauties. Achieving pork perfection lies in two things: brining, and employing the reverse sear (cooking the meat in a low temperature environment until it reaches 10-15 degrees below your target cooking temperature, then searing in a hot pan to finish).
Brining, as you probably know, is the act of simply soaking a piece of meat in a salt water solution, usually with other flavorings, with the goal of adding flavor and moisture. You can also dry brine, and apply the salt (and sometimes sugar) directly to the meat. I prefer a dry brined turkey, but I wanted to test both methods with my mouth before ruling out a wet one. I also wanted to see if my new favorite thing—shio koji—could help us out here.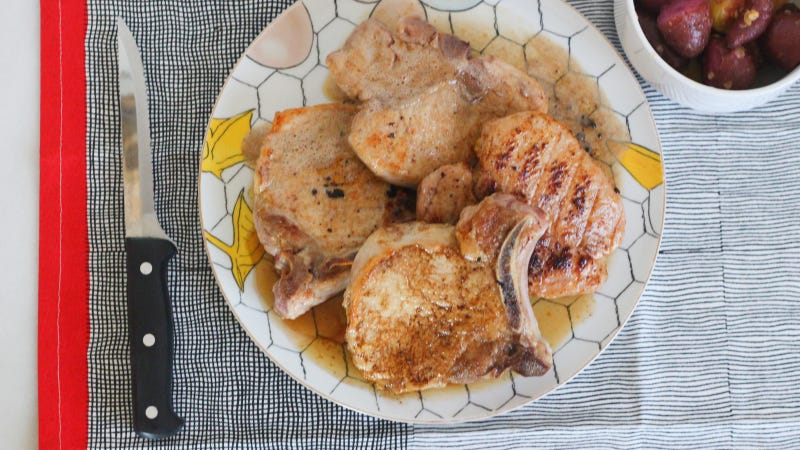 So I bought four chops (at a mere $3.50 per pound) and set up four different "brines":
A simple, classic brine made by dissolving three tablespoons of salt in one cup of water, along with a bay leaf, three cloves of smashed garlic, and a couple of juniper berries. Once the salt had dissolved, I let everything simmer for a couple of more minutes, then removed it from the heat and added two cups of cold water to cool it down.
Pickle juice, poured straight from the Clausen jar.
A dry brine (rub) made of three tablespoons salt and one tablespoon brown sugar.
Shio koji, rubbed on the chop straight from the jar. (Learn how to make it here.)
For the first two, I placed the chops in plastic bags, then added enough liquid to cover them, sealed the bags, and set them in the fridge. I then rubbed the dry brine and shio koji on the remaining two chops, and set those on wire rack (sheet pan underneath) in the fridge. I let all the chops hang out for four hours, because that's the amount of time that elapsed between me popping them in the fridge and Ofclaire getting home from his union meeting.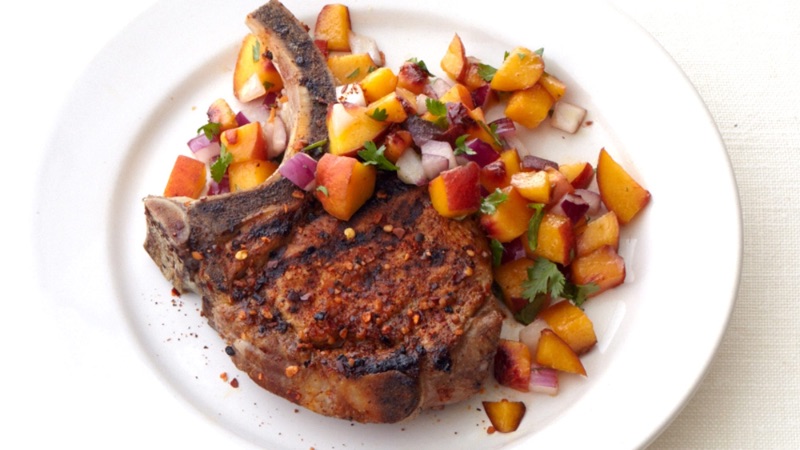 Upon removing the chops from the fridge, I immediately noticed drastic differences in their textures. The two wet-brined chops were extremely tender, almost the the point of losing their original shape, where as the dry brined chop was much firmer than it had been. The koji chop felt about the same.
I then wiped and blotted each chop until they were as dry as I could get them, set them all on a sheet pan outfitted with a wire rack, then popped them in a 225-degree oven until they reached an internal temperature of 110℉. (This took about 25 minutes, but start checking at 20, especially if you are using a convection oven.) I then seared them in some schmaltz over the highest heat in a stainless steel pan for a couple of minutes on each side, along with a couple of tablespoons of butter, which I bathed the chops in continuously. Once the chops had reached an internal temperature of 135℉, I removed them from the pan, let them rest long enough to take some pictures, and put them in my mouth.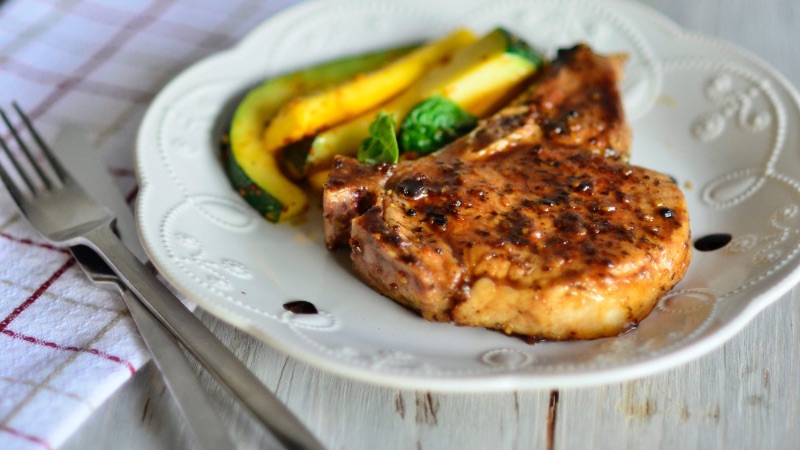 Somewhat to my surprise, the chop treated with the classic simple brine of salt water and aromatics produced the most tender, juicy, perfectly seasoned chop. The pickle juice produced a similarly juicy chop, but it tasted of pickle juice (surprise!). The dry brined chop was over seasoned, and not nearly as tender, but it definitely wasn't dry. The koji chop was my second favorite; it was slightly less tender and juicy than the wet brined chops, but it had a nice, nutty sweetness, and it browned more readily than any of the other chops. Ofclaire thought it tasted like "breakfast pork," but either could not or would not elaborate.
So, to re-cap: the classic wet brine followed by a 25 minute stint in a 225-degree oven and a quick pan-sear is all you need to perfect pork chops. If you don't have a full four hours to brine, don't fret—even an hour in the salt water solution will help, especially when paired with a reverse sear. And, like pork itself, salt is very cheap, and very good.
This article was written by Claire Lower on Skillet and shared by Claire Lower to Lifehacker from Lifehacker and was legally licensed through the NewsCred publisher network. Please direct all licensing questions to legal@newscred.com.