Any egg, be it hard-boiled, soft-boiled, seasoned, or poached, is welcome in a bowl of ramen, but the king of the genre is ajitsuke tamago, soft-boiled eggs that have been marinated in soy sauce and other flavorful friends. They're often referred to as "ramen eggs," but you don't need a bowl of noodles to enjoy them—they make a great breakfast (smash 'em on some toast), umami-packed salad topper, or simple snack.
The process of making a ramen egg is a simple one, but there are many exciting ways to complicate it. Messing around with the marinade is where you can have the most fun, but before you can get to that, you have to cook your eggs.
Think about the egg's fate
Are you going to be plunking this egg into a steaming hot bowl of ramen, or are you going to eat it out of hand? If my egg is destined for a hot liquid, I like the yolk to be jammy on the edges, but still just a touch liquidy in the center so it can mix with the hot broth. If I'm going to be snacking on the eggs straight from the fridge, I'll cook them just a touch longer.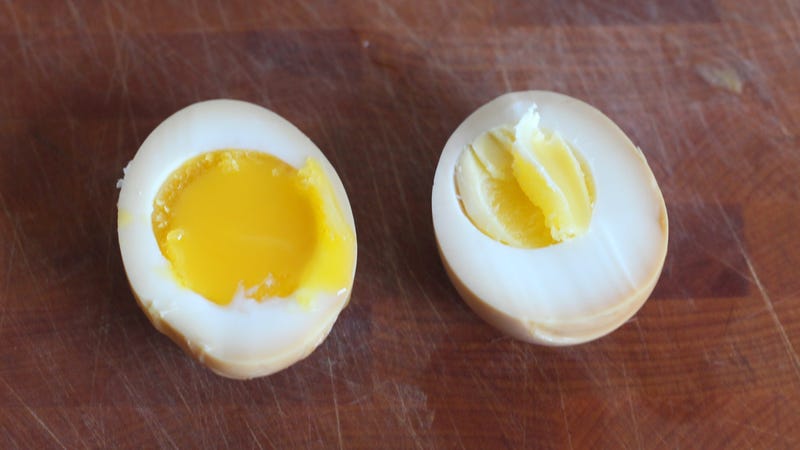 A soup egg vs a snack egg (the snack egg yolk got a little cured on the edge there near the thinnest part of the white). Photo: Claire Lower
If you want a soup egg, immersing it (straight from the fridge) into boiling water for six and half minutes, then plunging it into an ice bath for at least 15 will give you an easily peeled egg with a yolk that's jammy on the edges and soft in the middle. If you want it a little firmer, increase the boil time to seven minutes, or seven and half if you want something completely cooked through (but without the sulfurous grey ring). You can also use your Instant Pot and cook the eggs for three minutes under high pressure for soup eggs—or four for snack eggs—followed by an immediate manual release and 15-minute ice bath session.
A little dilution helps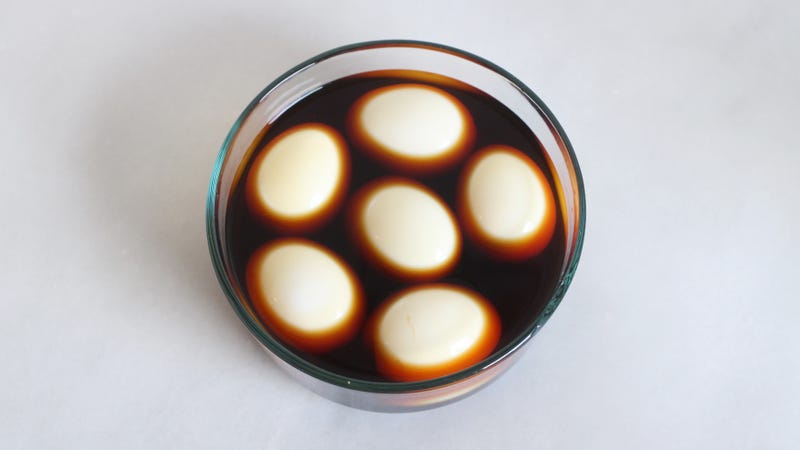 Photo: Claire Lower
There are many ways to make your egg marinade, but I like mine with soy (obviously), mirin, sake, and a little brown sugar. I also like to dilute it with a little bit of water, which may seem unnecessary at first, since we're already dealing with a mostly liquid mixture.
But the dilution helps in two ways. It gives you a little more control over how seasoned your egg is, and it keeps your yolk from getting cured before the flavor has time to soak in. Cured yolks aren't a bad thing, but it does greatly change the texture, and the texture is kind of the whole point here. There are a lot of good marinade recipes out there that feature all sorts of fun ingredients (like dashi, ginger, or star anise), but I always start with a combo of mirin, soy, sake, and sweet sugar. For six eggs' worth of marinade, you will need:
1/2 cup water
1/2 cup soy sauce
1/2 cup mirin
1/4 cup sake
2 tablespoons brown sugar
Any other spicy, sweet, or herbal add-ins you desire (maybe sushi ginger brine?)
Combine everything in a bowl and whisk with a fork until the sugar dissolves. Taste, and adjust if you want to, as you control the destiny of your egg. If you want a sweeter egg, you can add more sugar, but you may have to heat the mixture to get it into solution. This is fine, just make sure it cools fully before you add the eggs so you don't overcook them.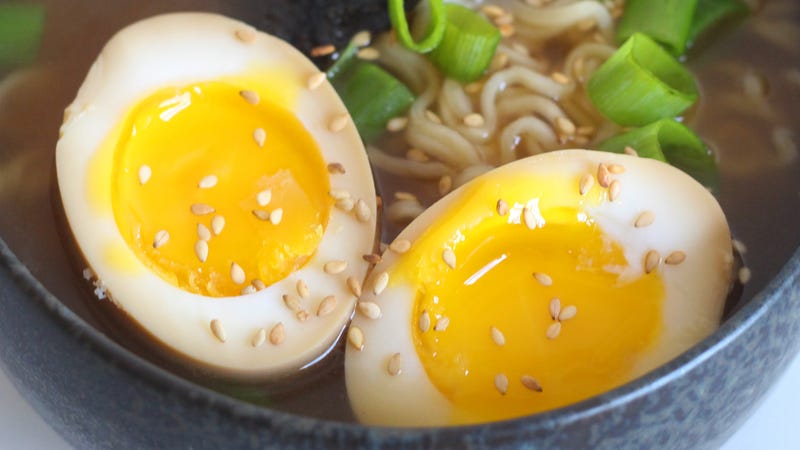 Photo: Claire Lower
Once your eggs are boiled and chilled as described above, peel them, then place them in the marinade using the smallest container possible. I like to use a jar so they stack on each other and stay submerged, but a bowl will work, particularly if you borrow this Food Lab trick and cover them with a double layer of paper towels (the liquid that soaks into the towel will help keep them submerged). Seal the jar or cover the eggs in a bowl with plastic wrap, and set them in the fridge for at least four hours, but preferably overnight. If you want to warm your egg before chomping on it, just plunk it in the ramen or—if you don't have any soup handy—submerge it in boiling water for 10 seconds. (Oh, and don't throw away your beautiful marinade! You can use it to marinate something else, add it to broth, or boil it down into a sauce.)
This article was written by Claire Lower on Skillet and shared by Claire Lower to Lifehacker from Lifehacker and was legally licensed through the NewsCred publisher network. Please direct all licensing questions to legal@newscred.com.