Eating meat off the bone is a somewhat sensual, extremely gratifying experience. I don't know if you want those kind of vibes at your Easter Sunday table (or at any meal), but if you do, this lamb shank is just the ticket.
Like so many cuts with lots of connective tissue, the lower portion of a lamb's leg does a lot of work in its life, which is why it needs a very low, very slow cooking situation. Obviously, this makes it a good candidate for sous-vide cooking, particularly when you consider how hands-off and stress-free the process is. (Unlike other methods, there is virtually a 0% chance of the lamb drying out or overcooking.)
The cook time is a whole 24 hours, but you'll only need to invest about 15 minutes of active time, and four ingredients from your kitchen. Besides salt and lamb, you'll only need mustard and jam, which you will combine lovingly with the bag juices—sorry, I don't know what else to call them—to make a sweet and tart glaze.
If you aren't familiar with cooking tougher cuts this way, you will be shocked at just how tender the meat is, and just how easily it comes off the bone. Honestly, I've done a lot of sous-vide meat cooking, and even I was taken aback. You may also be shocked at how good mustard and jam are together, and how quickly an entire shank disappears. Don't worry, it's meant to be surprising. (Bonus: this recipe makes the marrow in the bone super buttery, so don't forget to scoop it out.) To make this succulent, centerpiece-worthy masterpiece of lamb meat, you will need:
2 lamb shanks
Kosher salt
1/2 cup of your favorite jam (I like cherry.)
1/4 cup mustard (Both Dijon and yellow work well.)
Liberally season every side of each shank with kosher salt—it should be coated, but not caked—and place them in a vacuum, sous-vide, or double freezer bag (just set one freezer bag inside another). Seal with a vacuum sealer or express the excess air using the water-immersion technique, then let the shanks hang out in the bath at 170℉ for 24 hours.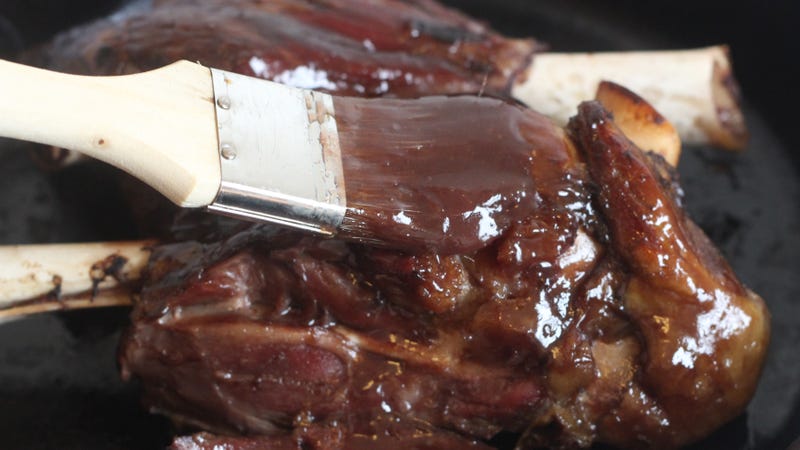 Photo: Claire Lower
Once the cooking time has elapsed, remove the bag from the bath, set the shanks in an oven-safe dish, and pour the juices through a sieve into a sauce pan, along with the jam and mustard. Whisk to combine, then heat over medium-high heat until simmering. Let reduce until it's thick enough to coat the back of a spoon, then brush it over the lamb. Pop the lamb under the broiler for a few minutes, until the glaze starts to bubble and caramelize, then brush it with even more glaze. Serve with the rest of your feast, resisting the urge to eat it, bone in hand, while standing over the sink like a very refined lady (which is what I did, because living alone has its perks).
This article was written by Claire Lower on Skillet and shared by Claire Lower to Lifehacker from Lifehacker and was legally licensed through the NewsCred publisher network. Please direct all licensing questions to legal@newscred.com.