I used to think there was nothing better than a tray of dense, rich, fudgy brownies. But I proved myself wrong when I topped that tray of brownies with a pillowy mint buttercream and a blanket of dark chocolate ganache.
Of course, the festive green color makes these brownies a natural fit for St. Patrick's Day celebrations, but I encourage you to make this crowd-pleasing dessert all year long.
Because each layer needs to cool and/or chill before you add the next, these triple-decker brownies require some time and a little planning. I find it helpful to make and cool the brownie base the day before you want to serve them, then frost them with buttercream and add the ganache the day you plan to eat them.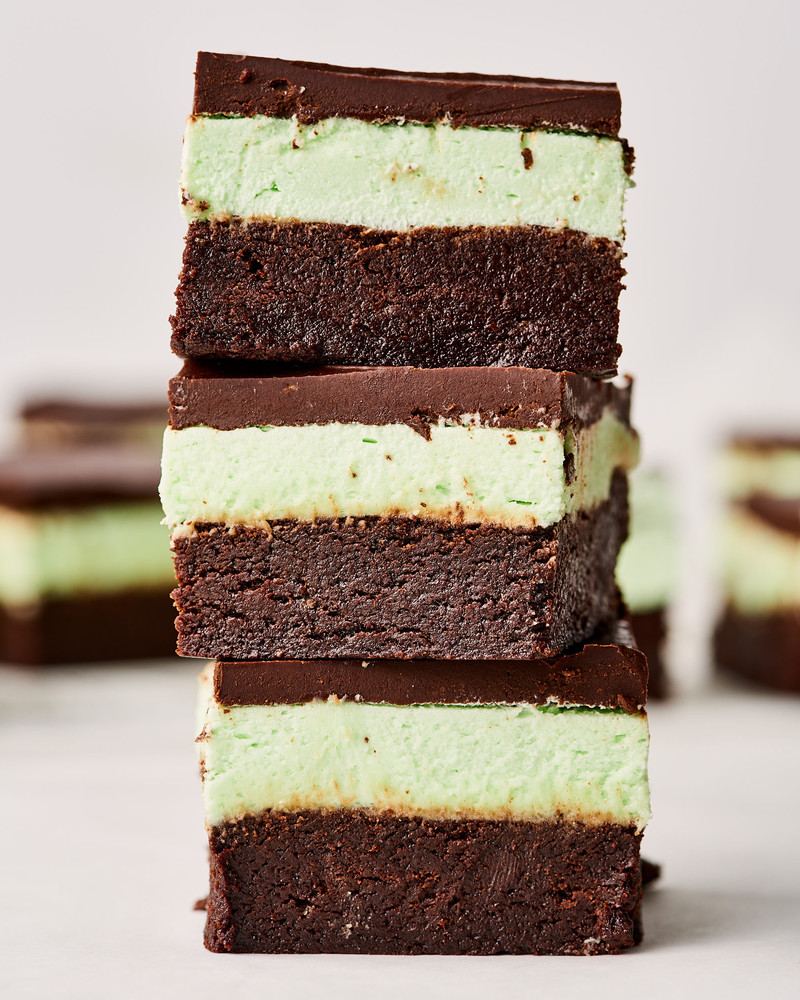 Mint Brownies
Makes 16 brownies
For the brownies:
Cooking spray or butter, for greasing the pan
1/2 cup (1 stick) unsalted butter
8 ounces bittersweet chocolate, finely chopped
1/4 cup unsweetened Dutch process cocoa powder
1 cup granulated sugar
1 teaspoon vanilla extract
2 large eggs
1/2 cup all-purpose flour
1/2 teaspoon kosher salt
For the buttercream:
1/2 cup (1 stick) unsalted butter, at room temperature
2 ounces cream cheese, at room temperature
2 tablespoons green creme de menthe liquor
1 teaspoon peppermint extract
Pinch kosher salt
2 cups powdered sugar
For the ganache:
6 ounces dark chocolate, finely chopped
1/2 cup heavy cream
Make the brownies
1. Arrange a rack in the middle of the oven and heat to 350 F. Line an 8-by-8-inch baking pan with parchment paper so that it hangs over two sides of the pan. Lightly grease the pan and parchment with cooking spray or butter.
2. Melt the butter and chocolate in a medium saucepan over low heat, stirring constantly. Remove the pan from the heat and whisk in the cocoa powder, sugar and vanilla until no lumps remain. Let sit for 5 minutes so the cocoa powder can bloom.
3. Whisk the eggs in one at a time, mixing well after each addition. Add the flour and salt and fold in with a rubber spatula.
4. Transfer to the prepared baking pan and spread in an even layer. Bake until set, 23 to 25 minutes. Cool completely in the pan.
Make the buttercream:
1. Place the butter and cream cheese in a stand mixer fitted with the paddle attachment. (Alternatively, use an electric hand mixer and large bowl.) Beat on medium speed until smooth, about 2 minutes. Beat in the crème de menthe, peppermint extract and salt.
2. With the mixer on low speed, gradually add in the sugar. Once incorporated, increase the speed to medium-low and mix until smooth and fluffy.
3. Spread in an even layer over the brownies. Refrigerate at least 30 minutes. Meanwhile, make the ganache.
Make the ganache:
1. Place the chocolate in a medium heatproof bowl. Heat the cream in a small saucepan over low heat until bubbling round the edges, then pour it over the chocolate mixture.
2. Let sit for about 10 minutes, then stir with a spatula until completely smooth. Let it cool at room temperature for about 10 minutes, then use it as soon as it starts to thicken up.
3. Remove the brownies from the refrigerator and spread the ganache in an even layer over the buttercream with an offset spatula or knife. Refrigerate for at least 30 minutes before slicing and
Recipe notes: The brownies can be baked a day in advance, covered, and stored at room temperature. Store in a covered container in the refrigerator for up to four days.
Creme de menthe alternative: To make the brownies without creme de menthe, use 2 teaspoons peppermint extract and green food coloring.
This article is written by Kelli Foster from The Kitchn and was legally licensed via the Tribune Content Agency through the NewsCred publisher network. Please direct all licensing questions to legal@newscred.com.