Centuries before sheet pan dinners flooded our Instagram feeds, Mediterranean cooks were devouring baked fish and potatoes with gusto. The classic formula, which I've borrowed from Catalan cookery, is as follows: drape seasoned fish filets (or, if you're not in a hurry, a whole fish) over a bed of par-roasted spuds, then bake everything together until the potatoes have sponged up the oceany juices. 
In Spain, the potatoes we eat with fish are usually thinly sliced, swimming in olive oil, and roasted until meltingly soft with brown, crackly edges. They're called patatas panaderas – literally, "bread baker's potatoes" – and they hark back to a time before most Spaniards had ovens. The town panadero would roast vats of potatoes for patrons to take home and serve with their meals. I sometimes daydream about this bygone era of peasants taking their daily catch to the town oven. What would they have chatted about while their fish sputtered in the flames? 
Bronzino and gilt-head bream are the go-to fishes for preparing "al horno" here in Spain, but I like putting a Nordic spin on things by substituting salmon for its oily richness. It plays wonderfully with dill, but reach for whatever filets look freshest at your local fish counter. The leftover roasted garlic can be swirled into buttery mashed potatoes, spread on crostini, or stirred into mayonnaise to make a mellow aïoli.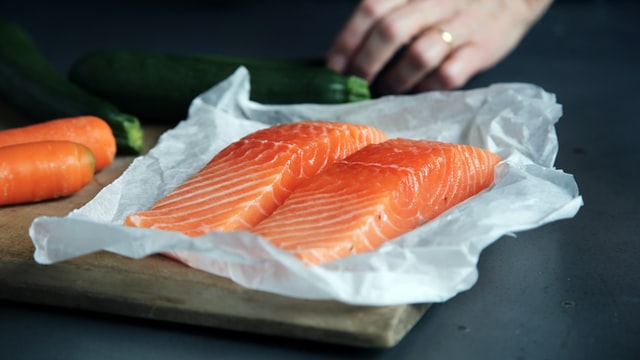 Yield: 4. Time: 50 minutes
¼ cup plus 2 tsp. extra-virgin olive oil, divided, plus more for drizzling
1½ tsp. kosher salt, plus more
6 medium Yukon Gold potatoes, peeled and sliced ⅛-in. thick
1 large yellow onion, thinly sliced
1 medium head of garlic, top third sliced off and discarded
¼ cup plus 1 Tbsp. dry white wine, divided
3 Tbsp. finely chopped parsley leaves
3 Tbsp. fresh lemon juice
1 Tbsp. plus 2 tsp. finely chopped dill fronds, plus more for garnish
2 tsp. finely grated lemon zest
Freshly ground black pepper
4 skin-on salmon filets (6–7 oz. Each), pin bones removed
1 small lemon, sliced latitudinally into ⅛-in. rounds, seeded
Instructions
Position a rack in the center of the oven and preheat to 400ºF. On a parchment-lined baking sheet, toss together 3 tablespoons of the oil, the salt, potatoes, and onion. Spread in an even layer, then bake until the potatoes are browned at the edges and break apart when pierced with a knife, about 20–25 minutes.
Meanwhile, in a microwave-safe bowl, rub the head of garlic with 2 teaspoons of the oil. Pour in 2 tablespoons of the wine, cover, and microwave on 50 percent power until very soft and easily pierced with a toothpick, 7–10 minutes. When cool enough to handle, squeeze six of the cloves into a small bowl and use a fork to mash into a paste. (Reserve the remaining cloves for another use.) Stir in the remaining tablespoon of oil, the remaining wine, the parsley, lemon juice, dill, lemon zest, and salt and black pepper to taste.
Remove the baking sheet from the oven. Using a spatula, gently redistribute the potatoes to prevent the edges from burning. Place the salmon skin-side down atop the potatoes, then slather the garlic mixture evenly atop each filet, allowing any excess to dribble down into the potatoes. Top evenly with the lemon slices and drizzle with olive oil.
Bake until the fish is flaky and nearly opaque, 15–20 minutes. Sprinkle with more dill and serve immediately.
This article was written by Benjamin Kemper from Saveur and was legally licensed through the Industry Dive Content Marketplace. Please direct all licensing questions to legal@industrydive.com.