I rarely cook something the same way twice. This is especially true with pasta sauce, as it is adaptable by nature. The other night I was making a simple spaghetti dinner for myself and a friend, simply because I had found a can of tomatoes I didn't know I had. As I was tasting and tweaking, I remembered I had about half a cup of the spicy, nduja-like spread I had made earlier in the week. I tossed it in the sauce and, after tasting, rejoiced.
While I was enjoying my meal—and a good bit of the wine my friend had brought—I began to wonder why I hadn't been adding pureed charcuterie to my pasta sauce all along. Beyond the prosciutto spread, why wasn't I chucking pureed pepperoni, peppered salami, or soppressata into my pots of simmering red sauce?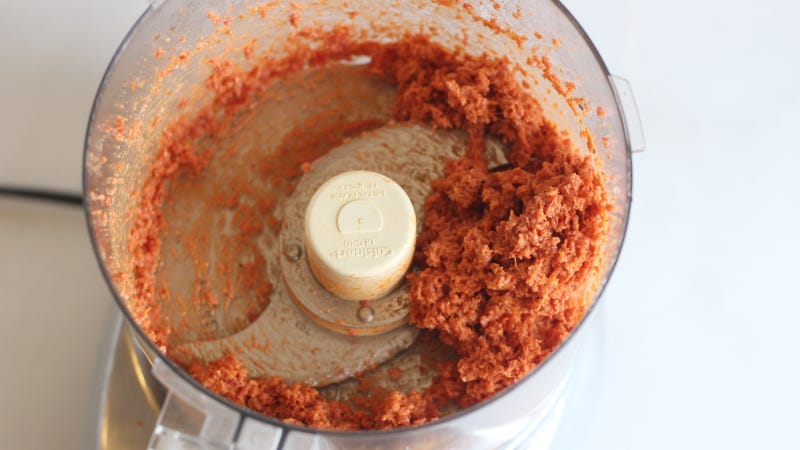 It should look like this. (Yes, I know I'm using a blade that has technically been recalled. Don't be like me.) Photo: Claire Lower
It's less about adding pieces of meat, and more about imparting the funky, salty, fatty character of your favorite charcuterie. When processed with into a paste with a little oil, the meaty spread absolutely melts into the sauce. Making it is very simple. Simply process four ounces of cured meat—you can focus on one, or try a combination—with on or two tablespoons of olive oil or pork fat until it is smooth and spreadable. (Try one tablespoon, process, and add more if it seems dry.) You can also add Calabrian peppers, sun-dried tomatoes, or oil-cured olives.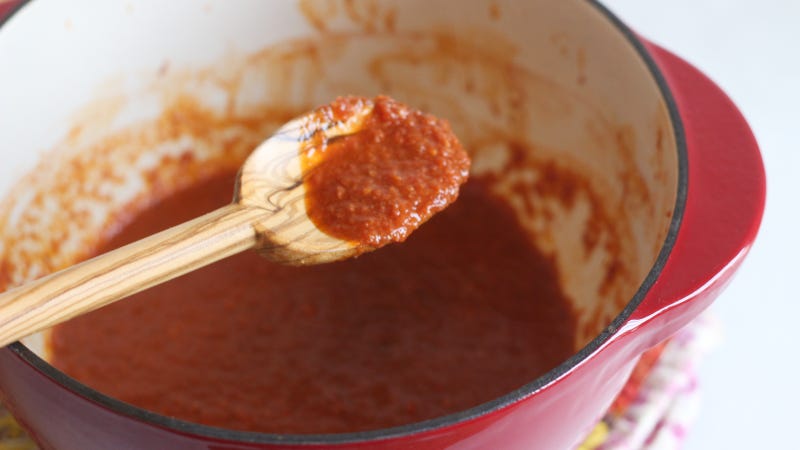 Photo: Claire Lower
Once you have your umami-packed paste, add it a tablespoon at a time to taste. If I'm starting with something kind of plain—like this super-simple Instant Pot sauce—the entire batch of the spread can be added to a quart of sauce with much tasty success. Rather than cooking it at the beginning of the sauce-making process (like you would with most meat), I add it in at the end, so the fat melts, rather than browns. Try it with whatever charcuterie you enjoy, but I highly recommend pepperoni, which is what I use whenever I wish to make what I call "pizza pasta." (Add dollops of ricotta if you wish to die and go to heaven.)
This article was written by Claire Lower on Skillet and shared by Claire Lower to Lifehacker from Lifehacker and was legally licensed through the NewsCred publisher network. Please direct all licensing questions to legal@newscred.com.