If you're not in Mexico to celebrate Cinco de Mayo, or if doing shots of tequila on a Tuesday may seem like a little much, here's a delicious way to take part in the festivities: tequila-lime chicken with a refreshing grilled corn salsa. Delicious on May 5, all summer or just about any other time of the year.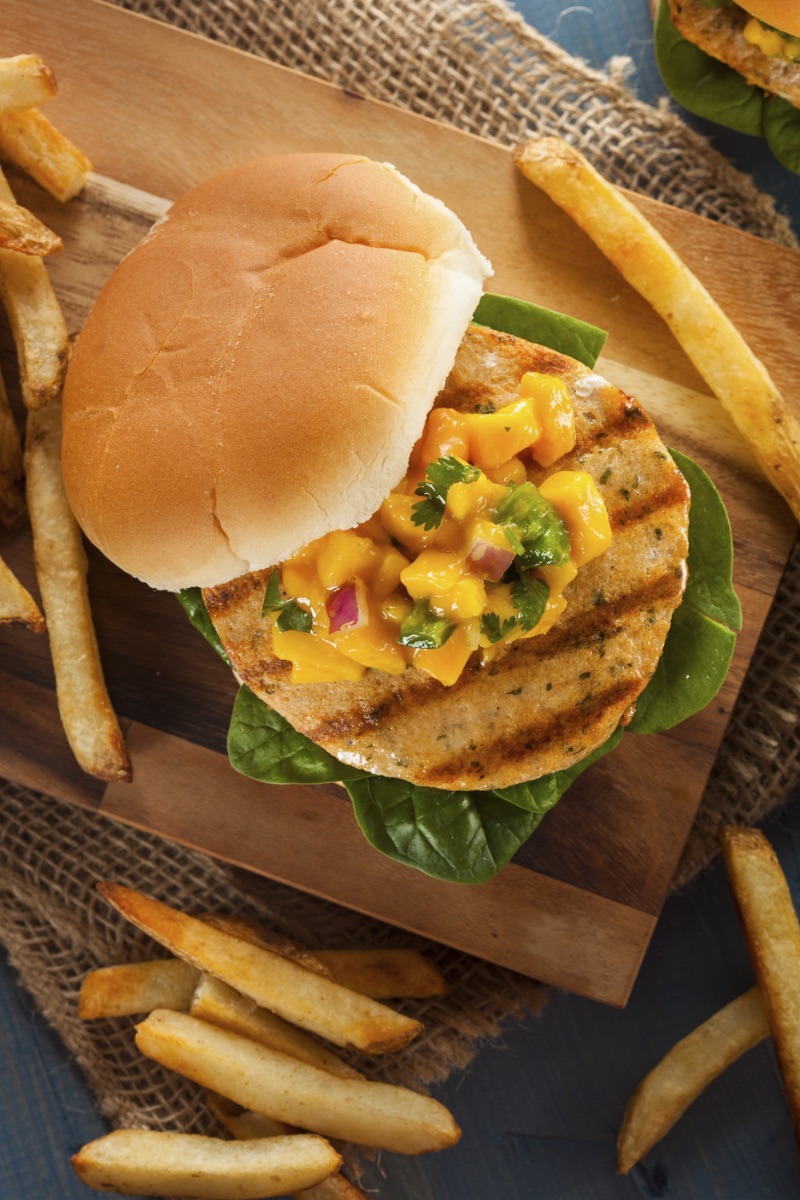 Tequila-Lime Chicken Burgers with Grilled Corn Salsa
Serves 8
For Burgers
4 chicken breasts
1/4 cup tequila
1 tablespoon hot sauce
2 tablespoons fresh-squeezed lime juice
For Salsa
2 ears of corn
2 Roma tomatoes
2 tablespoons cilantro, finely diced
1/2 cup red onion
Juice of 1 lime
Sea salt
For Lime-Sour Cream
1/2 cup sour cream
1 tablespoon hot sauce
1 tablespoon lime juice
For Frying
1 cup buttermilk
2 cups flour
1 teaspoon cumin
1 teaspoon garlic powder
1/2 teaspoon cayenne
1/2 teaspoon sea salt
For Assembly
8 burger buns
1 ripe avocado
1/2 cup feta cheese
Butterfly and split chicken breasts in half and place in an airtight container. Pour in tequila, hot sauce and lime juice. Cover, shake well and place in the fridge overnight (shaking a couple more times through its rest, if possible).
Heat a griddle pan over medium high. When hot, grill corn, turning every minute or so, until the outsides begin to char. With a sharp knife, shave the corn kernels into a large bowl. Dice tomatoes and red onion and add to the bowl. Add cilantro, lime and a pinch of sea salt and toss together. Set aside.
In a small bowl, stir together sour cream, 1 tablespoon of hot sauce and lime juice. Cover and place in the fridge.
Heat 3 inches of canola oil in a deep Dutch oven to 350°.
Prepare two separate bowls, one with buttermilk, the other with the flour and spices. Stir spices together.
Working in batches, dip chicken fillets in the buttermilk, then the flour, until completely coated. Fry until crispy and golden brown, 8 to 9 minutes.
Serve chicken burgers with avocado slices, crumbled feta cheese, 2 tablespoons of salsa and a dollop of lime sour cream.
This article was written by Dennis Prescott from Food & Wine and was legally licensed through the NewsCred publisher network. Please direct all licensing questions to legal@newscred.com.