The banh mi is quickly becoming the go-to sandwich of choice for many people. There are so many amazing variations, and the possibilities are endlessly delicious. This crispy chicken version is ready in minutes after some time spent marinating in the fridge—perfect to cure those cravings and guaranteed to help your kitchen become the neighborhood's best sandwich shop.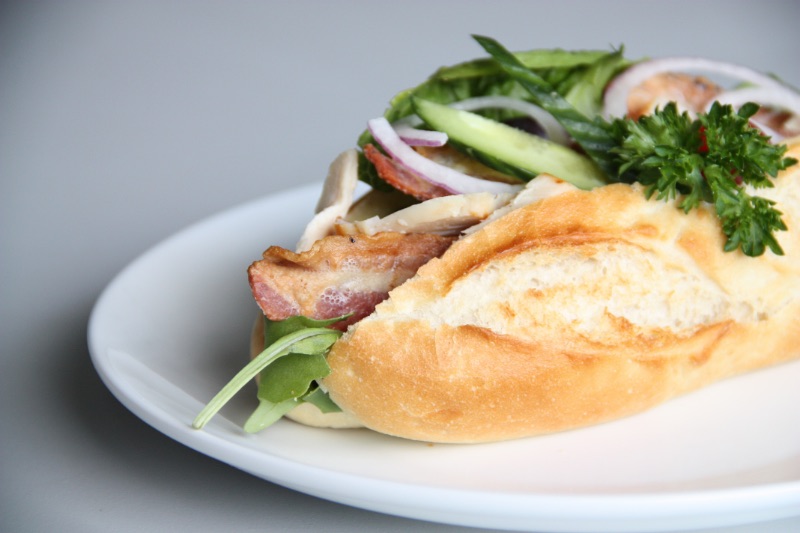 Crispy Chicken Banh Mi
Makes four 8-inch sandwiches
Chicken
2 chicken breasts
1/2 cup fish sauce
1 tablespoon sugar
1 tablespoon Sriracha
2 tablespoons fresh-squeezed lime juice
2 tablespoons sesame oil
1 tablespoon ginger, grated
2 garlic cloves, grated
Pickled Vegetables
2 large carrots
1 daikon radish
3 teaspoons sea salt
4 tablespoons sugar
1 cup rice wine vinegar
1 cup water
Sriracha Mayo
1/2 cup mayo
1 tablespoon Sriracha
1 tablespoon fresh-squeezed lime juice
1 tablespoon butter
8 quail (or small/young chicken) eggs
Four 8-inch soft baguette rolls
1 cup cilantro
2 green chiles, finely sliced
Cut the chicken breasts against the grain into thin strips and place in a bowl. In a separate dish, mix together fish sauce, sugar, Sriracha, lime juice and sesame oil. Add grated garlic and ginger and mix into the sauce. Pour the sauce over chicken and mix well. Cover with cling wrap and place in the fridge for an hour (preferably overnight).
Julienne carrots and daikon into matchsticks and place them in a bowl. Add salt and sugar and massage into the carrots and daikon until the sugar and salt disappear. Cover with vinegar and water and stir together. Place in a large mason jar, cover and refrigerate for an hour (or overnight).
In a small dish, mix mayo, Sriracha and lime juice. Cover and set aside.
Heat a wok over medium-high heat. Add oil and heat for 30 seconds. Working in two batches, add chicken to the wok and stir-fry for 4 to 5 minutes, until cooked through and crispy.
Reduce heat to medium and melt butter in a large frying pan. Fry eggs until cooked over easy.
Split buns and cover both sides of each with 2 tablespoons of Sriracha mayo. Stuff each roll with a handful of pickled vegetables, chicken and a few sprigs of cilantro. Sprinkle with fresh chiles and top with a fried egg.
This article was written by Dennis Prescott from Food & Wine and was legally licensed through the NewsCred publisher network. Please direct all licensing questions to legal@newscred.com.