For chef Tin Vuong, the entrepreneurial chef behind a growing empire of Vietnamese-inflected restaurants in L.A., Sundays are for pho.
A big pot of Saigon-style pho, piled with tons of herbs and sprinkled with the tiniest pinch of MSG, is the kind his grandmother, aunt and father conjured in the kitchen when Vuong was a kid. At Abigaile in Hermosa Beach, he reimagines the iconic soup into a salad, but that doesn't mean he eschews tradition.
"I learned it from making it at home with my family," Vuong says. "I just watched and picked it up. As I started out as a chef, I was like, 'Oh, that's how you make it.'"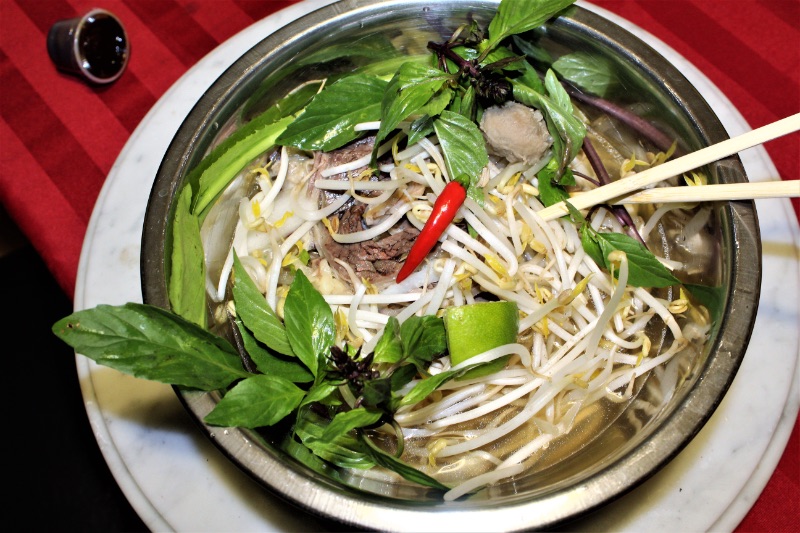 So many tiny details make up this seemingly simple soup, from selecting the right bones for the broth to charring onions and ginger for aromatics. And for this lazy day off, nothing seems more fitting to usher in fall than one big bowl of hot pho, filled with barely cooked meat, tons of herbs and zero Sriracha.
Here's how to pull it off, with Vuong's essential tips:
1. Knuckle down. The key to a flavorful, slightly fatty broth lies in the bones. "I like to use knuckles and femur bones," he explains. "There's more gelatin in the knuckle and the femur has more marrow." Which adds up to a broth with body and deliciousness.
2. Rinse off. The beauty of pho lies in its crystal-clear broth. However, it can easily become cloudy if you forget one thing. "You need to boil the bones and rinse them off," he says, to keep scum from dirtying the broth.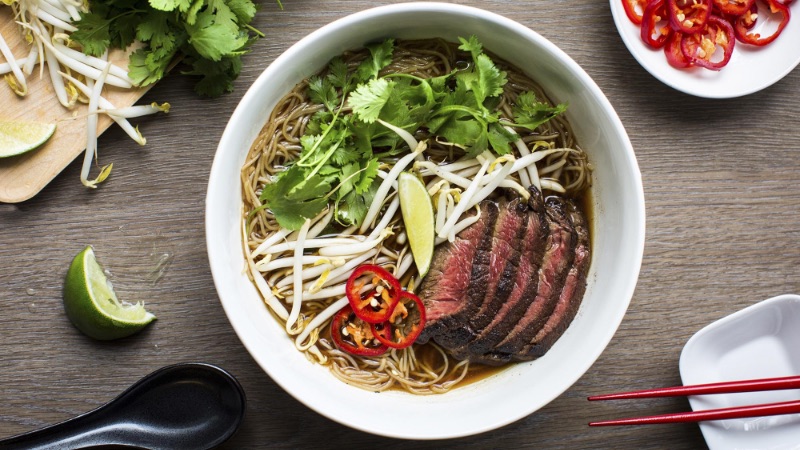 3. Peel back. One of the most important steps in making pho is burnishing some onions and ginger before adding to the broth. However, don't just plop from pan to pot. "Peel the onion, or it will make the stock black," Vuong cautions. "That way you get the sweetness of the onion and not the bitterness."
4. Mind the MSG. Why doesn't your version of pho taste like your favorite noodle shop? Probably because you're missing the umami. "I think every Vietnamese restaurant uses MSG," he says. "You should always put in a pinch, not a lot."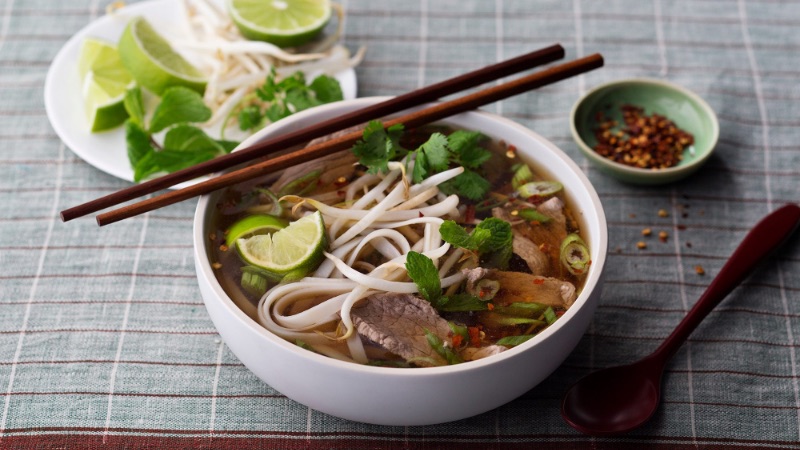 5. Play freeze-tag. To achieve perfectly thin sheets of beef to top off your noodles, look for help from yourfreezer. "Sometimes I freeze it for as little as an hour and half," Vuong explains. Then, slice thinly with ease.
6. Skip the condiments. After all this work, don't sully your soup with a bunch of Sriracha and hoisin. "If it's bad pho, sure," says Vuong. "But if it's good pho, I don't put in anything at all."
This article was written by Elyse Inamine from Food & Wine and was legally licensed through the NewsCred publisher network. Please direct all licensing questions to legal@newscred.com.