April is right around the corner, and with it will hopefully come brighter days and warmer weather. What's the best way to celebrate this long-awaited turn of the seasons? With Champagne, of course. Take some notes from executive wine editor of Food & Wine, Ray Isle, who stopped by Mad Genius LIVE, hosted by Justin Chapple, to share recipes for two of his favorite champagne cocktails.
Putting together a cocktail menu might seem stressful, but it's simpler than you think. First of all, don't stress about using an expensive wine if you're going to mix it with other ingredients.
"Don't use Dom Perignon in your Champagne cocktails, unless you want to point how you just don't care," says Isle.
He gives us regular people permission to stick more affordable $20 bottles of sparkling wine. Another cheat? No big deal if you can't find true French Champagne for these cocktails. Feel free to use a sparkling wine or a Prosecco (but beware that it tends to be sweeter).
Isle makes two cocktails. First up is the Rouge 75, which requires muddling orange peel and simple syrup. If you don't have a muddler on hand, Chapple and Isle explain that fancy tools aren't always necessary for making great cocktails: You can easily re-purpose the handle of a whisk or a wooden spoon to muddle your ingredients in a pinch.
Another piece of wisdom from Isle: The Champagne or sparkling wine you use for your cocktail should not go in the shaker with the rest of your ingredients. If you add bubbly wine to the shaker, it will lose its bubbles, or worse, explode all over you and your kitchen. Instead, top your cocktail off with the Champagne.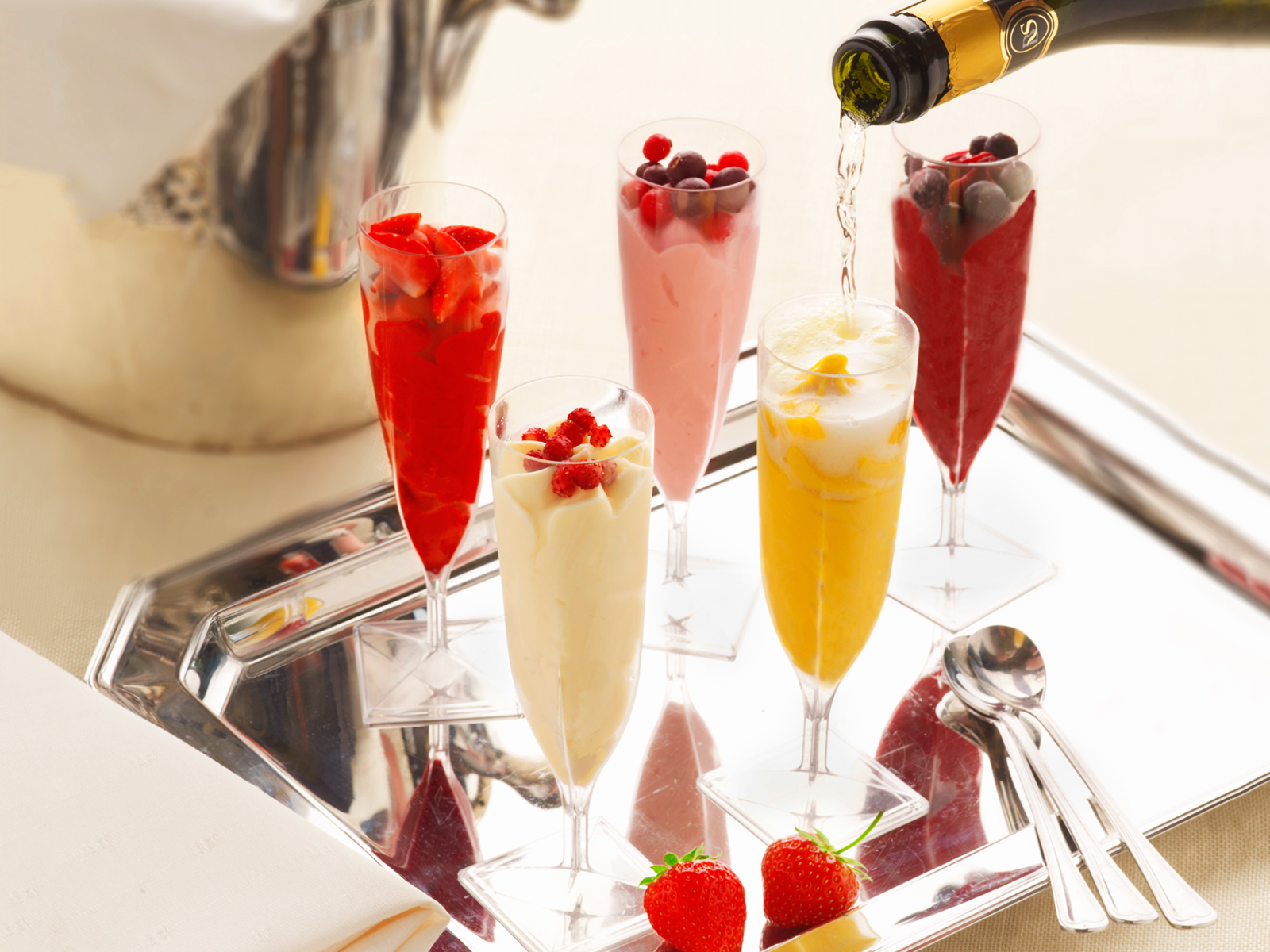 Next, Isle whips up a drink called the Cork County Bubbles. For this recipe, you can feel free to squeeze the lemon juice directly into your cocktail shaker. You don't have worry about seeds because you'll be using a strainer to pour the drink into the glasses.
Here's what else you need to keep in mind when drinking Champagne or sparkling wine: You don't need to serve it in a flute. A regular white wine glass is actually the preferable method for drinking wine with bubbles, which allows the wine's aroma to flourish. Food & Wine put together a handy guide to help you understand what glass to pair with different wines.
Although it might look cool, you shouldn't pop the cork when opening a bottle of Champagne, either. It makes a mess and wastes precious wine, which you could be pouring into the glasses of your friends.
If you need more ideas for Champagne cocktails ahead of Easter, or any other springtime celebration that you're planning, here are the 10 more recipes that go beyond the classic Mimosa.
This article was written by Elisabeth Sherman from Food & Wine and was legally licensed through the Industry Dive publisher network. Please direct all licensing questions to legal@industrydive.com.