In October, we all fantasize about making perfect, magazine-spread-worthy Thanksgiving feasts. We imagine cooking that elaborate chestnut-pomegranate-kale-chorizo stuffing recipe we clipped out of the newspaper, and that cranberry sauce from scratch, and maybe even sashimi served on rice crackers as a sophisticated appetizer.
When Thanksgiving actually rolls around, though, we could use a few shortcuts. There are too many things to get done, and that's not even including all the daunting emotional tasks, like keeping people from fighting and making everyone leave your home when you're ready to sleep.
Fortunately, you don't have to feel bad about taking shortcuts during the cooking process. In fact, chefs take them, too. We chatted with some chefs from around the country about all the ways they cut corners on Thanksgiving. This is a guilt-free zone.
Keep the cranberry sauce simple.
"The easiest and best cranberry sauce—besides canned, which is my favorite— is cranberry relish, which is so, so easy. Just combine raw cranberries, orange zest and granulated sugar in a saucepan and cook for about five minutes. It's the perfect tart counterpart to so many sweet sides." — Alexandra Shapiro of Flex Mussels (New York)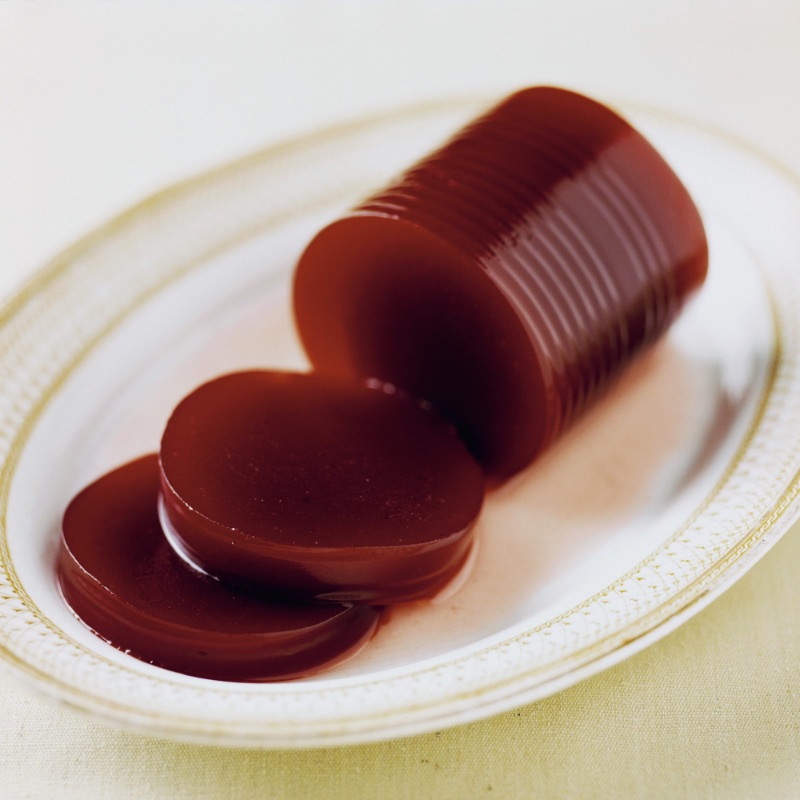 Respect, appreciate and cherish canned cream of mushroom soup.
"Don't go fancy on string bean casserole; no one likes this. Go canned string beans, Campbell's cream of mushroom soup and French's crispy onions. The best." — Shapiro
Let Top Ramen flavor packets be your secret weapon. (Seriously.)
"Using Top Ramen flavor packets can add deep flavor to various dishes. You can make a quick-dip mixing it with sour cream and a little buttermilk. Or you can add it to the water to make a flavorful stock that you can use to make your store-bought stuffing more flavorful." — Chef Rahaf Amer of Salt & Vine (Nashville, TN)
Store-bought bread cubes will totally do the trick.
"Instead of cubing and drying out the bread to then dehydrate it for stuffing, just buy the ready-to-go stuffing bread and mix it with sausage, spinach, walnuts and apples, and it becomes a gourmet dish with half the work." — Chef Dave Anoia of DiAnoia's (Pittsburgh, PA)
"I use Pepperidge Farm stuffing mix as the base for my stuffing instead of old bread. Bread is too unpredictable and can get mushier than expected. Then you can jazz it up by adding sausage, fresh vegetables, or even chestnuts." — Shapiro
"My stepmom makes literally everything else from scratch, but has used Pepperidge Farm sage stuffing mix our whole lives. It is delicious, and she has to triple the batch so everyone can take some home. She doctors it up with ground sausage, pecans and diced apples." — Chefs Molly Martin and Lyndi Stein of Juniper Green (Nashville, TN)
Think outside the pie.
"Crumbles are a staple at our Thanksgiving because they're a super easy dessert. All you need is lots of fruit (apples, pears blueberries, whatever) that you top with tons of sugar and butter, some flour and maybe some oats if you are feeling fancy! It's super delicious and looks cute and rustic." — Shapiro
If you're out of cranberry sauce, don't panic.
"Apple butter instead of cranberry sauce is really smart. A lot of the time, last-minute shoppers are out of luck with things being sold out, finding a similar alternative is always a good idea." — Amer
Consider pre-diced veggies (especially onions).
"Almost every traditional Thanksgiving dish requires onions, so to save yourself some prep work, you can pick up pre-diced onions in the produce section. Trader Joe's also has a huge selection of prepped and seasoned veggies that would work well for sides—like peeled/diced butternut squash, halved/seasoned oven-ready brussels sprouts and pre-roasted beets." — Martin and Stein
Put your local BBQ place on speed dial. (Is speed dial still a thing?)
"For turkey snafus, you could call—probably day before, not day of—local BBQ restaurants, as they often sell smoked or deep-fried turkeys for the holiday, and anyone who does Thanksgiving catering usually over-orders to be safe. They might be willing to put you on a waiting list to make sure they have enough for people who ordered ahead. A higher-end grocery store like Whole Foods that offers Thanksgiving catering also might have surplus if you're lucky." — Martin and Stein
Heat up a frozen pie.
"Our family loves Mrs. Smith's Dutch apple pie in the freezer section. — Martin and Stein
This article was written by Food and Wine Staff from Food & Wine and was legally licensed through the NewsCred publisher network. Please direct all licensing questions to legal@newscred.com.