Flavor Profile
Of the many ways you can add tangy heat to your cooking, ground mustard is one of the most aromatic. It's pleasantly head-clearing, with a clean, fresh aroma and sharp flavor that offer the perfect counterpoint to rich ingredients like beef, cheese and butter. Sprinkle it into your mac 'n cheese or deviled eggs. Whisk it into red wine sauce for beef. Use it to flavor—and emulsify—homemade mayonnaise and Hollandaise sauce. Whisk it into salad dressings and butter sauces. The more you use ground mustard in your culinary explorations, the more you'll love it.
Usage
Make your own signature mustard! Mix 1/4 cup of ground mustard with just enough apple cider vinegar, beer or white wine to make a paste. Stir in an herb, like tarragon or rosemary, plus salt, and honey or brown sugar to taste. It's a perfect hostess gift or accompaniment to a cheese board.
Ground mustard is a natural emulsifier, helping ingredients like oil and egg bind together. Homemade mayonnaise and Hollandaise sauce are two excellent examples of sauces that gain stability from a pinch or two of mustard powder.
It's the aromatic, tangy heat that lets mustard cut through the richness of beef. It makes you want to come back for a second—and third and fourth—bite. Blend mustard powder into your next burger or meatloaf. Or add it to a rub for any roast.
Perfect Partners
Cheese and mustard have a long-standing friendship that's especially evident in cheese sauces and soups. Add ground mustard to mac 'n cheese, cheese sauce for broccoli or potatoes, and cheddar and beer soup for a tangy flavor boost.
Looking for a simple cocktail snack? Toss assorted nuts and seeds with ground mustard, salt and a drizzle of honey. Roast in the oven until the mixture is warm and toasty. Serve with cocktails to get the party started. Dry mustard makes a first-rate glaze for baked ham or chicken. Stir it into brown sugar with bourbon or orange juice. Add it to apple cider, along with thyme and honey. Or mix it with red wine vinegar, brown sugar and thyme. Brush the glaze on during the last half hour of cooking.
Substitutes
Q: If I don't have ground mustard on hand, what makes a good substitute?
A: Good quality prepared mustard can easily stand in for ground mustard in most recipes. Use one tablespoon for each teaspoon of ground mustard.
History/Fun Facts
Mustard has been a favorite seasoning throughout the ages, especially as a complement to the rich flavor of beef and sausage. In 12th century England, the seeds themselves were always on the table, along with a mortar and pestle so that diners could grind their own to taste. It wasn't until the 18th century that mustard seed was sold commercially as a powder to be used for seasoning or to make prepared mustard.
Popular Recipe Recommendations
Curried Deviled Eggs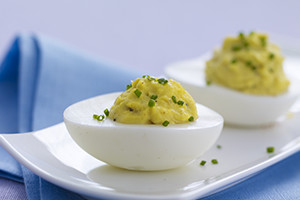 Summertime Slaw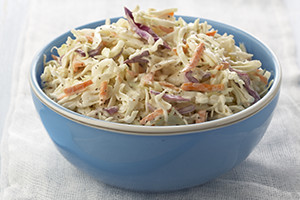 Easy Layered Salad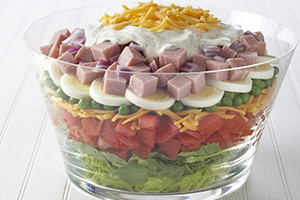 Spring Thyme Salmon