Here are the basics of growing your own food. Learn how to create a vegetable garden plan, source seeds, get essential garden tools and find out what vegetables to plant first.
There are some really good reasons to grow your own food: you can grow organic vegetables, save money and know exactly where your food comes from. There are also many ways you can go about creating your own vegetable garden.
If you just have a tiny window area or a small deck, start small. You can build a window box garden by planting a few herbs or create a container garden with salad greens or plants like tomatoes on a patio.
If you have slightly more room, like an urban backyard, try creating a small garden with raised garden beds.
However you decide to build your garden, consider these four things before you get started:
Sunlight: First, you'll need a spot that has at least 6 hours of direct sunlight a day for your vegetables to grow.
Soil Quality: Second, you'll need good-quality garden soil. You may want to consider amending it with organic matter to provide healthy soil for your plants.
Zone: Third, check what USDA plant hardiness zone you live in to get a good idea of what kinds of crops are best for your growing season.
Taste: And fourth, consider what you and your family like to eat and what's harder to find at your markets, such as interesting hot peppers, heirloom tomatoes and obscure herbs.
Getting Started
Once you have an idea of what you have and what you want, you get started with these simple steps.
Step 1. Start with a Plan
A garden plan will help you with everything from how to space your plants to when to put them in the ground. You can map it out based on how far a plant's roots will extend, where the best sunlight is and where your source of water is so you can water your plants effectively.
You could draw up a plan on graph paper or generate one using an online garden planner, such as the free Plan-a-Garden tool from Better Homes & Gardens, which helps you customize a garden design from scratch. BH&G also offers a number of preplanned vegetable garden designs that you can download and print out.
Step 2. Source Your Seeds
Most garden centers will carry seed packets for standard grocery-store varieties of fruits, vegetables and herbs, but if you're looking for more unique, heirloom varieties, you might need to order your seeds online or via mail-order sources for the best selection.
The best reason to start your own garden: tomatoes. Check out Gary Ibsen's Tomato Fest. He offers over 600 organic heirloom tomato seeds suitable to grow in almost any climate or any space, including rooftops and patios.
Specializing in Asian vegetables, Kitazawa Seed Company is a great place to find off-the-beaten-path items like Chinese celery and shiso leaves.
If you're having trouble finding seeds online, some hardware stores or big box stores may carry seeds to get you started this season and you can branch out more next year when there are more varieties available and you have a bit more gardening experience.
Seed starting might be challenging for some people, in that case, your other option is to start your garden with young plants. A good garden center will have select plants for beginners to choose from.
Step 3. Get These Basic Tools
You don't need a lot of tools to start a garden, just these essentials:
Trowel: Use a trowel to dig small holes for planting transplants.
Stirrup hoe: Use a stirrup hoe to pull up young weeds at the root with just a gentle back-and-forth motion.
Garden rake: Use a garden rake to level beds and filter out large stones that may interrupt seedling growth.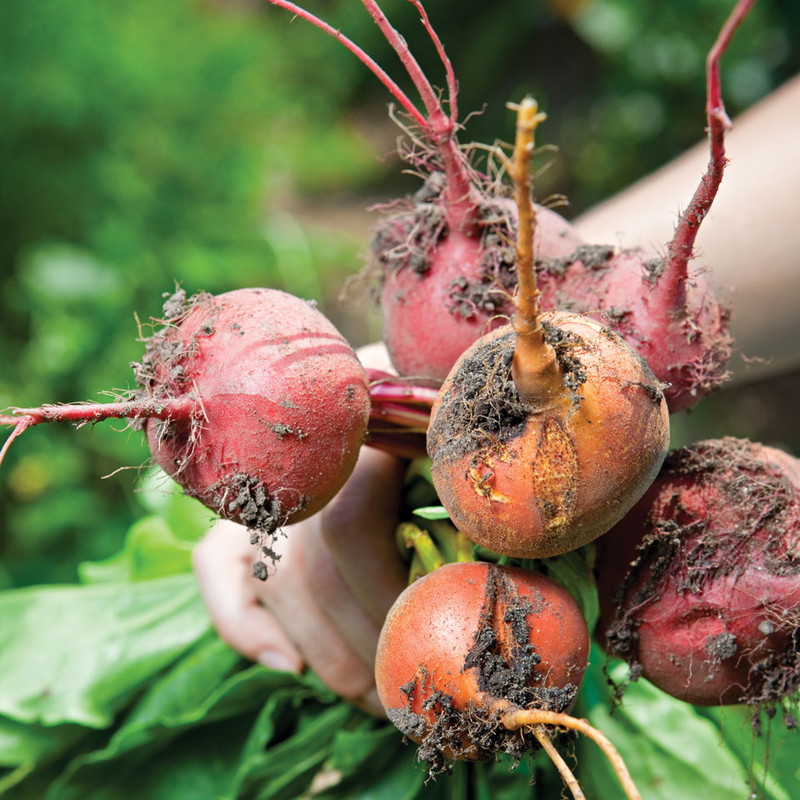 Step 4. Know What Vegetables to Start Early
Find out frost dates for your area. Some veggies love cool weather and you can plant them a few weeks before the last frost. You can plant those first and you'll enjoy the rewards of your work in a hurry.
Lettuce: You can plant different types of lettuce all over your garden, wherever there's room. It's forgiving and grows fast enough that you'll be harvesting young leaves for salads within a few weeks. Plant seeds every two weeks in the spring so you have a constant supply.
Turnips: Turnips take about a month from seed to harvest and have a peppery and sweet flavor when they're picked fresh.
Peas: Pea plants produce more in cooler weather than they do once it heats up. And by the heat of the summer, they're pretty much fizzled out so you can plant a late-season crop in their spot.
Related: 13 Easy-to-Grow Vegetables & Herbs
Gardening Tips for Growing a Kitchen Garden
Take Inventory Start by making an inventory of foods you enjoy during the spring, summer and fall, focusing on crops that you can't always buy fresh-fancy lettuce and mesclun mixes, for instance, are easy to sow and quick to grow.
Prepare Your Soil Start with rich, organic soil. Supplement with organic compost, usually found at garden centers, to give plants a boost.
Consider Companion Planting Companion planting, such as edible marigolds planted near tomatoes to repel pests, builds on symbiotic combinations for a healthy partnership both in the garden and on the plate.
Use the Kitchen for Inspiration Ultimately, the kitchen garden will inspire you to celebrate fresh flavors. Think of yourself as a food artist, building color in the garden and on your plate.
Helpful Gardening Resources
Here are some great gardening resources to get you started:
The Vegetable Gardener's Bible, Edward C. Smith (Second Edition, Storey Publishing, 2009). Want to know whether it's a good idea to rototill your soil or find out how to get your plants to yield more this year? Turn to Ed Smith's tome for the answer. (For the record, he advocates avoiding rototilling, because it disrupts the natural structure of soil, and instead growing in deep raised beds to yield bountiful results.) Plus the book includes a plant directory with nutrition information (parsley has vitamins A and C), photos of each plant and growing tips (parsley likes to grow in very loose soil).
Starter Vegetable Gardens, Barbara Pleasant (Storey Publishing, 2010). This book is packed with simple step-by-step information to get novice gardeners started growing their own vegetables in small spaces. Pleasant offers a variety of garden plans, each beautifully illustrated, from a small, foolproof garden planted directly in plastic bags of soil to a full-blown "family food factory garden." She walks readers through the process, from deciding what to grow to how to preserve herbs and how to protect plants from harmful insects.
If your idea of a vegetable garden is a beautiful, whimsical space that not only provides food but also creates an oasis in your backyard, you'll find inspiration in gardening guru Ellen Ecker Ogden's book The Complete Kitchen Garden (Stewart, Tabori & Chang, March 2011). She includes 14 themed kitchen gardens, from a salad lover's garden to a chef's garden, along with garden plans, plant profiles and recipes to use up the harvest.
Gardeners.com. This site is not only a great source for gardening tools and supplies, but also has tons of "how to" guides, on everything from how to grow vegetables in containers to how to start your own seeds indoors.
Some original reporting from Jessie Price & Ellen Ecker Ogden.
This article was written by Hilary Meyer from EatingWell and was legally licensed through the NewsCred publisher network. Please direct all licensing questions to legal@newscred.com.