Hot honey is a condiment with staying power. Popularized by brands like Mike's and Trader Joe's years ago, this tangy, sweet, and spicy sauce brings the zing to fried chicken, grilled meats, roasted vegetables, pizza, biscuits, and cheese plates. It may seem too delicious to DIY, but don't let Dave fool you – hot honey is one of the easiest condiments to make at home.
You need three things: Honey, peppers (fresh, dried, or flakes), and a little apple cider vinegar, to give it some tang and keep things mobile. That's it.
Make easy hot honey with fresh or dried peppers
Hot honey is a forgiving, adaptable guy who plays equally well with fresh peppers and dried chili flakes. Even the crushed red pepper packets from your local pizza joint will work beautifully, as will the dried guajillo peppers hanging out in your pantry (provided you chop them up first), or the sad jalapeño that didn't make it into your last batch of salsa.
When working with dried stuff, aim for a ratio of two to three tablespoons of crushed peppers per cup of honey; if working with fresh, use one or two sliced peppers per cup, depending on their size and spice levels, and your enthusiasm for heat.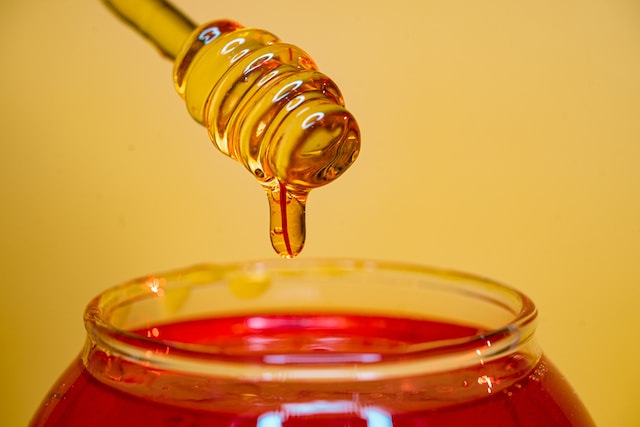 Easy Homemade Hot Honey
Ingredients:
1 fresh pepper, such as a serrano or jalapeño, or 2–3 tablespoons of crushed dried peppers or red pepper flakes
1 cup honey
1 tablespoon apple cider vinegar
For fresh peppers: Start by prepping your peps. If working with a fresh pepper, wash and dry it completely, then slice thinly and place the slices in a small sauce pan. Add the honey, and bring to a gentle simmer for 2 minutes. Do not allow to boil. Remove from the heat and stir in the apple cider vinegar, then strain out the pepper pieces and let cool. (You can save those for scattering over salads, or baking into cornbread for a bit of candied, spicy punctuation.) Store hot honey made with fresh peppers in an air-tight jar or bottle in the fridge.
For the dried stuff: If working with whole, dried peppers, such as guajillo, chipotle, or chile de àrbol, remove the stems (and seeds, if you want to tame some of the fire), toast them briefly in a dry skillet until they take on a bit of color, then let cool completely before pulsing in the food processor to break them up into flakes. Measure out 2–3 tablespoons of flakes (depending on the potency of your pepper and your tolerance for heat) or 2 tablespoons of crushed red pepper, then add to a small sauce pan, along with the honey. Simmer for 2 minutes, then remove from the heat and stir in the vinegar. There's no need to strain hot honey made with dried peppers or flakes – though you could if you prefer a smooth sauce – just funnel it into a jar or bottle and store in a cool, dry place.
Part of the thrill from making your own hot honey lies in the experimentation, so don't be afraid to mix and match peppers, swap out the vinegar, or even add a few dashes of hot sauce for even more flavor.
This article was written by Claire Lower from Lifehacker and was legally licensed through the DiveMarketplace by Industry Dive. Please direct all licensing questions to legal@industrydive.com.