If you open up my fridge, you'll find lots of healthy ingredients, from colorful produce and a variety of cheese to kombucha and 100% fruit juices to mix into seltzer. Plus you'll find a lot of condiments. There are typically at least four kinds of mustard, several types of hot sauce and always pickled onions.
Pickled onions are quite possibly the most perfect condiment. And while I can buy them already-made at one of my local grocery stores, I would just rather make them at home. Making pickled onions can help combat food waste – they're an easy way to use up the half an onion hanging out in your crisper drawer, or if you bought a large bag that you aren't quite getting to as fast as you thought you would. Why would I buy them when they take mere minutes to make? 
If I'm being honest, I'm pretty lazy about making pickled onions and don't actually pickle them properly. I just thinly slice onions and cover them generously in distilled white vinegar while I'm making dinner. The vinegar adds just the right acidic tang, plus it mellows out the onion's sulfurous flavor. If I'm feeling really on top of things, I'll make them properly using this pickled red onion recipe, which also includes thyme sprigs, peppercorns and a garlic clove, infusing even more flavor. (While this recipe says to cool for 30 minutes and then refrigerate for 3 hours to yield the most flavorful results, you can certainly enjoy them sooner.)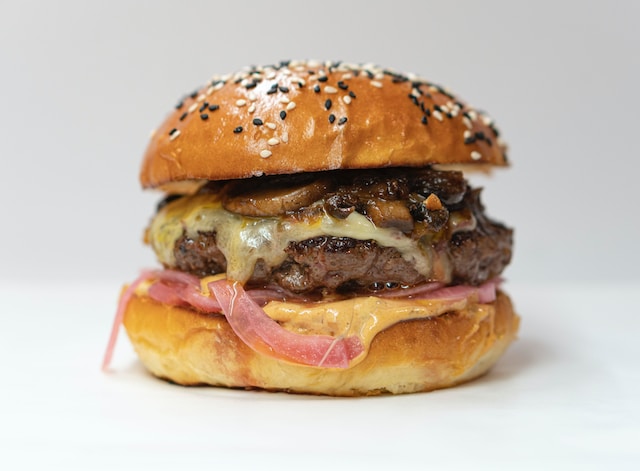 Pickled onions add a punch of flavor and nice textural contrast to otherwise soft dishes like enchiladas, tacos and sandwiches. A go-to weeknight meal for my family are these Chipotle-Lime Cauliflower Tacos, and I typically make pickled onions before I start the recipe. They are also a terrific topper for burgers, and I like to serve them alongside falafel, too. And if there are any pickled onions leftover, which is rare, I'll add them to my lunchtime salad or sandwich the next day. I usually keep my cheater pickled onions for no more than 1 week, but if you follow a more proper recipe they can last up to 1 month.
Taco night this week? Why not try garnishing them with pickled onions. I hope you enjoy them as much as my family does.
This article was written by Carolyn Malcoun from EatingWell and was legally licensed through the DiveMarketplace by Industry Dive. Please direct all licensing questions to legal@industrydive.com.