Reviewed by Dietitian Annie Nguyen, M.A., RD
Many years ago, a family friend hosted a dinner party and started the meal with a delicious lentil curry and acorn squash soup. This was 25 (or more) years ago, yet I still remember that soup because it was the first time I ate the skin of acorn squash. After the first bite, I thought the host was being lazy by not peeling the squash, or that she just made a mistake. But, to my surprise, the squash skin was chewy yet tender, and everyone commented on the lovely texture and flavor of that curry squash soup.
This simple soup from decades ago inspired me all these years later to leave the skins on when making a chunky acorn squash soup. But lately I've been wondering, is it actually safe to eat squash skin? I decided to do a deep dive on the topic.
Is Squash Skin Edible?
Certainly I know you can eat the skin on summer squashes, like zucchini, pattypan and yellow summer squash. With their thin skin and watery flesh, leaving the skins on helps give summer squash a pleasantly chewy texture.
But what about heartier winter squashes, with their tough and often rough skins? Most recipes for delicata squash, like this bright and fresh Honey-Glazed Roasted Delicata Squash, call for slicing and roasting the small, yellow-and-green-striped squash unpeeled. But I want to know if all squash skin is safe to eat, not just delicata.
To get an answer, I went to a local farm and chatted with a couple of experts. 
"It's definitely OK to eat squash skin," Rayna Joyce, vegetable production manager at Bread and Butter Farm in Shelburne, Vermont, told me. "Some (winter) squash have really delicate skins and they become tender when cooked. You can bake them and eat the whole thing."
Winter squash are harvested from late summer through late fall, then allowed to "cure" in a dry, low-humidity environment, about 70° to 80°F, until the skins are completely dry and hard.
"Curing helps the squash toughen and dry out so you can store it longer," Joyce said. This process is similar for other storage vegetables like onions, potatoes and garlic.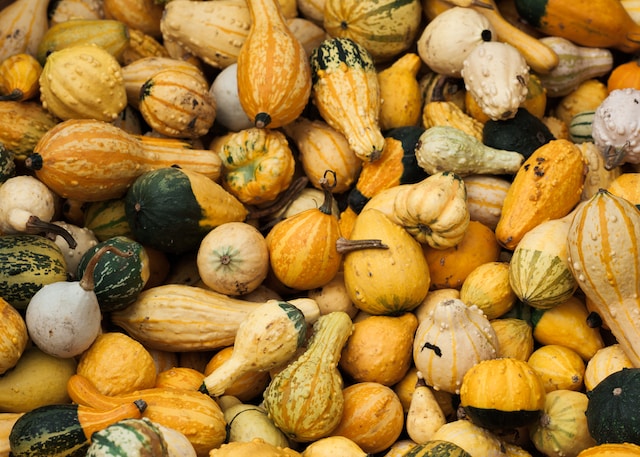 Ryan Jacobs
Are Squash Healthy?
Winter squash are packed with lots of nutrients. Adding them to your meal rotation is a great way to get fiber, along with vitamins A and C, potassium and antioxidants. Consider that 1 cup of baked butternut squash, one of the most popular varieties of winter squash, provides 160% of your daily recommended value of vitamin A, along with 7 grams of fiber – and if you eat the peel, you'll get a little extra. 
When Should You Peel Winter Squash?
From a culinary perspective, deciding whether to remove the skin on winter squash all depends on the desired texture of the final product, according to Mike Proia, owner and chef of Blank Page Cafe at Bread and Butter Farm in Shelburne, Vermont.
"Squash skin is pretty robust and thick for a reason; it's meant to be stored. But the skin is edible. If it's cooked down, it becomes palatable," he said. 
Proia sources much of the produce for his gluten-free baked goods, take-home meals and catering events from the farm (which is literally right outside his door), so he's very familiar with turning fresh produce into delicious meals. He uses the farm's assortment of squash throughout the winter. And he removes the skin only if it will interfere with the texture of the dish.
"Roasting and braising can break down the skin really well," he said. "The skin can actually add a nice texture." Like when making roasted butternut rings or acorn squash wedges, he likes to leave the skins on for texture, similar to leaving the skin on roasted delicata rings.
But, he said, there are times you wouldn't want the chewiness of the skin to interfere with the texture of the dish. "If you make mashed butternut squash, the skin could add an unpleasant texture," because the skin will be chewy in an otherwise smooth puree, he explained.
Perhaps the best variety for eating the skin, in addition to delicata, is honeynut. They look like mini butternut squash and are particularly sweet. Honeynut squash are especially delicious roasted with a little cinnamon and butter.
The only winter squash skin to avoid eating altogether, even if well cooked, is spaghetti squash because of its thick, eggshell-like quality.
Bottom Line
Next time you roast a squash like acorn, butternut or honeynut, try leaving the skins on and give them a nibble. Be sure to scrub the skin well, Joyce recommends, to remove any dirt or debris. The pleasantly chewy texture may just surprise you, plus you can never go wrong with more fiber.
This article was written by Adam Dolge from EatingWell and was legally licensed through the DiveMarketplace by Industry Dive. Please direct all licensing questions to legal@industrydive.com.