Mmmm ... that rich, savory, concentrated flavor of a homemade stock. It brings you home with every taste. Infuse quality in everything you cook, from soups to gravies and more – with Kitchen Basics stocks.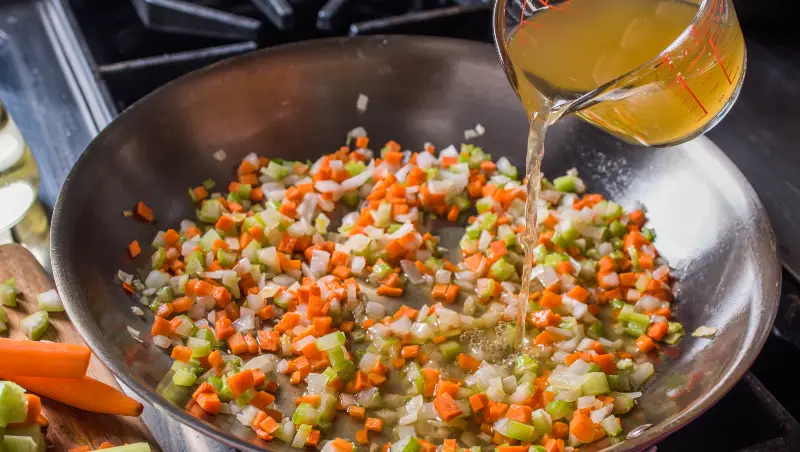 Flavor
Kitchen Basics Stocks are full-flavored liquids prepared by simmering meat, poultry, seafood or vegetables for hours in water with herbs and spices, until the flavor is extracted. It has a rich, hearty taste – one that serves as the perfect flavor-building ingredient. Add your own herbs, salt or spices to easily adjust the flavor profile to your own cooking needs!
Healthier Choice
Kitchen Basics stock is not just a key ingredient for your favorite soups, sauces, pasta, marinades and vegetables – it's a healthier one. It's low in saturated fat and cholesterol. No MSG added. Gluten-free.
Allergen Tested for Your Diet
We reduce the risk of allergen reactions by specifying that our Kitchen Basics ingredients must not contain milk, eggs, peanuts, glutens, or tree nuts. We do not add MSG.
Inspired Uses
What are you in the mood for? There are countless ways to add Kitchen Basics stock to your cooking – whether you use it as a base for homemade soups, the secret to great-tasting leftovers, or the missing ingredient in your mashed potatoes.
- Grains & Lentils: Replace water with stock when preparing rice, couscous, quinoa or lentils

- Low-Fat Cooking: Cook vegetables in a small amount of stock instead of oil or butter

- Stir-Fry and Pasta Dishes: Add stock instead of water

- Meats: Use stock for braising and deglazing

- Seafood: Steam shrimp, mussels and clams in stock instead of water

- Gravies: Add stock instead of water to pan drippings or gravy mix and thicken as desired