If there was ever a time to get excited about oatmeal for breakfast, it's now. This version is special. Cooked low and slow overnight, this warming bowl is finished off with a buttery brown sugar-cinnamon drizzle and a cream cheese icing swirl. Together, these toppings make for indulgent bowls of oats blissfully reminiscent of all the best parts of a cinnamon roll. It's impressive enough to serve to the whole family for a special breakfast, yet easy enough to pull off any time.
Focus your effort on the toppings, which we all know are the best parts of any cinnamon roll. The creamy oats are a breeze to pull together and require minimal prep. The slow cooker means that the oats cook during the night and make plenty for a crowd. Come morning, all that's left to do is stir together the buttery cinnamon-sugar drizzle and mix up the cream cheese icing.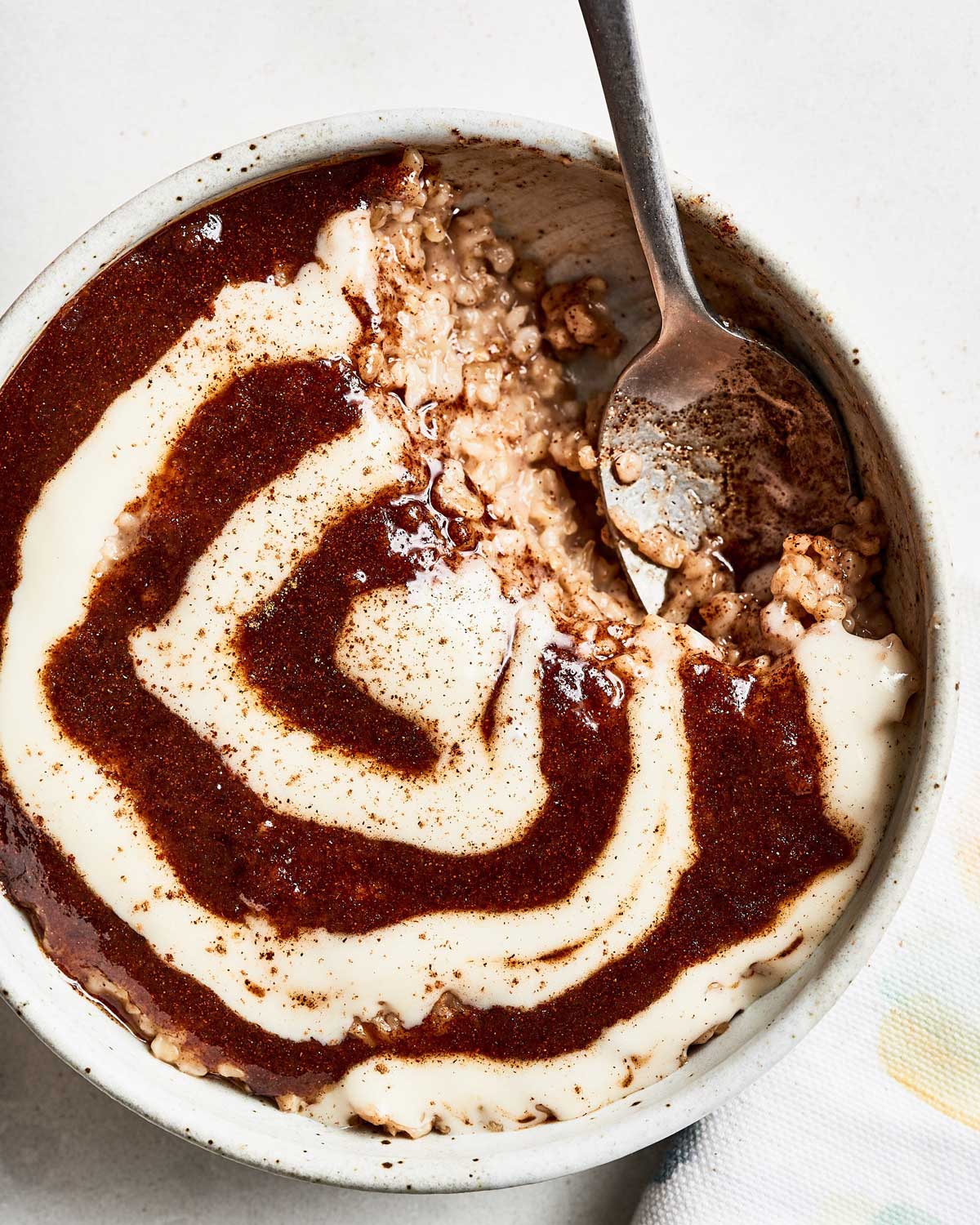 Slow Cooker Cinnamon Roll Oatmeal
Serves 8
For the oatmeal:
Cooking spray, coconut oil or olive oil
2 cups steel cut oats
1/4 cup packed light or dark brown sugar
1 teaspoon ground cinnamon
1/4 teaspoon salt
8 cups water
For serving:
1/2 cup packed light or dark brown sugar
2 tablespoons ground cinnamon
6 tablespoons unsalted butter, melted
2 ounces cream cheese, at room temperature
1/2 cup powdered sugar
1 tablespoon whole milk
1 teaspoon vanilla extract
1 cup whole milk, for serving (optional)
Make the oatmeal: Generously coat the bottom and sides of a 5- to 6-quart slow cooker with cooking spray, olive oil or coconut oil. Add the oats, sugar, cinnamon and salt, and stir to combine. Pour in the water.
Cover and cook on the low setting until the oats are tender, 7 to 8 hours.
For serving: Stir together the brown sugar and cinnamon in a small bowl. Pour in the melted butter, and stir until the mixture is well combined and runny; set aside.
Place the cream cheese in a medium bowl. Beat with an electric hand mixer on medium speed until light and fluffy, about 1 minute. Reduce the speed to low, gradually add the powdered sugar, and beat until combined, about 1 minute. Add the milk and vanilla, and mix on low speed until smooth and creamy, about 15 seconds.
Give the oatmeal a good stir in the slow cooker, then spoon into bowls and pour in a splash of milk. Finish with a cinnamon-sugar drizzle and swirl of cream cheese icing.
Recipe notes: Leftovers can be refrigerated in a covered container for up to four days.
This article is written by Kelli Foster from The Kitchn and was legally licensed via the Tribune Content Agency through the NewsCred publisher network. Please direct all licensing questions to legal@newscred.com.