Corn tortillas are a constant in my fridge (it doesn't hurt that each pack contains a seemingly endless amount, but still). I buy them with the best intentions of making chilaquiles or vegetarian fajitas; but more often they're used for clean-out-the-fridge egg tacos or fun-sized quesadillas filled with scraps of cheese. Point being: If I have corn tortillas on hand, I know I can make a meal.
Recently, I've been switching it up by baking the tortillas into crispy homemade tostada shells, and then smearing them with warmed refried beans. With these two ingredients as my base, I have endless opportunity to be creative; and they make my scrappy last-minute meals feel a little more fun and sophisticated. I'll top them with fried or scrambled eggs, shaved or roasted veggies, or a fresh and summery salsa like the one I'm sharing here. If you, too, are looking to branch out from tacos and into the delicious world of tostadas, here's my favorite place to start.
The following recipe is inspired by Heidi Swanson's coconut corn salad, which is where I was first introduced to the unexpected yet utterly delicious pairing of nutty toasted coconut and sweet summer corn. Add to that a squeeze of fresh lime juice, spicy jalapeno, crunchy toasted pepitas and lots of fresh cilantro, and you've got a salsa you'll want to devour in one sitting. Top with sliced avocado to keep this vegan, or add some crumbled feta, too, for a creamy, salty finish.
To pack as much coconut flavor into this dish as possible, I also quickly saute the corn in a splash of hot coconut oil and brush the tortillas with coconut oil before sending them into the oven to crisp. As I mentioned above, I always opt to make my own tostadas since I always have corn tortillas on hand. But to make these even easier, you can buy store-bought tostada shells and start from there. You can also use refried pinto beans instead of black.
Leftover corn salsa, if you have any, benefits from an extra squeeze of lime juice to liven it back up after it's been sitting in the fridge. Serve it with chips (on its own or atop guacamole), mix it with with romaine for a crunchy salad, or spoon it onto crispy tofu.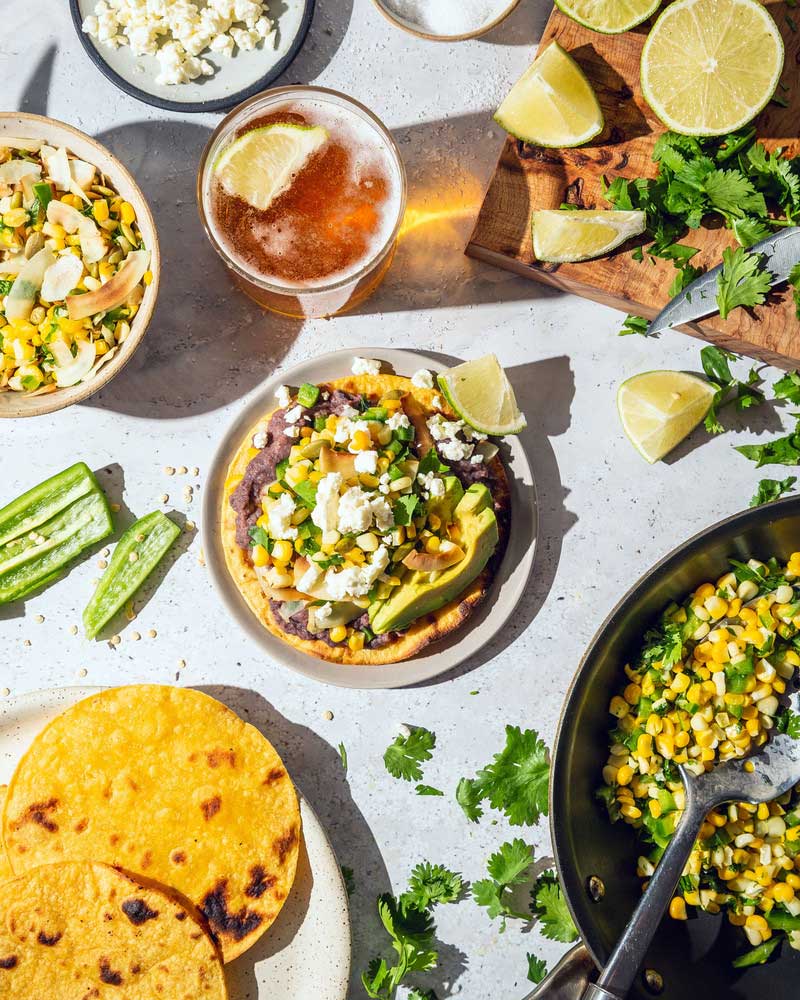 Black Bean Tostadas with Coconut-Corn Salsa
Serves 4
2 small limes
1/2 bunch fresh cilantro
1 small jalapeno pepper
4 large ears fresh corn
8 (6-inch) corn tortillas (see notes), or 8 store-bought tostada shells
1 (15- to 16-ounce) can vegetarian refried black beans, such as Amy's
1 cup unsweetened coconut flakes
1/2 cup raw pumpkin seeds
3 tablespoons unrefined coconut oil, divided
Kosher salt
1 large avocado
Crumbled feta cheese (optional)
Prep the produce:
1. Cut 1 lime in half, then cut the second lime into wedges; set aside.
2. Trim away the tough stems on the 1/2 bunch cilantro, then coarsely chop the leaves and tender stems (you should have about 1/2 cup tightly-packed chopped cilantro).
3. Finely chop the jalapeno (you should have about 2 tablespoons; if you prefer less spice, use less, or seed it first). Place the cilantro and jalapeno in a large bowl.
4. Shuck the 4 ears of corn, and remove the silks if needed. Slice the kernels off the cob: I prefer to lay each ear on a cutting board and cut down the side of the cob to remove the kernels. Then, I rotate the cob so the flat (cut) end is against the board and continue cutting and rotating (you should have about 2 1/2 to 3 cups total); set aside.
Make the tostada shells, if needed, and warm the beans:
(Skip Step 1 if using store-bought tostada shells. You can also deep-fry the tortillas instead of baking them, see notes.)
1. Arrange 2 racks to divide the oven into thirds and heat the oven to 400 F. Divide the 8 tortillas between two baking sheets. Brush both sides of the tortillas with 1 tablespoon of the coconut oil. Bake, flipping the tortillas and rotating the baking sheets from top to bottom and back to front halfway through, until lightly browned and crisp, 12 to 14 minutes total. Meanwhile, heat the beans.
2. Heat the can of beans with a splash of water to thin them out a bit so that they're creamy and spreadable in a small saucepan over medium-low heat. Stir occasionally until warm, and then reduce the heat to low. Meanwhile, make the salsa.
Make the salsa:
1. Heat a large nonstick skillet over medium-high heat until hot to the touch. Add the 1 cup unsweetened coconut flakes and the 1/2 cup pumpkin seeds and toast, stirring occasionally, until both are golden-brown and fragrant, 4 to 6 minutes. Transfer to the bowl with the cilantro and jalapeno.
2. Melt the remaining 2 tablespoons coconut oil in the now-empty skillet over medium heat until shimmering. Add the reserved corn kernels and cook, stirring occasionally, until warm but not browned, 1 to 2 minutes.
3. Remove from the heat, taste, and season with salt as needed. Transfer to the bowl with the pumpkin seeds and coconut. Squeeze the juice from both lime halves into the bowl (about 1 1/2 to 2 tablespoons juice); stir to combine. Taste again and season the salsa with salt as needed.
4. Spread each tostada shell with warmed refried beans, and top with the corn salsa. Pit and thinly slice the avocado, then top the salsa with the slices. Top with crumbled feta cheese, if desired. Serve with the lime wedges.
Recipe notes: Look for corn tortillas with no preservatives: just corn, lime and salt in the ingredient list.
To fry tostada shells: Fill a heavy-bottomed pot with a 1-inch layer of vegetable oil and heat over medium-high heat until very hot. To test, place a small piece of tortilla in the oil -- if furious bubbles form around the edges and it floats to the top of the oil, the temperature is right. One at a time, fry tortillas for 1 to 2 minutes, flipping halfway through. The tortilla will puff up, become crispy, and turn golden-brown as it fries. Transfer to a paper towel-lined plate and sprinkle with a little salt. Repeat with remaining tortillas.
This article is written by Grace Elkus from The Kitchn and was legally licensed via the Tribune Content Agency through the NewsCred publisher network. Please direct all licensing questions to legal@newscred.com.