Tiger salad is somewhere between a condiment and a salad. In Northern China, it's called lao hu cai and paired with spicy dishes as a sort of a palate cleanser, although it'd also be a bright addition at your next barbecue.
Where you might expect lettuce in a salad, here you get a whole heap of fresh and fragrant cilantro. Cucumbers provide crunch, and scallions and chiles are there for bite.
Some say the name's meant to describe the flavors -- untamed like a tiger. Others say it's referring to the look of the salad -- the shades of green resembling the shades of a tiger's mane. Either way, this fluffy, light salad will have you wondering why you haven't made an herb-based salad before (cilantro-averse aside).
Feel free to mix up the elements of the salad as long as you maintain at least one element each of herbs, crunch and spice. Add mint or basil to the mix; swap or add celery, bell pepper or peanuts for the cucumbers; or use red pepper flakes or Sriracha instead of jalapeno. To make it a main-dish salad, add tofu, shrimp, chicken or even lamb.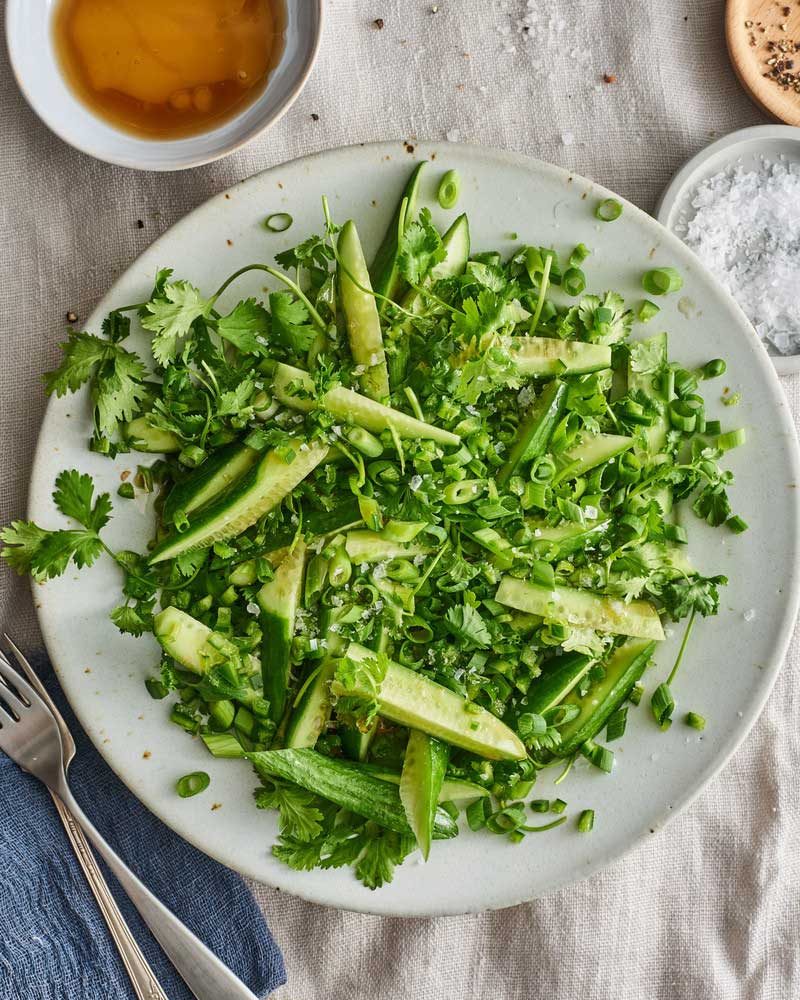 Tiger Salad
Serves 4
3 Persian or mini seedless cucumbers
3 medium scallions, thinly sliced on the diagonal
1 medium jalapeno, finely chopped (seeded first if desired)
1 bunch cilantro, tough stems trimmed, leaves and tender stems cut into 1-inch lengths
1 tablespoon rice vinegar
2 teaspoons vegetable or toasted sesame oil
1/4 teaspoon kosher salt, plus more as needed
1. Cut the cucumbers in half lengthwise, then cut again in half crosswise. Cut into pieces lengthwise into thin strips. Place in a large bowl.
2. Add the scallions, jalapeno and cilantro, and toss gently with your hands. Add the vinegar, oil and salt, and toss once more. Taste, and season with more salt as needed.
This article is written by Ali Slagle from The Kitchn and was legally licensed via the Tribune Content Agency through the NewsCred publisher network. Please direct all licensing questions to legal@newscred.com.