I can't tell you exactly where this dish came from -- only that it's the star of my family's Christmas Eve Feast of the Seven Fishes meal. I only make it once a year, which makes its briny, garlicky, umami-packed flavor so special to me (and something I look forward to every year). But the dish is quick and dead simple, and chances are you have all the ingredients on hand. So if you'd like to make this spaghetti laced with red pepper flakes, garlic, anchovies and black olives one of your weeknight staples, well, I can't fault you for that.
Keep it low and slow
The key here is that you want to really coax the flavors together, so keep the heat on low while you're cooking the garlic, anchovies and olives in the olive oil. When I make it, the oil is on heat so low that it barely bubbles. Once or twice I've tried to speed up the process, only to burn the garlic, which ruins the entire dish. So, take it from me: Keep that heat knob turned to "low."
Choose your adventure
My family likes garlic (a LOT of garlic), but the amounts vary in the recipe below so that you can choose your personal level of garlicky-ness. Same goes for the anchovies. We'll dump an entire tin of them into the olive oil; but if that makes you uncomfortable, start with two fillets.
Punch it up
I personally never, ever deviate from the family recipe, but there are plenty of ways you could make this dish your own. Toss some toasted breadcrumbs into the mix to give it some crunch. Play with the type of olives in the dish (although, to me, there's something delightfully retro about using canned black olives). A hint of lemon or lemon zest would brighten things up. And even though my family holds to the Italian rule of "no cheese with seafood," a little Parmesan wouldn't be the end of the world.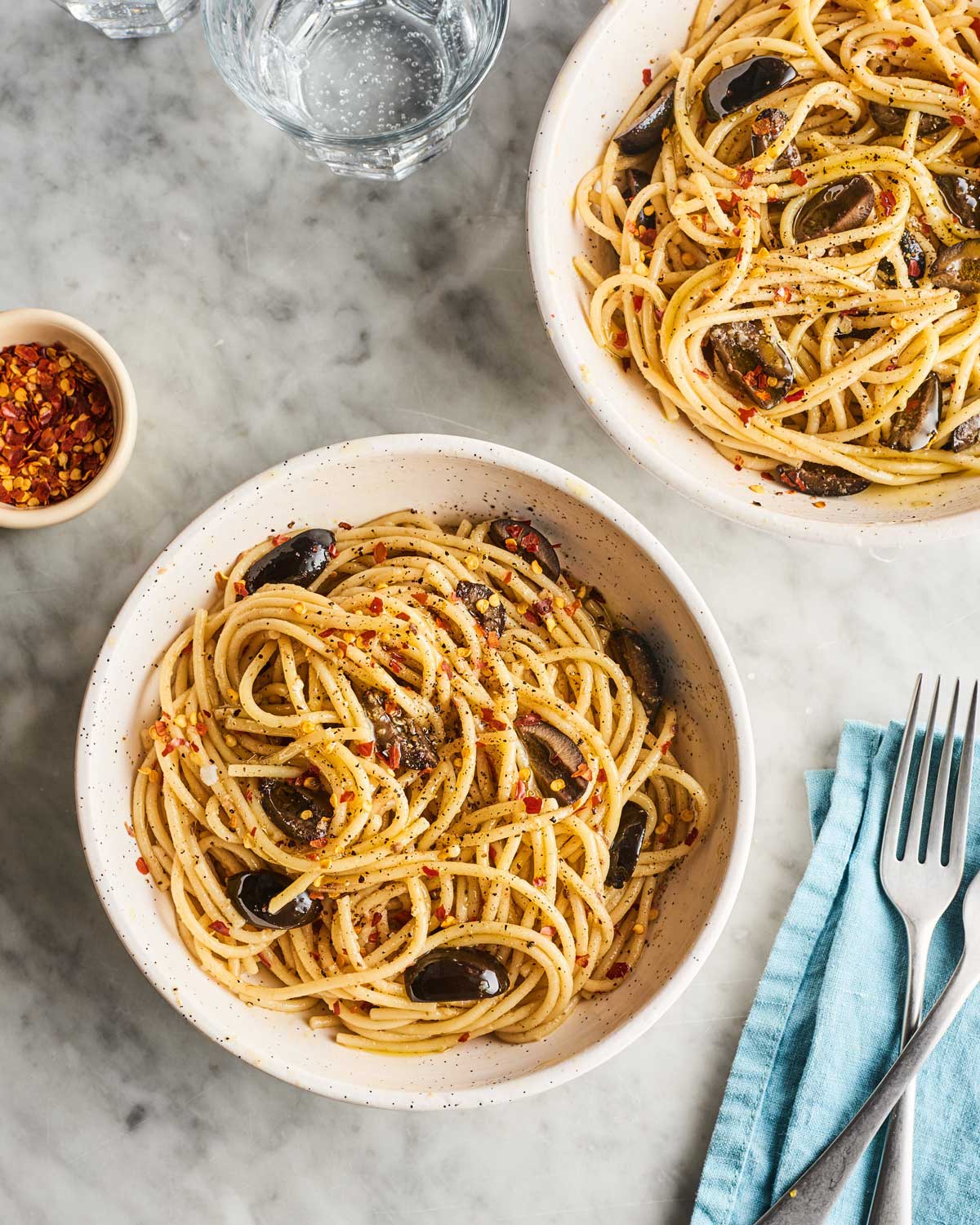 Garlic, Anchovy & Olive Spaghetti
Serves 4 to 6
3 to 6 cloves garlic
1 (12-ounce) can black olives
1/4 cup extra-virgin olive oil
Pinch red pepper flakes
1 pound dried spaghetti
1 (2-ounce) tin anchovy fillets in oil
Kosher salt
Freshly ground black pepper
1. Bring a large pot of heavily salted water to a boil over high heat. Meanwhile, finely chop 3 to 6 garlic cloves. Drain 1 (12-ounce) can black olives, then cut each olive in half crosswise. Heat 1/4 cup extra-virgin olive oil in a small saucepan over low heat for a few minutes. Add the garlic and a pinch red pepper flakes and cook, stirring often, until the garlic starts to soften, 7 to 10 minutes.
2. Add 1 pound dried spaghetti to the boiling water and cook according to package directions. Meanwhile, add the anchovy fillets and some of their oil to the garlic mixture; stir to break the fillets up so they eventually melt into the oil. Cook for 2 to 3 minutes. Add the olives and cook for 5 minutes more to warm through.
3. When the spaghetti is ready, drain and return it to the pot. Pour in the olive oil mixture and use tongs to thoroughly toss and incorporate the flavors. Taste and season with salt and pepper as needed. Serve warm.
Recipe notes: Leftovers can be refrigerated in an airtight container for up to four days.
This article is written by Karen Palmer from The Kitchn and was legally licensed via the Tribune Content Agency through the NewsCred publisher network. Please direct all licensing questions to legal@newscred.com.