Murky, green and swampy, this punch is sure to conjure up monstrous images of Swamp Thing. If this creepy-looking cocktail has your taste buds worried, don't fret -- the spooky green coloring comes from tangy lime sherbet, so it's a hit for ice cream-lovers (basically everyone). This party-friendly punch is spiked with vodka and makes a huge batch to power your fright fest. It only takes a few minutes to toss together, so mix it just as the guests and ghouls start to arrive.
To make this punch, we're combining tart and creamy lime sherbet with vodka, pineapple juice and bubbly citrus soda for a refreshingly cool cocktail. To make your drink extra "swampy" looking, rim each glass with matcha green tea powder to resemble moldy moss. Only the bravest will sip on these without question.
Try setting your bowl of punch on a wooden stump and decorating it with spider webs and Spanish moss to paint a looming picture. One taste and you'll never know what monsters will emerge from out of the punch bowl!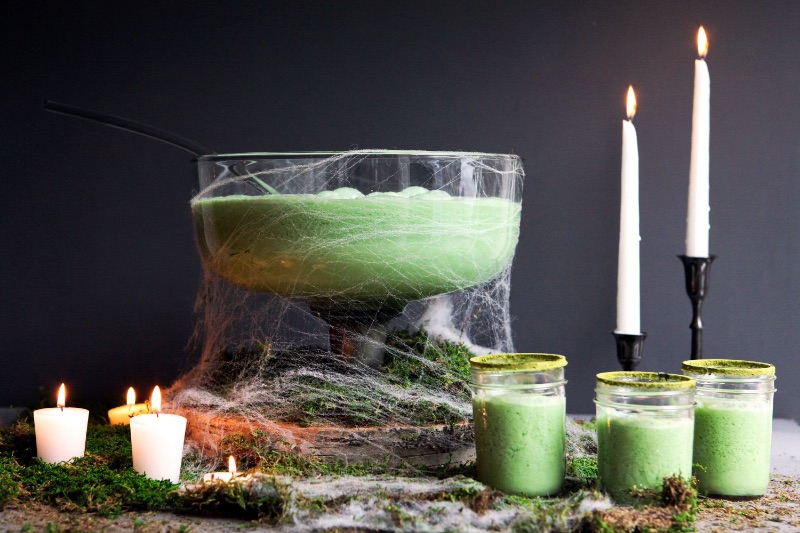 Swamp Monster Sherbet Punch
Serves 18 to 20
1/2 gallon lime sherbet
3 cups vodka, chilled
1 (46-ounce) can unsweetened pineapple juice, chilled
1 liter ginger ale, chilled
1 liter lemon-lime soda, chilled
Matcha green tea powder, for garnish (optional)
Place the sherbet in a punch bowl. Pour in the vodka, pineapple juice, ginger ale, and lemon-lime soda. Stir well. Rim the edge of each glass with green tea powder, and serve immediately.
(Diana Yen is a contributor for TheKitchn.com, a nationally known blog for people who love food and home cooking. Submit any comments or questions to editorial@thekitchn.com.)
This article is written by Diana Yen from The Kitchn and was legally licensed via the Tribune Content Agency through the NewsCred publisher network. Please direct all licensing questions to legal@newscred.com.