Everyone has a favorite chocolate chip cookie recipe, and this oatmeal one is mine. I grew up with my mom swapping out raisins for chocolate chips in every oatmeal cookie she baked, and to this day, soft and chewy oatmeal cookies with the sweet scent of cinnamon and loads of dark chocolate will always make me think of her. These particular cookies are soft and dense, with lots of buttery flavor and the ease of a no-mixer, nearly one-bowl method. They are very likely going to become one of your favorite chocolate chip cookie recipes too.
There are a lot of oatmeal cookies in the world. In fact, Kitchn has at least three (Soft & Chewy, Cherry, Chocolate, and Pecan, and Pumpkin are our most popular). Almost all of them, however, require a stand mixer and more than a handful of ingredients. These cookies don't need a stand or hand mixer, and once you master them they can be mixed in one bowl. Plus, they stay soft and chewy for days after they're baked, thanks to the addition of cornstarch.
The two-step process
1. Melt the butter to hydrate the oats. This is a trick I learned from pastry wizard Stella Parks. The warm and liquid butter hydrates the oats and eliminates the need for a stand mixer for creaming the butter and sugar.
2. Use cornstarch to keep the dough moist and chewy. The added starch makes for a slightly drier dough, but will make the finished cookies softer and chewier after baking.
Baking and storing
Bake these cookies on a parchment lined-baking sheet until the edges are just beginning to brown. They shouldn't spread much, resulting in slightly mounded cookies with a dense, chocolate-filled center. (You can press the dough down before baking if you prefer a thinner cookie.) These cookies keep well in an airtight container for about five days, so keep your cookie jar full by baking these on the regular.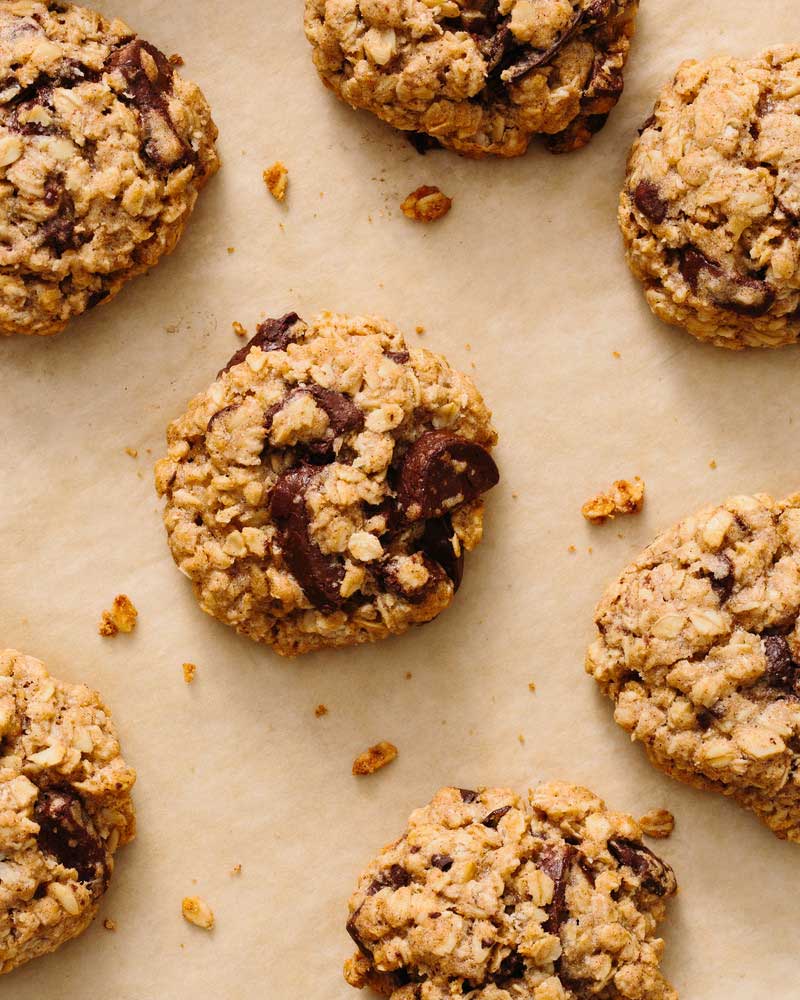 Oatmeal Chocolate Chip Cookies
Makes 24
8 tablespoons (1 stick) unsalted butter
1 cup all-purpose flour
2 tablespoons cornstarch
1 teaspoon baking powder
1 teaspoon ground cinnamon
1/2 teaspoon kosher salt
1 cup packed light brown sugar
1/4 cup granulated sugar
1 large egg
1 teaspoon vanilla extract
2 cups old-fashioned rolled oats
1 cup chocolate chips or chunks
1. Arrange 2 racks to divide the oven into thirds and heat to 350 F. Line 2 baking sheets with parchment paper.
2. Melt the butter in 30-second intervals in a large microwave-safe bowl until completely melted, 1 to 2 minutes total. Set aside to cool for at least 5 minutes.
3. Whisk the flour, cornstarch, baking powder, cinnamon and salt together in a medium bowl; set aside.
4. Add the brown and granulated sugars, egg and vanilla to the butter, and whisk until completely smooth.
5. Add the oats, followed by the flour mixture. Fold together with a rubber spatula until mostly homogenous. Fold in the chocolate until no dry streaks of flour remain.
6. Scoop the dough with a small cookie scoop or spoon into 2-tablespoon portions on the prepared baking sheets, placing them about an inch apart, 8 cookies per baking sheet.
7. Bake until the cookies have spread, are just beginning to brown at the edges, and their centers are just set, 10 to 12 minutes.
8. Let the cookies cool for 1 minute on the baking sheets. Transfer to a wire rack to cool completely. Repeat baking the remaining cookie dough; you can reuse the parchment on cooled baking sheets.
Recipe notes: Store in an airtight container at room temperature for up to four days.
This article is written by Meghan Splawn from The Kitchn and was legally licensed via the Tribune Content Agency through the NewsCred publisher network. Please direct all licensing questions to legal@newscred.com.