One of the requirements for a good brunch recipe is that it be easy to make ahead. Because who can roll out dough and fry potatoes before breakfast? Not me. A favorite recipe for a big family brunch is savory, garlicky sweet potato hash, roasted with sausage and rosemary, and baked the next day with eggs on top.
The entire thing is made ahead. (No chopping sweet potatoes at 9 a.m.) In the morning you spread the refrigerated hash in a big pan, and crack a few eggs on top. Slide it into a hot oven, and go make coffee. When you come back, the potatoes will be hot and crisped, and the eggs just baked. Easy, nourishing, delicious -- your kitchen will smell amazing, and you'll be ready to serve a crowd.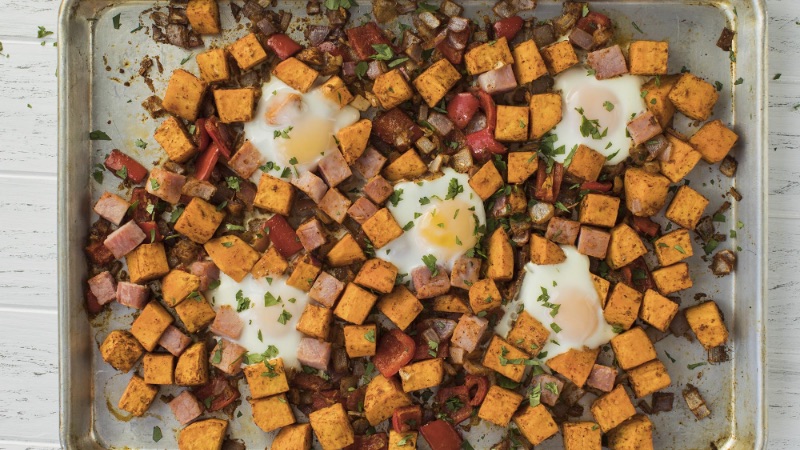 This recipe is also very vegetarian-friendly. You can leave the sausage out entirely, or substitute Soy-Rizo or another vegetarian sausage. And it's flexible; the proportions are all quite forgiving.
A couple other small notes: I leave the potato skins on, for convenience and for flavor, so that's a good reason to use organic potatoes. If you can find Italian sausage with fennel seed, scoop it up for this dish; it's delicious with the sweet potatoes.
This feeds at least eight, and I think it really could be stretched to more, depending on how many eggs you bake, and what else is served.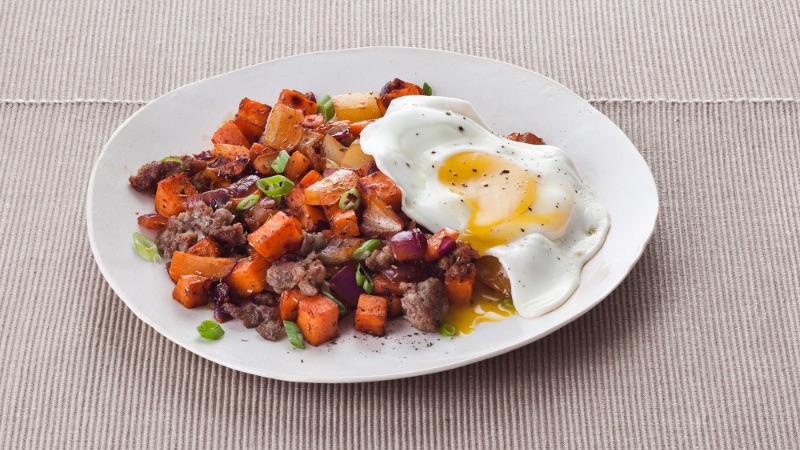 Sweet Potato Hash with Caramelized Onions, Sausage and Eggs
Serves 8.
2 pounds onions, about 2 large
1 tablespoon unsalted butter
Table salt
1 pound fresh Italian sausage or chorizo
3 pounds sweet potatoes, about 3 large potatoes, ideally organic
6 large garlic cloves
4 long stalks rosemary, about 1/4 cup of leaves
3 tablespoons olive oil
1 tablespoon kosher salt, plus more to taste if necessary
Freshly ground black pepper
To serve:
Large eggs
Kosher salt and freshly ground black pepper
Parmesan cheese, to serve
To make the hash:
Heat the oven to 450 F. Peel the onions and cut them in half lengthwise, then cut them into thin half-moons. Cut the half-moons in half. Melt the butter in a skillet over medium-high heat. When it foams up add the onions and sprinkle lightly with salt. (Don't worry if they are crammed into the pan; they will rapidly cook down.) Lower the heat slightly and cook the onions for about 30 minutes, stirring occasionally, and lower the heat if they seem to be burning. Cook them until they are very dark brown.
Meanwhile, put the sausage in another skillet and brown over medium-high heat, chopping it up into fine crumbles with a spatula. Cook the sausage for at least 15 minutes, or until it is cooked through and quite crispy. Drain away any excess fat.
While the onions and sausage are cooking, chop the unpeeled sweet potatoes into cubes that are about 1/2-inch to a side. Finely mince the garlic and rosemary leaves, and toss them in a large bowl with the sweet potatoes. Toss with the olive oil, kosher salt, and a generous helping of black pepper.
When the onions are dark brown and the sausage is crispy, stir these into the sweet potatoes as well. Line a large baking sheet with foil or parchment paper, and spread out the sweet potatoes evenly. Roast the sweet potatoes for 30 to 45 minutes (roasting time depends on the size and uniformity of the sweet potato chunks, as well as the variety of sweet potato you buy) or until they are soft and browned.
Refrigerate the cooled hash for up to 5 days.
To serve:
Heat the oven to 425 F. Spread a relatively thin layer of the (already cooked) sweet potato hash in a baking dish, such as a cast iron skillet or a 9- by 13-inch baking dish. You can also bake in individual ramekins. Make small wells in the sweet potatoes and crack in large eggs. Sprinkle lightly with salt and pepper.
Bake for 15 to 20 minutes, or until the sweet potatoes are hot and the eggs are baked through. (Test the eggs by prodding them with a fork to check the firmness of the white and the yolk; baked eggs are deceptive in that the white often looks much less cooked than it really is.)
Serve immediately, with shavings or sprinkles of Parmesan cheese, if desired.
This article is written by Faith Durand and TheKitchn.com from The Kitchn and was legally licensed via the Tribune Content Agency through the NewsCred publisher network. Please direct all licensing questions to legal@newscred.com.