This sheet pan nacho recipe makes enough for a crowd, whether you're feeding a large family or serving friends on game day. Plus, you can add different toppings to different sections of the sheet pan, meaning it's totally customizable for picky kids (and grown-ups). Here's how to make the very best beefy nachos at home.
Cheese sauce is the secret to restaurant-style nachos at home
If you've ever felt like your homemade nachos were lacking the luxe creaminess of restaurant nachos, you're not alone. But I've got a hot tip for you: Making a quick stovetop cheese sauce, complete with crispy browned beef and a handful of seasonings, is the secret to making the most incredible nachos at home. The velvety sauce can coat the edges of the chips much better than a sprinkling of grated cheese can, so you'll get more cheesy coverage on every single chip.
Key steps for better nachos
--Give your meat the cheese sauce treatment. This recipe calls for ground beef, but you can skip the beef all together for a vegetarian version, or use another cooked meat such as shredded chicken or pork. Coating the protein in the cheese sauce prevents it from drying out in the oven.
--Use restaurant-style chips. Nachos with this much cheese call for sturdy chips! Look for "restaurant-style" chips, which are thicker and hold up best under the creamy cheese.
--Add more cheese. Is there a lot of cheese in this recipe? Yes, and the nachos are better for it. The second round of shredded cheese (the first goes in the sauce) adds texture and more cheesy flavor, and it holds additional toppings like beans and corn in place.
--Bake, don't broil. To ensure that every bite of cheesy chip goodness is warm, don't just rely in your oven's broiler to melt the cheese. A hot bake for less than 10 minutes will evenly heat everything on the sheet pan.
Topping and serving sheet pan nachos
Some toppings taste best when added after the nachos have been baked, including chopped tomatoes and thinly sliced jalapenos. This recipe also allows for a little customization; you can leave spicy toppings off half of the nachos for younger kids, or add extra avocado to your corners.
We like to serve these nachos family-style, with snacking plates and extra toppings, so a fish spatula is ideal for sliding under a stack of chips and transferring them to a plate.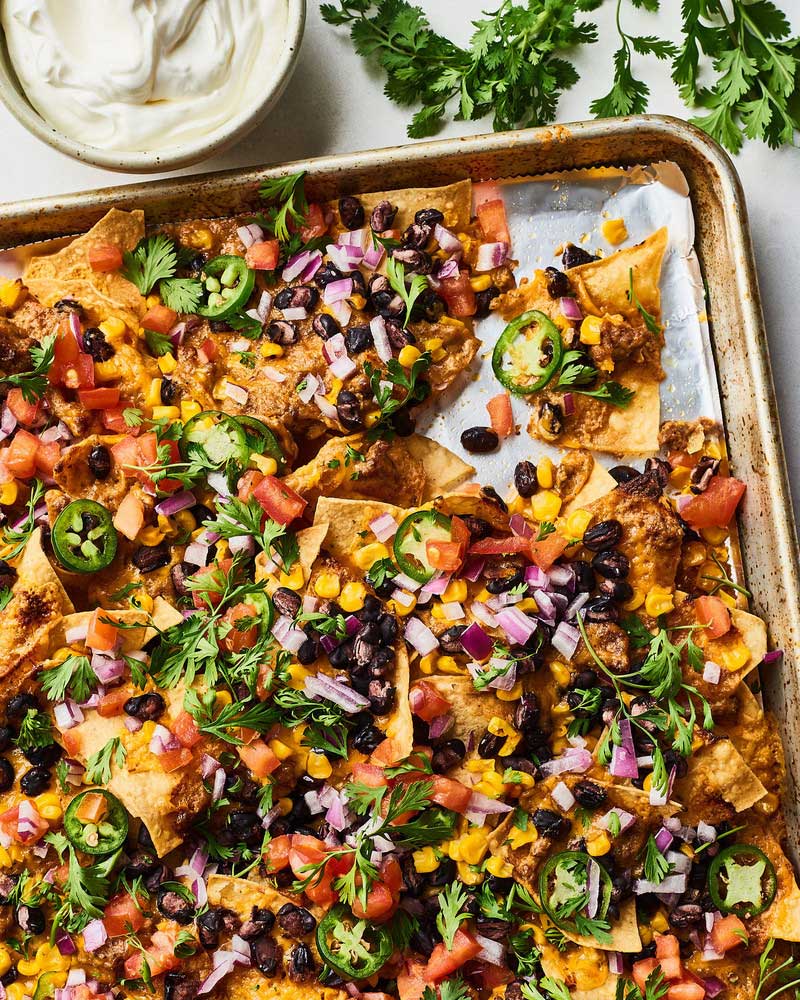 Sheet Pan Nachos
Serves 6 to 8
For the ground beef cheese sauce:
1 tablespoon olive oil
1 pound lean ground beef
1/2 teaspoon kosher salt
1 (1.25-ounce) packet taco seasoning
1/4 cup all-purpose flour
2 cloves garlic, minced
2 cups whole milk
2 cups shredded sharp cheddar or Monterey Jack cheese, or a combination
To build the nachos:
1 (16-ounce) bag restaurant-style tortilla chips
2 cups shredded sharp cheddar or Monterey jack cheese, or a combination
1 (15-ounce) can black beans, drained
1 (8.5-ounce) can corn kernels, drained
1 small red onion, finely chopped
1 small jalapeno, seeded and thinly sliced
1 small Roma tomato, diced
Sour cream, for serving
Cilantro leaves and tender stems, for serving
1. Arrange a rack in the middle of the oven, and heat to 425 F. Line a rimmed baking sheet with aluminum foil.
2. Heat the oil in a large skillet over medium heat until shimmering. Add the beef, use a stiff spatula to break it up into large pieces, and season with the salt. Brown the meat undisturbed for 4 to 5 minutes. Break the meat up into smaller pieces with the spatula, and continue to cook until mostly cooked through, 2 to 3 minutes more.
3. Add the taco seasoning, garlic and flour, and stir to coat the beef. Add the milk, and stir vigorously with the spatula, scraping the bottom of the pan as you stir. The sauce should thicken right away. Cook until thickened, about 2 minutes. Remove from the heat. Add the cheese, and stir until melted.
4. Arrange about 1/2 of the chips on the baking sheet in an even layer. Evenly drizzle with 1/2 of the cheese sauce, then sprinkle with 1/2 of the shredded cheese. Top with the remaining chips, followed by the remaining cheese sauce and remaining shredded cheese. Sprinkle with the black beans and corn.
5. Bake the nachos until the cheese is melted and the chips around the edges are beginning to brown, about 8 minutes.
6. Just before serving, garnish the finished nachos with the red onion, jalapeno, Roma tomato, dollops of sour cream and cilantro, if desired.
Recipe notes: The ground beef cheese sauce can be made up to two days ahead and refrigerated in an airtight container. Warm in a saucepan over medium-low heat, stirring occasionally, until heated through before building the nachos.
This article is written by Meghan Splawn from The Kitchn and was legally licensed via the Tribune Content Agency through the NewsCred publisher network. Please direct all licensing questions to legal@newscred.com.