Do you often find blueberry muffins disappointing? I don't blame you. So many muffins are either overly sweet (basically cupcakes in disguise), dry and dusty, or lacking real, fresh blueberries. I've spent the last few years in search of an ideal blueberry muffin, and I'm so happy to report that these are it.
These blueberry muffins are not only easy to make (they require just one bowl), but they're also perfect in nearly every way: They're not too sweet, boast a tender crumb and are bursting with blueberries in each and every bite. What really puts them over the top, though, is the vibrant lemon zest stirred into the batter and the sprinkling of crunchy sugar on top.
One-bowl blueberry muffins
Most muffin recipes are, unsurprisingly, built on the muffin method: Wet and dry ingredients are mixed separately, then the dry ingredients are gently folded into the dry ingredients. These blueberry muffins have a slightly different mixing method (more similar to a cake mixing method, where the dry ingredients and wet ingredients are both added to a butter, sugar, egg mixture) so that they can be mixed in one bowl and so that they have a moist, tender interior without a ton of sugar.
Key steps for making blueberry muffins
--Use melted butter (or oil). The base of this blueberry muffin is melted butter. Most muffin recipes call for oil (which you can use here too), but using butter as our fat adds more flavor while keeping the muffin as moist as those made with oil.
--Alternate the flour and the milk. Like a classic cake mixing method, the flour and milk for these muffins are added in two intervals, giving these muffins a more cake-like texture without tasting like one.
--Top with crunchy sugar. You know how wonderful streusel is on top of a bakery muffin? A generous sprinkling of demerara or sanding sugar before baking gives these muffins a delightfully crunchy topping.
--Lemon zest is a must! Lemon balances the sweetness of the muffins and makes the flavor of even frozen berries a little brighter.
Serving and storing your blueberry muffins
These muffins really are the best the day they are baked, but leftovers keep well at room temperature for a few days. Split leftover muffins, toast the halves in a broiler or toaster oven, and slather with butter.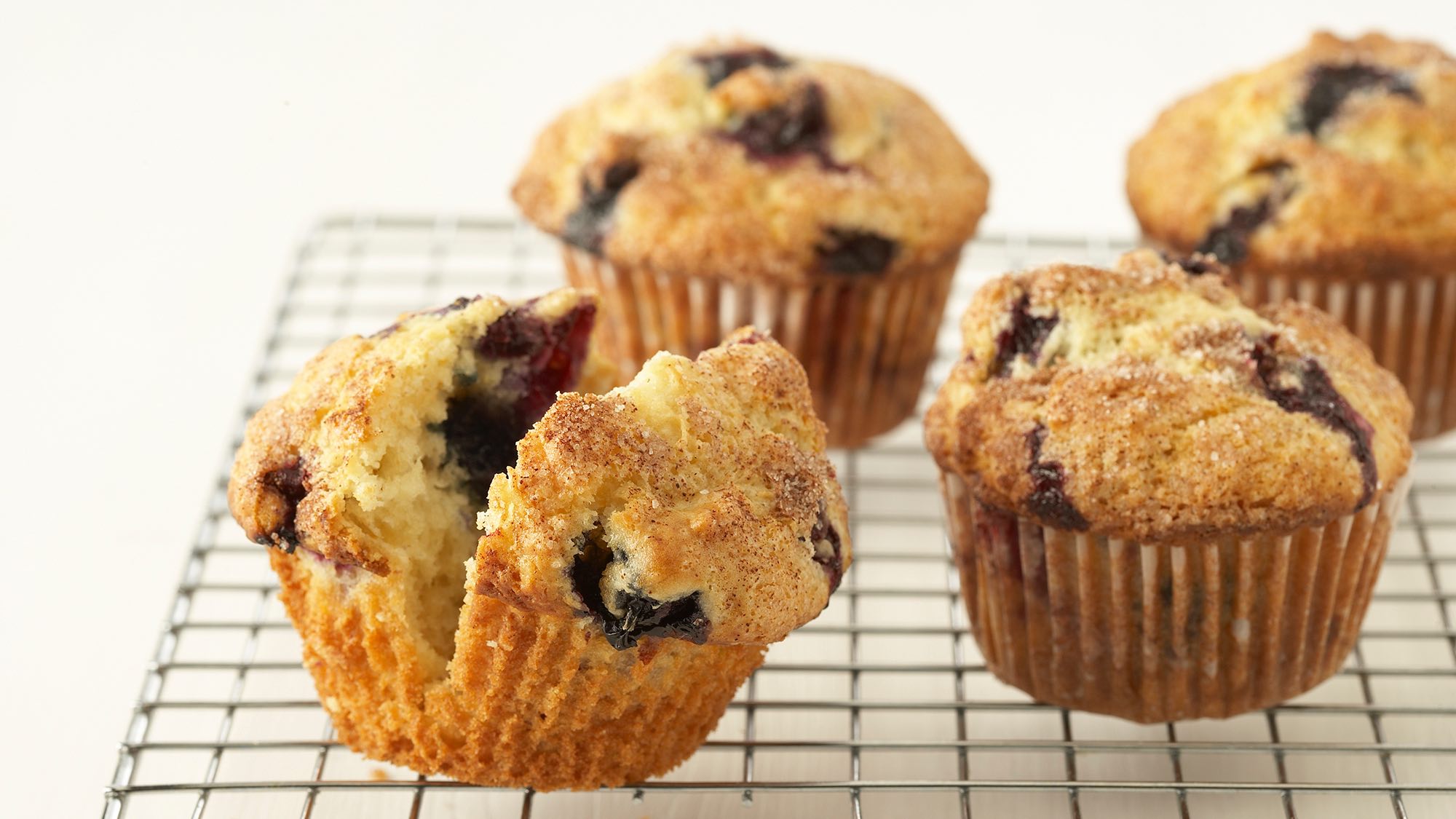 Blueberry Muffins
Makes 12 muffins
Cooking spray or paper muffin liners
1/2 cup (1 stick) melted unsalted butter or canola oil
3/4 cup granulated sugar
2 large eggs
1 teaspoon vanilla extract
1 teaspoon finely grated lemon zest (from 1 lemon)
2 teaspoons baking powder
1/4 teaspoon salt
2 cups all-purpose flour, divided
1 cup whole or 2% milk, divided
12 ounces fresh or frozen blueberries (about 1 1/2 cups)
1/4 cup demerara or sanding sugar
1. Arrange a rack in the middle of the oven and heat to 350 F. Coat the wells of a 12-well muffin pan with cooking spray or line with paper liners.
2. Place the butter or oil and sugar in a large bowl and whisk until well combined. Add the eggs, vanilla and lemon zest, and whisk vigorously until the mixture is lightened in color, about 3 minutes.
3. Add the baking powder, salt and 1/2 of the flour. Stir gently with the whisk until just combined; some dry spots are OK. Add 1/2 of the milk, and whisk gently to combine. Add the remaining flour, and whisk to combine. Add the remaining milk, and whisk until the batter is mostly smooth.
4. If you'd like to top the muffins with blueberries, set aside 1/4 cup. Add the remaining blueberries, and fold to combine; don't worry too much if any berries burst.
5. Divide the batter among the muffin wells (about 1/2 cup each). If topping with blueberries, divide them among the muffins. Sprinkle each muffin with 1 teaspoon demerara or sanding sugar.
6. Bake until the muffins are domed, lightly golden-brown, and the center muffins bounce back when pressed, 28 to 30 minutes.
7. Run a thin knife around the edge of each muffin to remove it from the pan (even if you used liners you will want to do this). Cool on a wire rack for 10 more minutes before serving, or cool completely before storing.
Recipe notes: Muffins will keep in an airtight container at room temperature for up to five days. They can also be frozen and then thawed at room temperature.
This article is written by Meghan Splawn from The Kitchn and was legally licensed via the Tribune Content Agency through the NewsCred publisher network. Please direct all licensing questions to legal@newscred.com.