I have friends that will triple-check brunch menus before we head out to make sure they serve eggs Benedict. It's not that they're so obsessed with eggs Benedict that they won't eat anything else (at least, I'm guessing), but more that they're sure they're never going to make the dish at home; so going out to eat is the only way to enjoy it.
Wouldn't it be great if you could serve those friends eggs Benedict from the comfort of your own kitchen -- or, better yet, show them how easy it is for them to make themselves? This foolproof recipe is designed for Benedict beginners, and I encourage you to give it a go. It'll sharpen your egg poaching skills, teach you a snazzy new way to make hollandaise sauce, and reward you with a bountiful plate of picture-perfect Eggs Benny.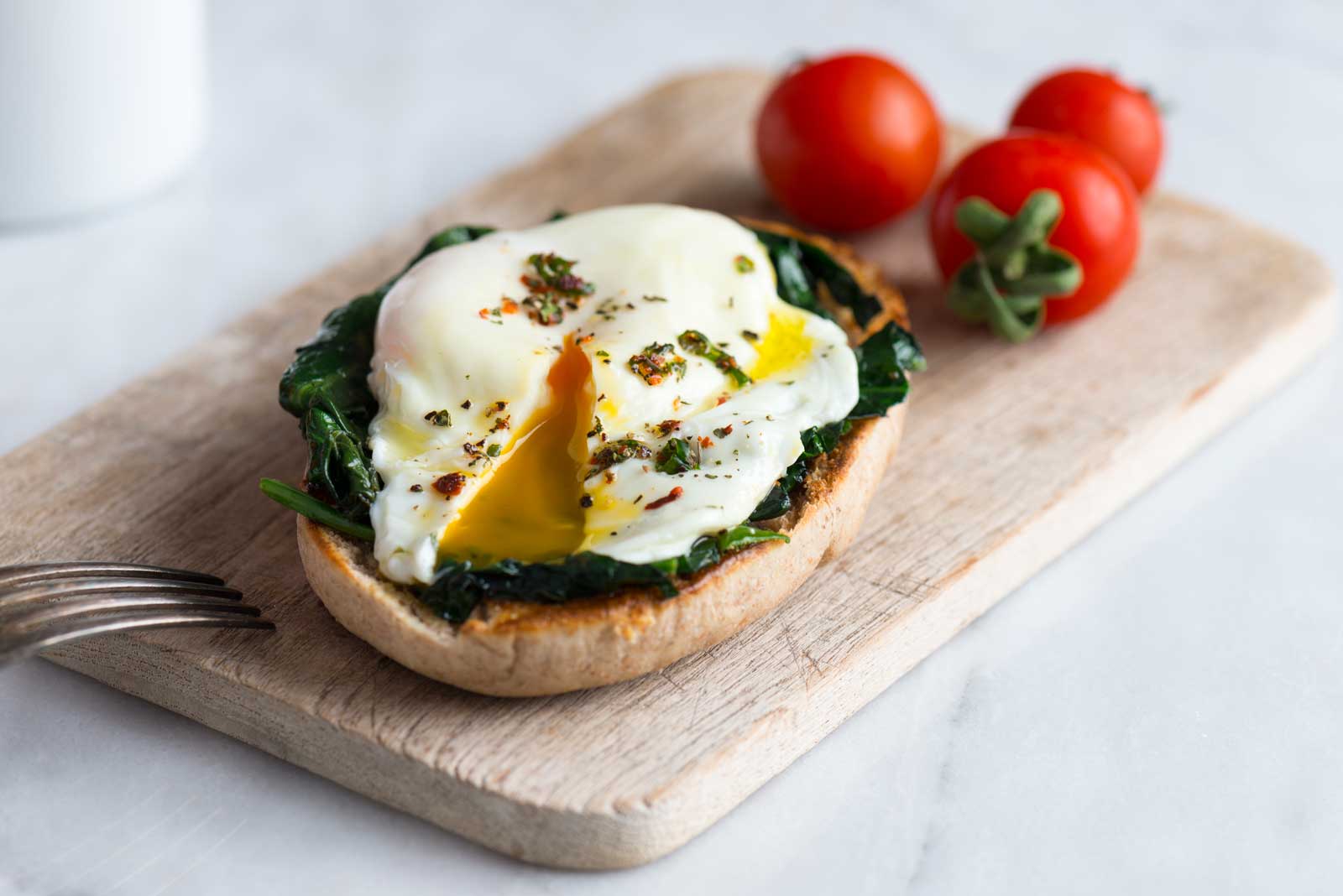 Essential components for classic eggs Benedict
These days, you'll often see restaurants serving multiple variations of eggs Benedict, such as a vegetarian version called eggs Florentine that swaps spinach for the ham; crab cakes eggs Benedict, where juicy, meaty crab cakes replace the English muffin and ham; or eggs Hemingway, where smoked salmon gets thrown into the mix, satisfying bagel and lox lovers everywhere.
But the classic version is arguably the best -- two toasted English muffin halves topped with crispy Canadian bacon, poached eggs and hollandaise sauce. Finished with a smattering of fresh herbs and often a dash of paprika for color, this seemingly straightforward breakfast is so much greater than the sum of its parts. The tangy, buttery hollandaise and rich, runny egg yolk are the creamiest, dreamiest companions for the crisp muffins and salty bacon. No other breakfast dish satisfies in quite the same way.
Blender hollandaise makes everything easier
Kudos to you if you're up for the challenge of whisking together hollandaise sauce from scratch. But I'd rather save my sweat and hand the task over to the blender, which emulsifies the egg yolks and butter with ease.
If the prospect of making eggs Benedict at home intimidates you, it's likely because the hollandaise sauce seems daunting. The thick and creamy sauce is created by emulsifying warm butter into egg yolks and lemon juice -- a technique that goes hand in hand with the fear that the sauce will "break." (Most often, this is caused by adding the butter too quickly, or letting the sauce get too hot or too cold). But the strong blades of the blender can most effectively whip the butter into the egg yolks, reducing the chances of a broken sauce.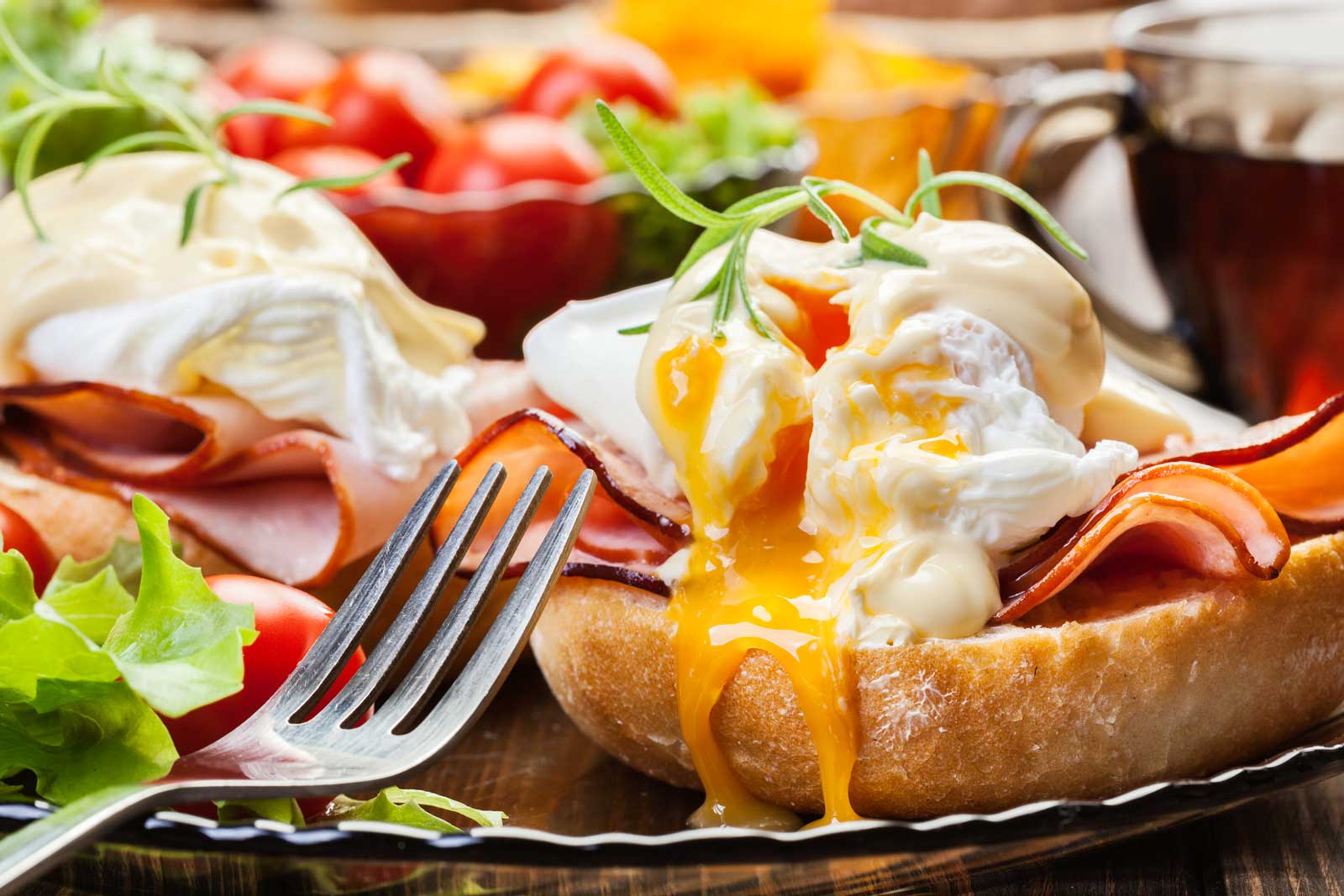 The easiest way to poach multiple eggs at once
Everyone has their own favorite method of poaching eggs, so if you've got it down, by all means do your thing. But if you're new to poaching or have only ever poached one egg at a time, here are my best tips.
1. Start with fresh eggs: The fresher the egg, the better it will hold together in the water (meaning fewer pesky flyaways floating around in there), and the cleaner and "tighter" the poached egg will be. If you can, buy them from your local farmers market or check the dates on the cartons at the store.
2. Use a deep-sided saute pan: You're looking for a large surface area (so that the eggs don't run into one another) with sides high enough so that the eggs are submerged completely in water, but not so high that it makes it hard to retrieve them. Avoid a tall stockpot for this reason.
3. Crack the eggs into small bowls or ramekins first. You'll need to poach eight eggs for four servings of eggs Benedict. I recommend cooking them in two rounds of four eggs each, so you'll start by cracking four eggs into small bowls or ramekins. When your water is ready, you can slip the eggs in one by one, ensuring they have a gentle entrance into the water and arrive at about the same time. Cracking them directly into the water is too violent of a motion and might break the yolk.
4. Skip the vinegar and the swirling. I don't find vinegar to make a difference (it's often used to prevent egg white flyaways), and while I do swirl the water to create a small whirlpool if I'm just poaching one egg, I find it does more harm than good when poaching four at once.
Assembling and serving eggs Benedict
When you sit down to enjoy your eggs Benedict, you want your muffin freshly toasted, your bacon warm and crisp, and your egg freshly poached. That won't happen unless you're strategic about the order you prepare everything.
Start with the hollandaise (this blender version will hold up just fine until you're ready to serve it), then start the water for the eggs. As you wait for the water to boil, get the bacon going; you'll likely be able to flip it before the eggs go into the water. When the bacon is done (this will happen while the eggs are cooking), switch the heat off but leave it in the skillet to keep it warm. As the second round of eggs cook, start toasting the muffins, and then begin assembling.
Alternatively, poach the eggs ahead of time to save some work the morning of. Just don't forget to give yourself a pat on the back -- and save the best plate for yourself.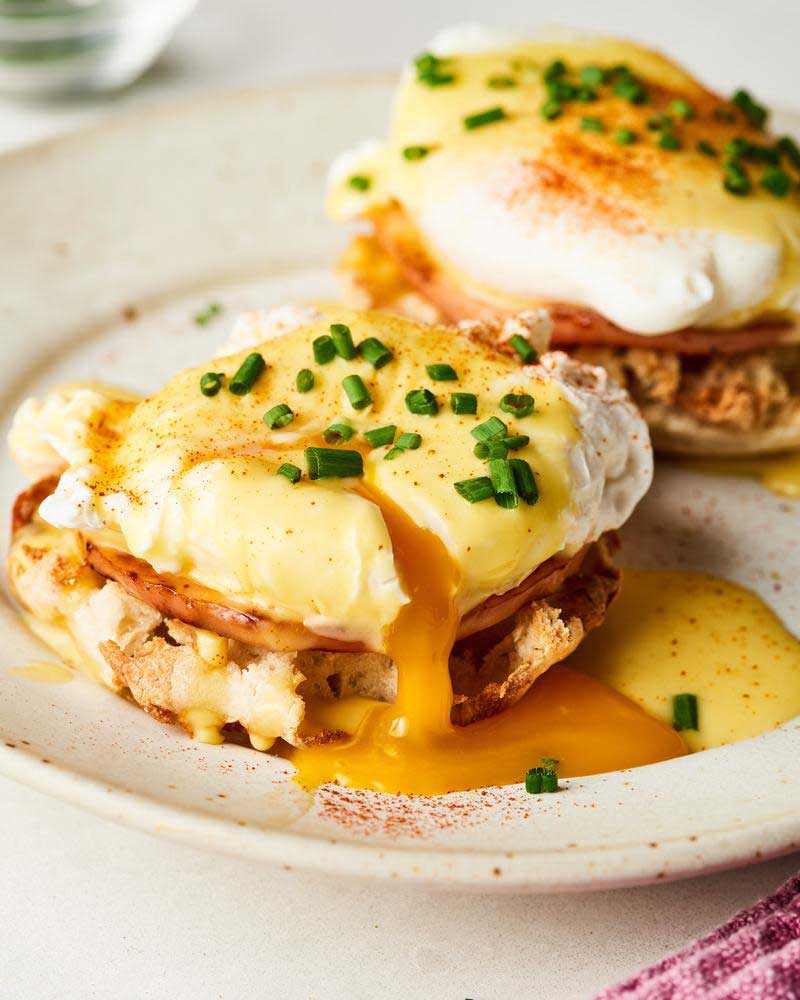 Eggs Benedict
Serves 4
10 tablespoons unsalted butter
3 large egg yolks
2 tablespoons freshly squeezed lemon juice
1/4 teaspoon kosher salt
8 large eggs
8 slices Canadian bacon
4 English muffins, split
2 tablespoons finely chopped fresh chives
Paprika, for sprinkling (optional)
1. Melt the butter in a microwave-safe liquid measuring cup.
2. Place the egg yolks, lemon juice and salt in a blender, and blend on medium-high speed until combined, about 5 seconds.
3. Working quickly, with the blender running on medium-high and the top open, very slowly stream the hot butter into the blender. Start with a few drops, then a thin drizzle. (To minimize splatter, partially cover the open top with a kitchen towel as you pour.)
4. When done, the hollandaise should be light yellow, smooth and thickened, yet pourable. Transfer to a small bowl, press a piece of plastic wrap directly onto the surface of the sauce, and set aside.
5. Fill a large deep-sided saute pan about 2/3 full with water. Cover with a lid and bring the water to a boil. Meanwhile, crack 4 of the eggs into separate small bowls or ramekins.
6. When the water is boiling, remove the lid and reduce the heat to a very gentle simmer -- just a few bubbles should be rising to the surface. Gently pour each of the 4 eggs in one by one. Cook until the white is set but the yolk still jiggles when you lift up the egg with a slotted spoon, 3 to 5 minutes. Remove each egg with a slotted spoon and place on a paper towel-lined plate. Crack the remaining 4 eggs into the now-empty bowls and repeat the poaching process.
7. While the eggs are cooking, place 4 slices of the bacon in a large skillet over medium-high heat. Cook, flipping once, until the bacon is warmed through and crisp, about 2 minutes per side. Repeat with remaining bacon. Toast the English muffins.
8. Place the toasted English muffins cut-side up on 4 plates. Place 1 slice bacon onto each muffin half. Top each half with 1 poached egg, 1 tablespoon hollandaise (if the hollandaise has thickened, thin it out with 1 to 2 teaspoons hot water), and a sprinkling of chives. Sprinkle with paprika or season with more salt, if desired.
This article is written by Grace Elkus from The Kitchn and was legally licensed via the Tribune Content Agency through the NewsCred publisher network. Please direct all licensing questions to legal@newscred.com.