Before you roll your eyes at the sight of another kale chip recipe, hear me out: I know kale chips aren't exactly cool anymore. At this point, in fact, they could probably be considered retro -- worthy of #tbt.
But, as you may have guessed, I haven't let them go. In fact, I'm bringing them back with the best recipe yet. This time, I'm not selling them to you because they're of-the-moment. I'm telling you to make them because they're so crunchy and salty and flavorful that you'll want to eat them all straight from the sheet pan. They're the best way to use the in-season leafy green, and the easiest way to eat a full bunch of kale at once, while also satisfying all your salty snack cravings.
Oven-baked kale chips are easy to make, but there are a few key steps that are crucial to their success. Here's how to make super-crispy kale chips you'll actually want to eat.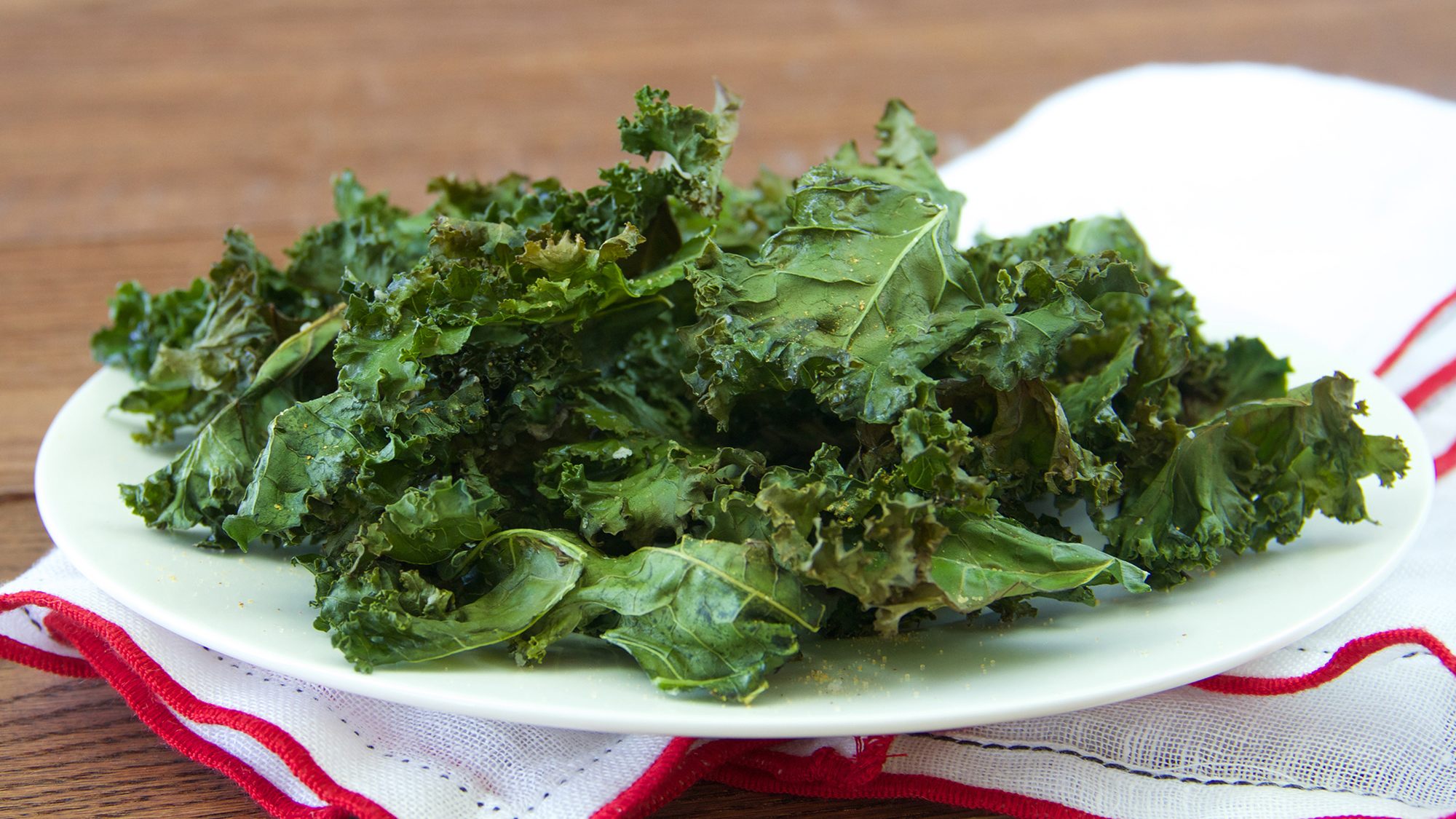 4 smart steps for the best kale chips
1. Opt for curly kale. I made batches of these kale chips with both curly and lacinato (or dinosaur) kale, and the curly leaves are much better suited for chips. All the little nooks and crannies make for a crispier snack, and just like a cheese sauce pools into shells and elbows better than spaghetti, the flavoring on these chips clings more tightly to the crimped leaves than it does to the flat.
2. Dry the kale thoroughly. If you've ever made crispy chickpeas, you know you need to pat the beans extremely dry before you toss them in the oven. The same principle applies to kale. Any residual water on the leaves will cause them to steam and wilt in the oven instead of crisp. Spin them dry in a salad spinner, and then pat dry with paper towels for extra insurance.
3. Go bold with flavor. Most kale chip recipes call for a simple seasoning of salt, pepper and garlic powder. But I found this combo to be quite boring, and honestly a bit bitter. After a few rounds of experimenting, I landed on a combination of miso, soy sauce (or tamari) and canola or coconut oil. It's this combination of umami-packed ingredients that give these chips their irresistible quality.
4. Bake at 300 F. Baking kale chips at any temperature lower than 300 F will require a lot of patience. But if your oven is too hot, the kale will burn before it has a chance to get nice and crunchy. I found 300 F to be the sweet spot, transforming fresh kale leaves into crunchy chips in just 20 minutes.
The best ways to enjoy kale chips
Kale chips are great as a snack, of course -- eat them anytime you'd reach for potato chips or pretzels. But they're also delicious served alongside eggs for breakfast, packed into a grain bowl for lunch or served alongside a protein for dinner. Use them to top a pizza, as an alternative to croutons in a salad, or as a crispy garnish for soups. Crumble them up and toss them with popcorn. The possibilities are endless.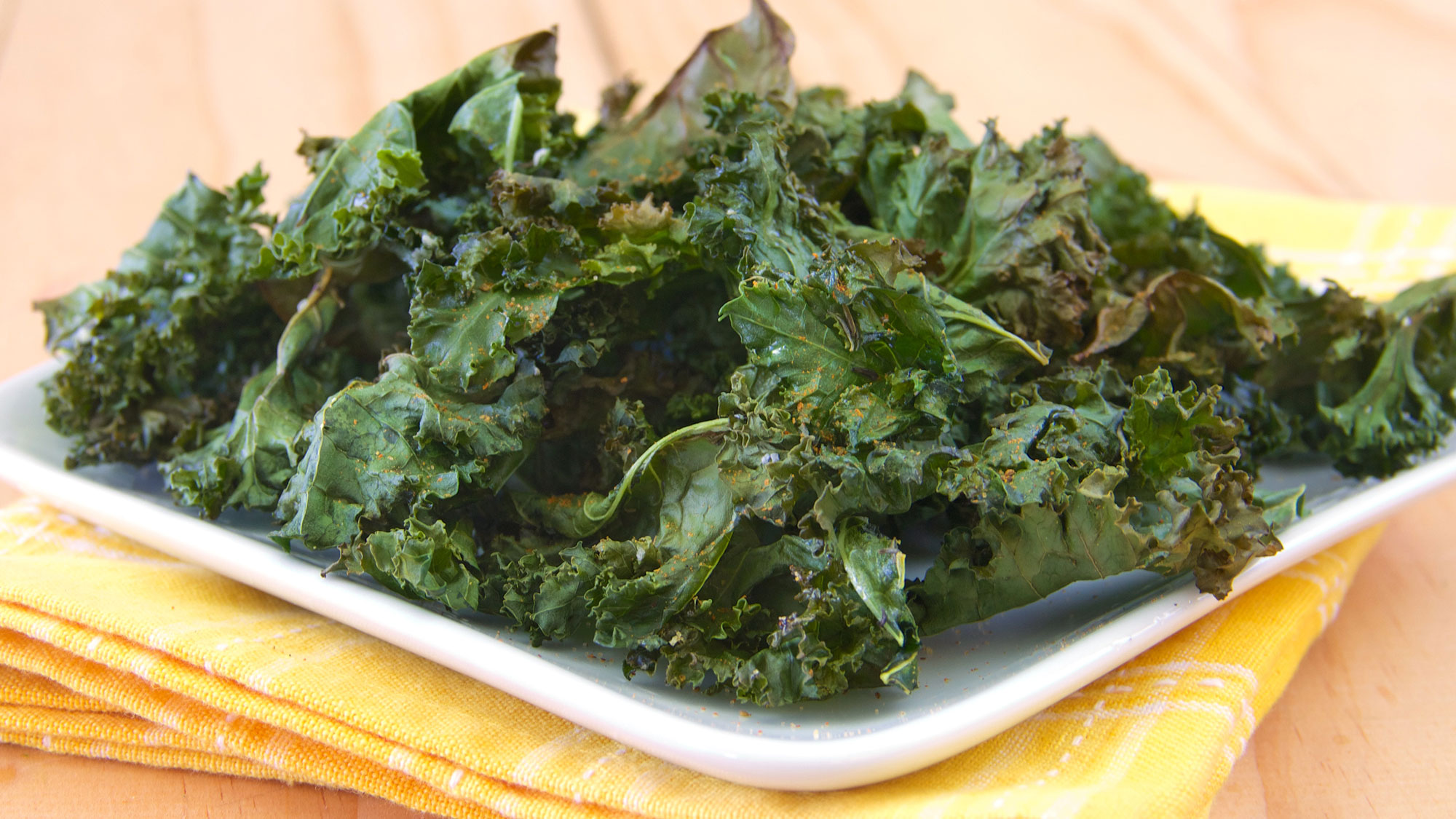 Kale Chips
Serves 4
1 large bunch curly kale (8 to 10 ounces)
2 teaspoons miso (white, yellow or red will all work)
2 teaspoons soy sauce or tamari
2 tablespoons canola or refined coconut oil
Flaky sea salt, for serving (optional)
1. Arrange 2 racks to divide the oven into thirds and heat to 300 F.
2. Strip the kale leaves from their sturdy stems, and place them in the bowl of a salad spinner. Rinse the leaves under cool running water, and then spin dry. For extra insurance, pat dry with paper towels -- you want the kale to be as dry as possible in order for it to crisp.
3. Tear the kale leaves into bite-sized pieces and divide between 2 rimmed baking sheets (you should have about 7 total cups of torn kale).
3. Whisk the miso and tamari or soy sauce together in a small bowl. While whisking, slowly drizzle in the oil and whisk until combined (it's OK if the mixture looks slightly separated).
4. Drizzle the mixture evenly over the kale and use your hands to massage it into the kale, getting into every nook and cranny. Spread the kale into an even layer on each baking sheet.
5. Bake, stirring the kale and rotating the baking sheets between racks halfway through, until the kale is crisp, 18 to 20 minutes total. Toss with flaky sea salt, if desired.
Recipe note: Kale chips are best eaten within a few hours, but they can be stored in an airtight container at room temperature for up to one day.
(Grace Elkus is senior food editor for TheKitchn.com, a nationally known blog for people who love food and home cooking. Submit any comments or questions to editorial@thekitchn.com.)
This article is written by Grace Elkus from The Kitchn and was legally licensed via the Tribune Content Agency through the NewsCred publisher network. Please direct all licensing questions to legal@newscred.com.