Summer starts early in Georgia, so by the time the peaches hit the farmers market we're already knee-deep in sunscreen and fireflies. And thank goodness for their arrival. As the humid summer heat intensifies, the bounty of the ripe, juicy fruit is the very best form of relief.
While there's no wrong way to eat a peach — raw with the juices dripping down our chins is a personal family favorite — summer simply cannot pass without baking peaches into a sweet Southern cobbler. Fresh summer peaches are so ripe and sweet that they need little more than to be sliced and covered with a pillowy cream biscuit topping.
Smart shortcuts
1. There's no need to peel the peaches. If you dig into a spoonful of traditional peach cobbler, you're likely to find the stone fruit slices sans their outer layer. But tender peach peels are difficult to remove with a traditional peeler, and so the tedious task is often done by dunking the peaches into boiling water and then an ice bath, or with a serrated peeler. Leaving the peel intact streamlines the steps and makes this one of the easiest summer desserts. The blush peach skin also adds flavor and a rosy hue to the cobbler's filling.
2. Top with easy cream biscuits. Some cobblers are latticed with strips of pie dough, but the best topping for a Southern peach cobbler has to be the cream biscuit. Cream biscuits are made with full-fat heavy cream rather than a combination of butter and buttermilk. Stirred together quick bread-style and portioned with an ice cream scoop, this cobbler topping bakes up golden-brown and tender.
Putting together fresh peach filling
A peach cobbler is all about the fresh fruit — three pounds of ripe peaches, to be exact. The freshly cut fruit may form a mound above the rim of the baking dish, but it will collapse and concentrate as it bakes. It takes little more than a sprinkle of sugar and a teaspoon of vanilla extract to let the natural sweetness of in-season peaches shine. Freshly squeezed lemon juice balances the fruit, adding the spark of acidity that makes you want another spoonful, while cornstarch thickens the natural juices into a luscious, bubbling sauce.
Making the biscuit topping
Southern biscuits rely on butter, buttermilk and a light-handed technique for their tender and flaky layers. Cream biscuits are a simpler cousin, relying on full-fat heavy cream instead of butter and buttermilk. Like other quick breads, the dry ingredients, including flour, salt, sugar, and leavening, are whisked together first before stirring in the cream and forming a wet dough. Use an ice cream scoop to portion the dough evenly across the cobbler. Sprinkle the tops with turbinado sugar to give the lightly sweetened cream biscuits a golden crust.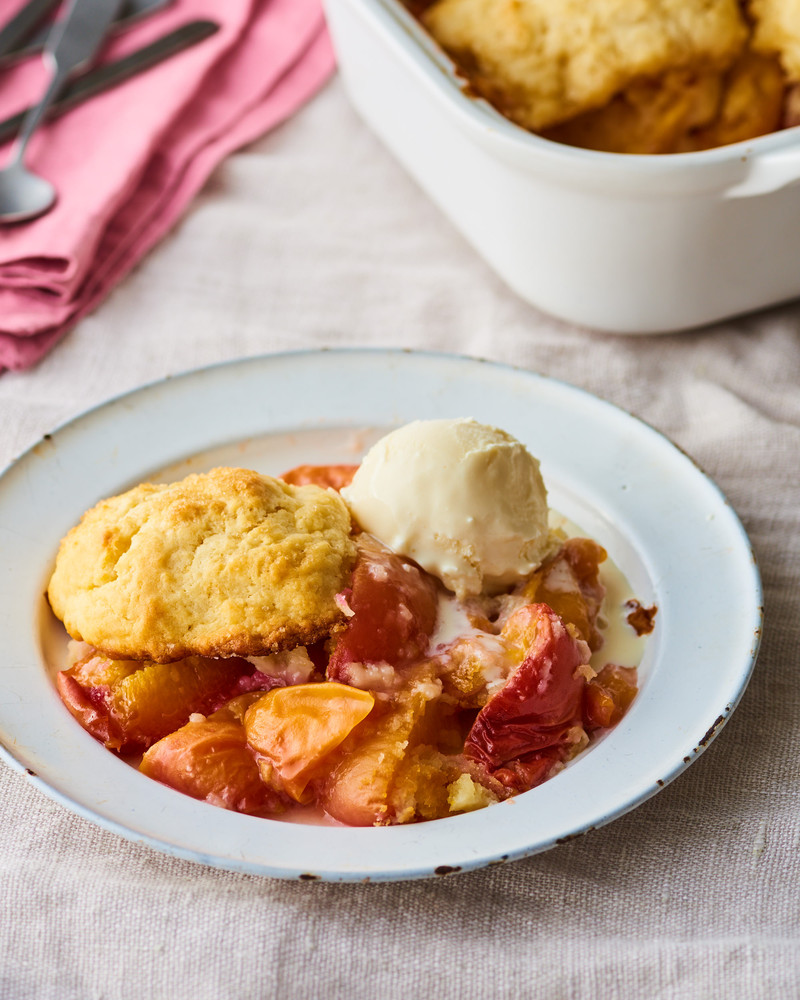 Easy Peach Cobbler
Serves 6
For the filling:
1 tablespoon unsalted butter
8 medium peaches (about 3 pounds), pitted and sliced about 1/2-inch thick
1/4 cup granulated sugar
2 tablespoons freshly squeezed lemon juice (from 1 lemon)
2 teaspoons cornstarch
1 teaspoon vanilla extract
For the topping:
1 1/2 cups all-purpose flour
1/4 cup granulated sugar
1 teaspoon baking powder
1/2 teaspoon kosher salt
1 1/2 cups heavy cream, divided
1 tablespoon coarse sugar, such as turbinado or demerara
1. Arrange a rack in the middle of the oven and heat to 375 F. Coat a 9-inch pie plate or 8-by-8-inch baking dish with the butter.
2. Make the fruit filling. Add the peaches, granulated sugar, lemon juice, cornstarch, and vanilla, and toss to combine.
3. Make the cobbler dough. Whisk the flour, sugar, baking powder and salt together in a large bowl. Stir in 1 cup of the cream, then slowly stir in the remaining cream a little at a time until a wet, but not runny, dough forms. You'll use 1 1/4 to 1 1/2 cups of the cream.
4. Drop heaping spoonfuls of the dough evenly over the fruit, covering the cobbler. Sprinkle with turbinado sugar.
5. Place the baking dish on an aluminum foil-lined baking sheet. Bake until the fruit bubbles and the topping is golden and cooked through, 50 to 60 minutes.
6. Cool cobbler for 30 minutes. Let the cobbler cool on a wire rack at least 30 minutes before serving.
Recipe note: Refrigerate leftovers in an airtight container for up to two days.
This article is written by Patty Catalano, TheKitchn.com from The Kitchn and was legally licensed via the Tribune Content Agency through the Industry Dive publisher network. Please direct all licensing questions to legal@industrydive.com.