For those of us who love to celebrate St. Patrick's Day, here's a foolproof frittata recipe that can be served for breakfast, lunch or even a light supper. It's a one-dish favorite that covers all the bases. I personally like making frittatas because they can be made ahead and served warm or at room temperature.
To celebrate the holiday, I have added cooked corned beef along with potatoes to the recipe. If you want to add cabbage, shred half a small cabbage and saute it separately until it is just wilted before adding it to the vegetable mixture. Making these flat, omelet-like egg pancakes can be as simple as adding some fresh herbs and cheese to beaten eggs or as complicated as you would like.
Also great as an appetizer cut into small pieces, this frittata will satisfy any mealtime desire. Squares of these eggy gems are yummy as a little bite before a meal. For breakfast or lunch serve a pitcher of bloody marys (Don't forget the celery sticks for a St Pat's touch!) or a glass of chilled citrus juice.
Since the frittata is an all-in-one dish, serve a green salad on the side. You can also consider serving a basket of muffins, slices of coffee cake or a loaf of Irish soda bread to complete the menu. For an extra green finish, drizzle your favorite savory topping like a green salsa, an herbed green sauce or a chimichurri sauce. Any of these condiments will add a colorful and tasty topping.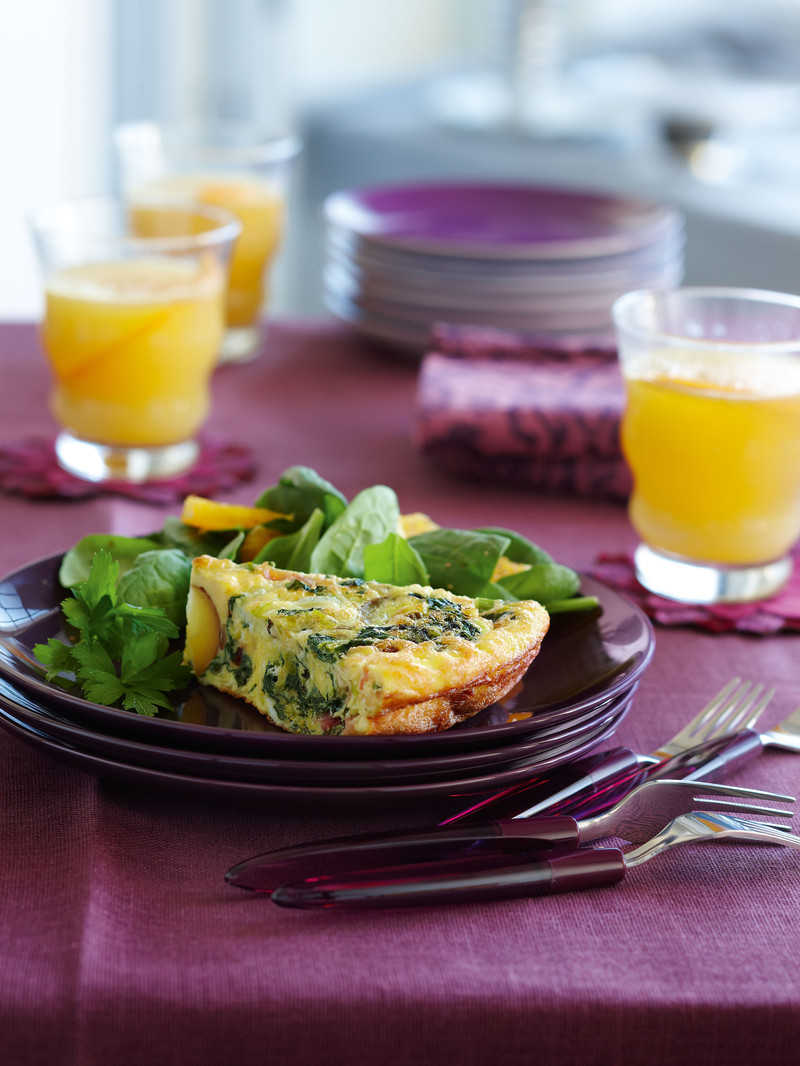 Saint Patrick's Day Frittata
Serves 6
1/2 pound baby potatoes (about an inch in diameter; if larger, cut in half)
2 tablespoons olive oil
2 leeks, white and green part only, thinly sliced and well rinsed
1 bunch baby spinach, coarsely shredded
3 ounces thinly sliced deli corned beef, cut into long strips
12 large eggs
1 cup shredded mozzarella, manchego, Gruyere or Parmesan cheese
Salt
Freshly ground black pepper
2 tablespoons finely chopped parsley
Favorite green salsa or hot sauce
1. Preheat the oven to 425 F. Place the potatoes in a medium pan of boiling water for 2 minutes. Drain the potatoes and let dry. Reserve.
2. Heat the oil in a 12-inch non-stick skillet with an ovenproof handle (or cover a wooden handle with foil) over medium-high heat. Add leeks and saute until soft but not brown, about 5 to 6 minutes.
3. Add the potatoes and continue cooking, rolling them around, for 3 minutes or until the potatoes are slightly tender. Add the spinach and cover the pan to let steam for about 3 to 4 minutes, or until wilted and potatoes are tender.
4. Add the corned beef and cook another minute. Season with salt and pepper. (If you want to add cabbage add it now.)
5. Combine eggs with cheese, salt and pepper in a medium mixing bowl, and whisk until well blended.
6. Arrange the vegetable ingredients in the skillet evenly and pour over the egg mixture. Cook over medium heat, stirring occasionally, lifting up the bottom with a spatula, allowing more liquid to cook and until the bottom of mixture is cooked, about 5 minutes. The top will still be moist and slightly liquidy.
7. Transfer skillet to the oven and bake until the frittata is puffed and brown and the cheese is melted, about 10 minutes.
8. Serve the frittata out of the pan or invert onto a large platter, placing a spatula underneath it to ensure it will slide out easily. Invert again onto a serving platter, so the browned top faces up. Drizzle with desired green sauce, if desired, and garnish with parsley. Serve immediately or at room temperature.
Advance preparation: This dish can be made up to one day ahead, covered and refrigerated. Reheat, if desired, or serve at room temperature or chilled.
This article is written by Diane Rossen Worthington from Seriously Simple and was legally licensed via the Tribune Content Agency through the NewsCred publisher network. Please direct all licensing questions to legal@newscred.com.