Each year, as March rolls around, I try and come up with a delicious dish to acknowledge St. Patrick's Day. I've made variations of corned beef and cabbage in the past, so this year I thought why not take all the elements of the dish and morph it into a crunchy, multi-flavored salad? I recently tried it on a few guests who all raved about how satisfying it was and how fun it was to experience the classic ingredients reinterpreted into a salad.
Start with a tight green cabbage. It's important to thinly slice it and then slice the shredded cabbage in half again for bite-size pieces. I'm partial to the Yukon Gold potato for its' buttery texture, but red potatoes work well too. In a nod to Seriously Simple cooking, I first quickly cook the green beans in boiling water and drain them with a slotted spoon. Then I use the same water and boil the potatoes afterward. Beats using multiple pots!
It's important to keep the vegetables and corned beef separate so that when you transfer them to the cabbage each component stands out. Rather than making my own corned beef, I buy mine from a good Jewish deli that slices it for me. Ask the deli man to slice the corned beef about 1/4-inch thick. Look for sharp Irish cheddar cheese to add a needed punch to the other flavors. The apple cider vinaigrette brings all the flavors together.
I like to present the salad with each element arranged individually on top of the cabbage along with a sprinkling of chives. Once you have presented it at the table, pour the vinaigrette over the salad and toss to coat all the ingredients.
This is a satisfying lunch on its own along with some crusty bread. For dinner, start with a green vegetable soup, like broccoli, and then serve this after. A refreshing Irish stout is the obvious beverage to accompany this colorful salad.
Tasty tips
--Add a tablespoon of chopped fresh herbs like parsley, chives and mint to the vinaigrette.
--Use half Romaine lettuce and half cabbage for a lighter flavor.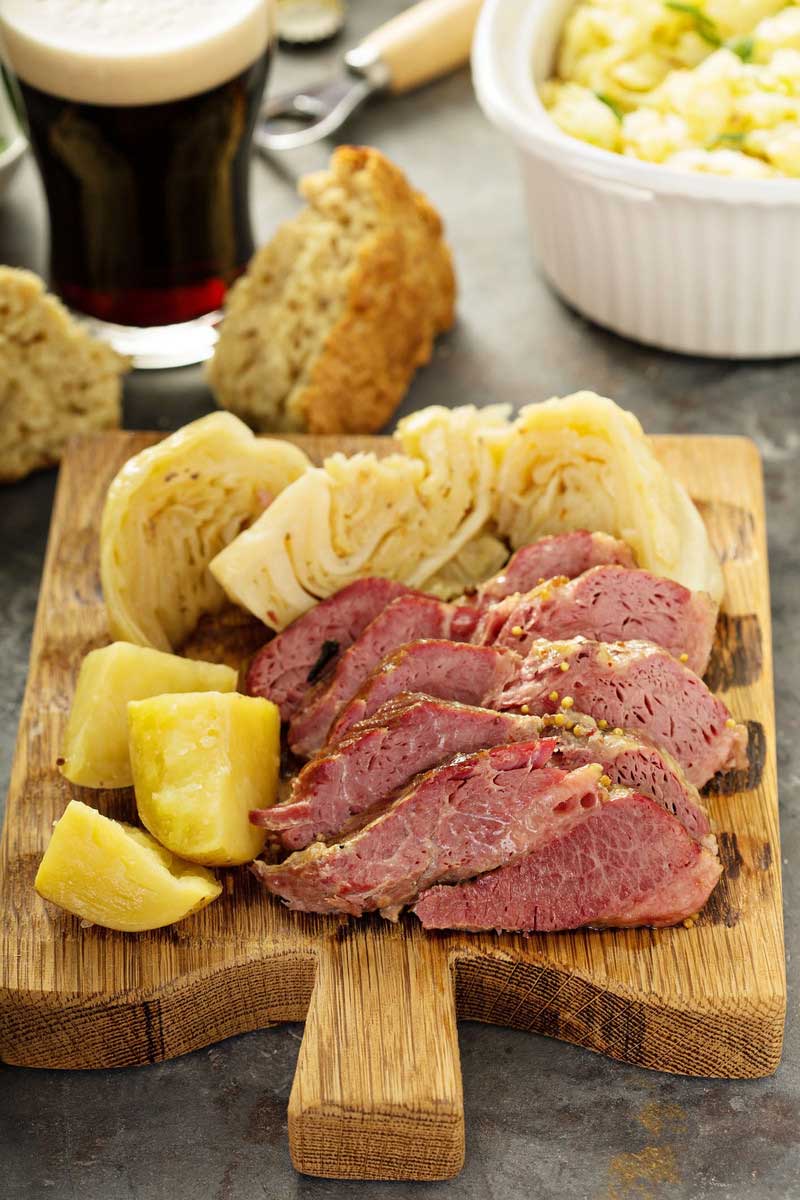 St Patrick's Day Chef's Salad
Serves 4 to 6
For the vinaigrette:
1 tablespoon Dijon mustard
1 garlic clove, minced
3 tablespoons apple cider vinegar
1 teaspoon brown sugar
1/2 cup olive oil
Salt and freshly ground black pepper
Pinch crushed pepper flakes, optional
For the salad:
1/2 pound green beans, trimmed and cut into bite-sizes pieces
1 pound Yukon Gold or red potatoes
2/3 pound cooked corned beef, trimmed of fat
1/3 pound Irish cheddar cheese
1/2 pound green cabbage, shredded
1 tablespoon chopped chives, for garnish
1. In a small mixing bowl, combine the dressing ingredients and whisk to combine. Taste for seasoning. Reserve.
2. Bring a large pot of salted water to a boil. Add the green beans and cook for 3 minutes, or until just tender but still crisp. Use a slotted spoon and drain them. Place on a large platter and reserve. Add the potatoes and cook for 20 to 30 minutes, depending upon how large they are, or until tender when pierced with a knife. Drain them and let cool; then remove the peel. Dice into 1 1/2-inch pieces. Place on platter and reserve.
3. Chop the corned beef into 1 1/2-inch pieces. Cut the cheese into 1 1/2-inch dice. Place on platter and reserve.
4. Place the shredded cabbage on the bottom of a shallow salad bowl.
5. Arrange the corned beef, potatoes, green beans and cheese on top of the cabbage in individual sections. Garnish with the chives. Drizzle with 1/2 cup vinaigrette, toss and serve on individual plates or shallow bowls.
(Diane Rossen Worthington is an authority on new American cooking. She is the author of 18 cookbooks, including "Seriously Simple Parties," and a James Beard Award-winning radio show host. You can contact her at www.seriouslysimple.com.)
This article is written by Diane Rossen Worthington from Seriously Simple and was legally licensed via the Tribune Content Agency through the NewsCred publisher network. Please direct all licensing questions to legal@newscred.com.